'He has been a match-winner for India. He has a great record and that speaks for Anil Kumble as far as winning matches for India is concerned.'
BCCI president Anurag Thakur explains why the former India captain and ace spinner was chosen ahead of other profile candidates.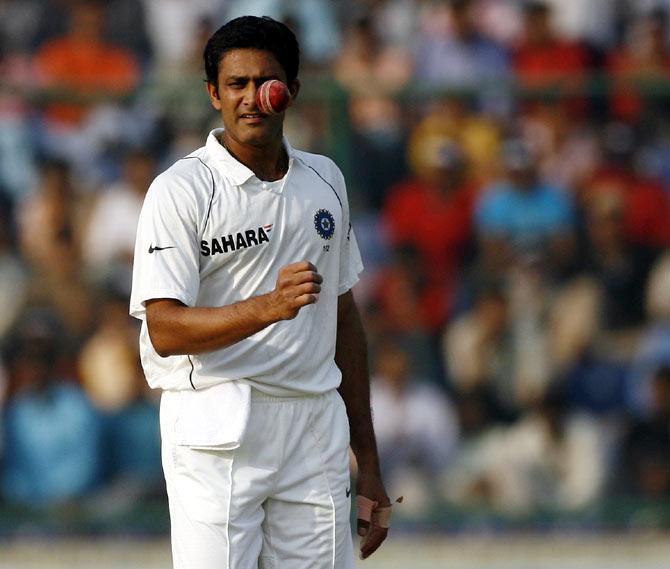 IMAGE: India's new head coach Anil Kumble. Photograph: Adnan Abidi/Reuters
Former captain Anil Kumble was on Thursday appointed the Indian team's head coach for a year, bringing an end to the prolonged suspense over who will take over the reins of the national side.
Explaining the decision to appoint the ace spinner despite his lack of experience as an international coach, Board of Control for Cricket in India president Anurag Thakur said Kumble's record is testimony to his worthiness for the job.
However, the BCCI said his performance will be up for review after a year.
"He has been a match-winner for India. He has a great record and that speaks for Anil Kumble, as far as winning matches for India is concerned. His performance will be reviewed after one year," Thakur said, adding the decision was taken after discussion with all the stakeholders.
"Mr Kumble is a great cricketer. The Cricket Advisory Committee looked into all applications, they shortlisted a few names. When the names came to us, we discussed with other stakeholders. We take feedback from all stakeholders. We wanted to be more transparent."
Kumble will take charge from the upcoming tour of the West Indies, which starts next month.
"We took feedbacks from various sectors since cricket is followed by millions in India. He will take over from the West Indies tour," Thakur said.
Asked why Shastri was not picked given that he was with the team for a long time, he replied: "Our Indian coaches are good. The team's performance improved after the appointment of Ravi Shastri as team director."
The 45-year-old Kumble pipped former Team Director Ravi Shastri, Australians Tom Moody and Stuart Law and a host of others to clinch the high-profile position following an elaborate selection process, headed by a three-member Cricket Advisory Committee.
The committee, comprising cricket greats Sachin Tendulkar, VVS Laxman and Sourav Ganguly, interviewed 10 candidates for the job in Kolkata on Tuesday in a marathon session which lasted close to 10 hours.
"BCCI has been very transparent. We fixed a criteria. There was the CAC as well. They have gone through the process, interviewed and recommended few names. After discussions with various stakeholders, we have decided that Anil Kumble will be the head coach of the Indian cricket team for the next one year," Thakur told a press conference in Dharamsala, on Thursday.
"It is not about Indian or foreign, it is about who is best for the job. I think we have used the services of best players who have served Indian cricket. There was no such limitation that we have to have only an Indian coach. We wanted the best for the Indian team," he added.
Kumble, the highest wicket-taker for India till date and third in the international list, behind Muttiah Muralitharan and Shane Warne, emerged a front-runner over the last few days even though he has no experience of coaching in the international arena.
His stint as mentor with Indian Premier League teams Royal Challengers Bangalore and Mumbai Indians as well as his vast experience as an international cricketer may have tilted the scales his way.
The former leg-spinner played 132 Test matches and 271 ODIs in a career spanning close to two decades.
Kumble finished his Test career with 619 scalps and accumulated 337 ODI wickets, which put his combined tally at 956 in two formats.
The leg-spinner was the only bowler after England's Jim Laker to take all 10 wickets in a Test innings.
BCCI secretary Ajay Shirke said the decision to keep Kumble's tenure at one year for the time being was taken to ensure professionalism.
"This is the first time that we have gone through a process, starting with advertisements. It has been a large amount of cricketing process. It has been very elaborate. There were marathon meetings. This is a professional appointment and that is the reason we want to be in a position to review our decision. But I hope that we won't need to do that," he explained.
Shirke also dismissed the charge that since Kumble is running a player management firm, his appointment is open to conflict of interest.
"Conflict of interest has become a fashionable word to use. That has been addressed prior to taking this decision," he said.
Shirke said there were 11 names in the final list, which included four foreigners.
The BCCI received 57 applications for the post and trimmed it down to 21 before handing over the list to the CAC that interviewed the candidates shortlisted by them.
Among them were Shastri, Lalchand Rajput, Pravin Amre, Kumble, Moody, Law and Andy Moles.