'We need to come up with a strong collective effort'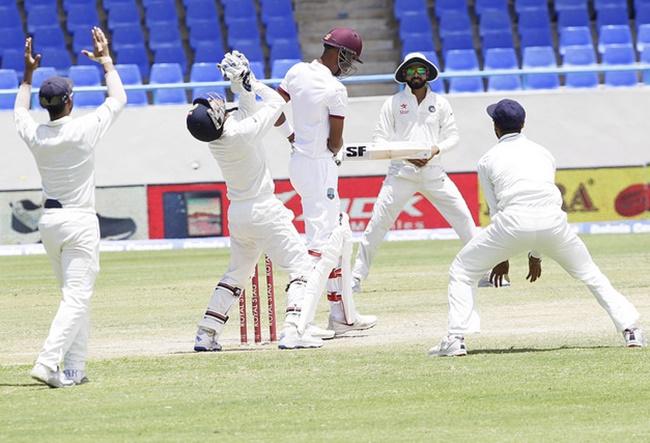 IMAGE. West Indies' captain Jason Holder reacts after playing a shot. Photograph: WICB.
West Indies' skipper Jason Holder conceded that his side were always playing 'catch-up' game throughout the first Test against India, which they surrendered meekly losing by an innings and 92 runs.
"It is always tough to play catch-up cricket. We never bowled well in the first innings. Yes, we had some good bowling partnerships but not for long sessions. Going forward we definitely need to improve, to string together better bowling partnerships, and bowl more maidens. Having said that we were not able to create enough pressure in their first innings," Holder said after the defeat.
"In hindsight, you can say a lot of things. The combination we played had four bowlers and an all-rounder in Roston Chase who bowls some off-spin. But execution is the name of the game. I don't think we executed well enough," he added.
Holder said that the current Test side is a young one and they also have their pride at stake.
"I think it boils down to personal pride. Roston, Shane Dowrich and Rajendra Chandrika, myself, Jermaine Blackwood, we are all quite young players. We are all looking to make a mark in the international circuit.
"For us its just personal glory, personal pride. That's what each person coming to Test cricket is looking to do. I think all of us want to do that. We need to come up with a strong collective effort," said the skipper.
There were only two three-centuries in the match from the hosts, and they needed to do better to even have a hope of saving the match. Clearly, the team needed more from its experienced batsmen, Darren Bravo (11 and 10) and Marlon Samuels (1 and 50).
"Ideally, that's what we would expect from top-order batsmen. To be fair, they have to carry the demands of this young batting side. Unfortunately, Bravo didn't get any runs in this Test. Marlon showed some form in the second innings and it is important for those two guys to carry the batting and lay the foundation. The onus is on them, but we also have more enough capable batsmen," said Holder.
Even so, it finally begs the question whether the West Indies have a good enough bowling attack to take 20 wickets against this Indian line-up. It certainly wasn't the case in the first Test as they went in with only two specialist bowlers in Shannon Gabriel and Devendra Bishoo.
It remains to be seen how things will change in the second Test starting in Jamaica from July 30.
"To be honest, myself and Carlos Brathwaite are going up to a certain point in terms of what our roles are, bowling areas together and pick up one or two wickets. But if runs are leaking from both ends, primarily from the other end, it makes cricket a little easier for batsmen. Having said that we tried to get some wickets. But it just didn't come together," opined Holder.
"You must also give the Indian batsmen credit. Virat Kohli and Ravichandran Ashwin played well. We put Ashwin down. Had we taken that chance, you never know how the game could have brought," he signed off.