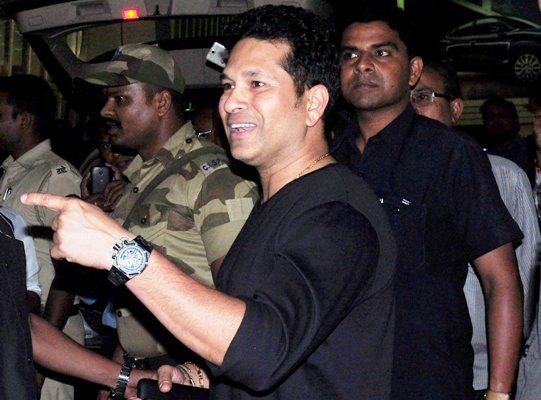 IMAGE: Sachin Tendulkar arrives at Nagpur airport for a function. Photograph: PTI
Ricky Ponting has revealed that the Australian team at one point in time had spent hours coming up with plans for Sachin Tendulkar.
"...how we were going to bowl to him and, if we were lucky, get him out. He was not just a gifted batsman, but had the mental side of his game sorted out too," Ponting wrote in a book titled Tendulkar in Wisden: An anthology.
"At Sydney in 2003-04, when he was going through rough time, he didn't play a single cover-drive: I had immense appreciation for that level of discipline and determination.
"It's one thing to have a plan, but to go out there and execute it over the course of the innings that lasted 10 hours and 13 minutes, 436 balls and 241 runs was just incredible. And he was still not out at the end of it," Ponting recalled.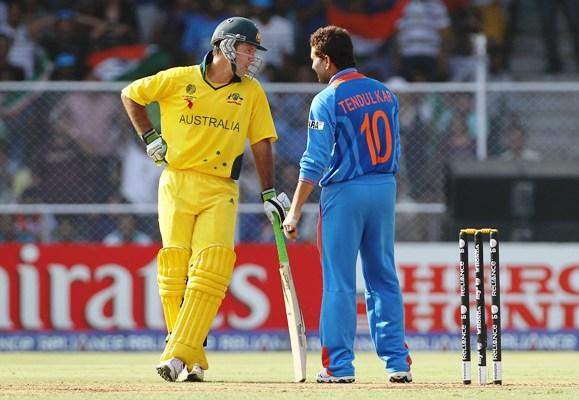 IMAGE: Ricky Ponting (left) of Australia chats with Sachin Tendulkar of India. Photograph: Hamish Blair/Getty Images
Ponting termed Tendulkar as a "mild-mannered guy" on and off the field.
"He was always a mild-mannered guy who never let his emotions get the better of him on the field. And that's what he's like off the field too - calm and relaxed. But you can see he gets nervous around the changing room. I enjoyed sitting back and observing him - he has his tics and superstitions," Ponting, who led Australia in 77 Tests and 247 limited-overs games, wrote.
Thanks to the Indian Premier League, Ponting said he got a chance to know Tendulkar better as a person.
"Over the last couple of years - during my association with the Mumbai Indians - I've got to know him better. ...it was a delight to get to know him away from the publicity's glare and over a glass of wine - Sachin and I have done a lot of that over the last couple of years, and I think we've both been able to appreciate each other a lot more as a result," Ponting said.