The Aussie series of 1985-1986 will remain a missed opportunity for Indian cricket. But it is least talked about despite all the high points in the series, says Chandresh Narayanan.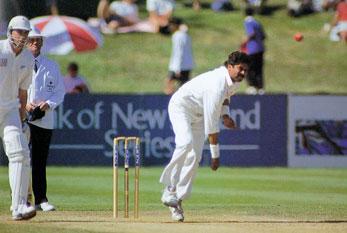 India's tour of Australia has begun and the usual naysayers are predicting a complete whitewash.
If their prediction comes right, then all the talk about India not having won a Test series in Australia will start all over again.
What the naysayers forget is the fact that India did come close to winning a Test series in Australia, in 1985-1986, but were denied by a combination of weather and the perennial Aussie bugbear, umpiring.
Remember this was way before the neutral umpires concept was enforced in 1990s by the International Cricket Council.
In the 1985-1986 season, India was at the peak of its powers as an ODI team. They had an array of experienced batsmen in Sunil Gavaskar, Mohinder Amarnath and Dilip Vengsarkar with skipper Kapil Dev, left, leading the bowling department.
India was going through a lean phase in Test cricket having won just one Test since 1981-1982. Kapil was yet to lead India to a Test win at the time, though his team had been crowned world champion at the 1983 World Cup.
Australia was beset with its own issues, losing a number of players to the rebel tour to South Africa. There was also the retirement of senior pros like Greg Chappell, Rod Marsh and Dennis Lillee which left a big hole in the Aussie line-up.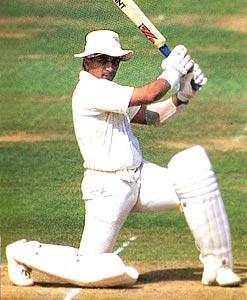 The first Test at Adelaide was a high-scoring draw, but it outlined the prowess of India's reigning superstars, Gavaskar and Kapil.
Gavaskar, left, carried his bat through for an unbeaten 166 and Kapil claimed 8 for 106.
The next Test was the Boxing Day encounter at the Melbourne Cricket Ground. It is here that India missed a golden opportunity to enforce a result and thereby claim a rare series win in Australia.
Australia batted first and was bowled out for 262 thanks to India's spin trio of left-armer Ravi Shastri (4-87), offie Shivlal Yadav (3-64) and leg-spinner Laxman Sivaramakrishnan (2-51).
India replied with 445 thanks to a number of valuable contributions by their deep batting line-up led by Krish Srikkanth's 86.
India had a lead of 183 and a clear opportunity to claim a win if they bowled out Australia cheaply.
India struck at regular intervals, but Australian captain Allan Border held one end up. Australia went from 84-4 to 161-6 and then from 202-7 to 228-8 at the end of the fourth day's play. Australia's lead at the time was just 45.
Right through the Australian second innings, the umpires turned a blind eye to Indian appeals, exasperating Kapil Dev.
'There is no escaping the fact that the Aussie is biased in favour of the home team,' Kapil wrote in his 1986 autobiography, Cricket My Style.
When play began on the final day, Australia dropped to 231-9. The Aussie umpiring went from bad to worse as clear verdicts were being denied.
The final pair of Border and Dave Gilbert battled on. When the last wicket fell, the final pair had added 77 runs, thereby gaining a lead of 125 runs.
'We had to stomach such shocks as having a catch at first slip refused by a gentleman named Ray Isherwood. Indeed, we would have had to entertain some doubt over whether his vision was all right if not for the fact that the vision became suspect only when an Australian batsman's dismissal was concerned,' Kapil wrote.
India began the chase for 126 with just two sessions to spare. When play was held up at 59 for two due to rain, India needed 67 more runs for a famous win. But it was not be and play was finally called off, the series remained deadlocked 0-0.
'I can state quite honestly that if not for the umpiring bias we would have won the series in Australia with a victory in the Melbourne Test,' added Kapil in his book.
In the New Year's Test of 1986, Kapil's men once again put up a big score with Gavaskar leading the way yet again with a hundred. India made 600-4 declared.
In reply, Australia was bowled out short of the follow-on target for 396.
David Boon made 131, but it was India's spinners Shastri, left, (4-101) and Yadav (5-99) who held sway again.
India ran out of overs and time in the Aussie second innings as the host remained at 119-6, when the Test was declared a draw.
The series remained 0-0 in the end. A young Aussie side wriggled out of a tight corner and an experienced Indian side remained winless.
For Kapil the dry run in Tests continued and he had to wait till June 1986 to register his first win as captain.
The Aussie series of 1985-1986 will remain a missed opportunity for Indian cricket. But it is least talked about despite all the high points in the series.