'We bowled to two outstanding batsmen in good conditions, a very good cricket pitch. But to be able to pick up two wickets at the end certainly has given our dressing room a huge lift tonight'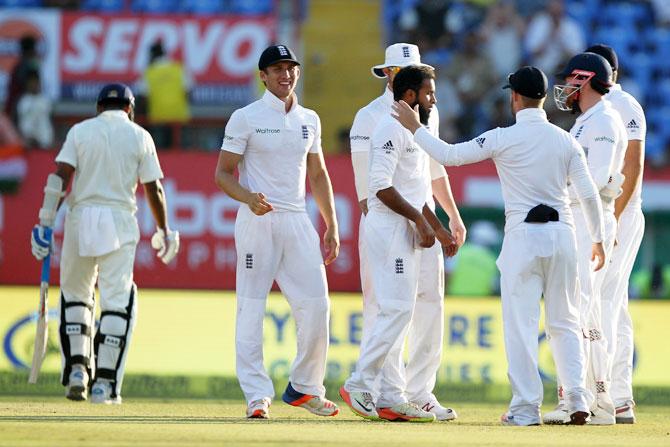 IMAGE: England's Adil RAshid (centre) celebrates with teammates after scalping the wicket of India's Murali Vijay on Day 3 of the first Test match in Rajkot on Friday. Photograph: BCCI
Picking up two wickets at the fag end of the third day of the first Test in Rajkot may not have given England an edge against India in the opening cricket Test in Rajkot, but Paul Farbrace, assistant coach of the visiting team, said the dismissals have certainly boosted their confidence.
- PHOTOS: India dominate before late wickets boost England
- Vijay, Pujara lead India's fightback with tons
"I wouldn't say it has given us an edge, it's given us a lift in our dressing room. When you go (through) the day with two wickets, to get two at the end is a real bonus. I think credit goes to our perseverance and a very disciplined way of bowling all day," said Farbrace at the media conference after the day's play on Friday.
India lost well-set Murali Vijay and night watchman Amit Mishra in a space of just four balls to slump from 318 for 2 to 319 for four.
Farbrace praised the bowling effort of the English team in conditions not conducive to their strength and against two well-set batsmen in Cheteshwar Pujara and Vijay.
Both Pujara and Vijay hit individual hundreds while putting on 209 runs for the second wicket to lead India's fight-back.
"We bowled to two outstanding batsmen in good conditions, a very good cricket pitch. But to be able to pick up two wickets at the end certainly has given our dressing room a huge lift tonight," Farbrace said.
"It's still an awful long way to go but it's nice when you talk about being patient, sticking to your plans and then you get rewarded at the end of the day. That's exactly what has happened to us today.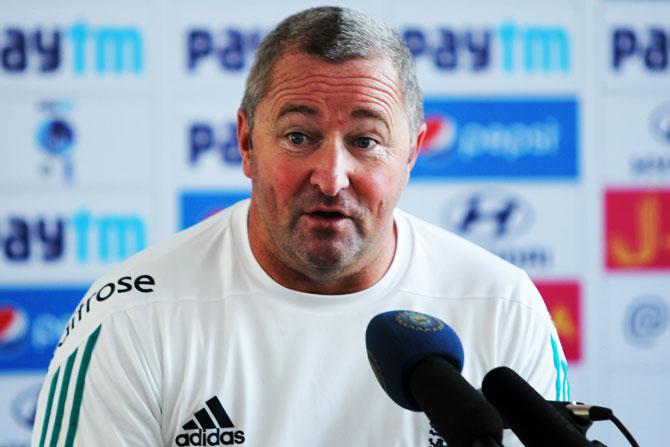 IMAGE: England's assistant coach Paul Farbrace addressing the media after the 3rd day's play in Rajkot on Friday. Photograph: BCCI
"Today we stuck to a very disciplined way of bowling, our seamers have done a fantastic job in difficult conditions. We are also really pleased with the way our spinners have bowled. They took a bit of stick in Bangladesh for perhaps not holding their line and length, but I thought today they particularly bowled very well. No doubt they had a really good day today."
England bowlers controlled the flow of runs in the second session, restricting India to 66 runs after the hosts added 99 in the first, and Farbrace said it was as per plans.
"Today we talked a lot about making sure they don't get to score too easily. I think (Ben) Stokes had a little spell just before lunch when he chased it a little bit, didn't necessarily mean to. But the danger is when you go looking for wickets you get a bit strayed." he said.
"We saw that both of them (Pujara and Vijay) are fantastic off their pads and anything that you bowled on the stumps was quite easy to score against. So our plan today was literally to stay outside off stump, make it difficult for them to score, score on one side of the pitch and set a field for it. We got our reward at the end of the day for being patient," Farbrace said.
He said the wicket was still good for batting but it was showing some signs of wear and tear.
"They are still 200 runs behind but it's still an excellent pitch. It's typical in these parts of the world where you get very good cricket pitch. But then things start to happen around tea time on day four and things happen quickly.
"Both sides were expecting the wicket to turn more, the cracks have certainly opened over the last three days and some of them have started to crack on the edge. You might start to see a little bit more variable bounce as well. When you are 200 runs in front you hope that happens. That's why it's important to get your runs in the first innings," Farbrace signed off.