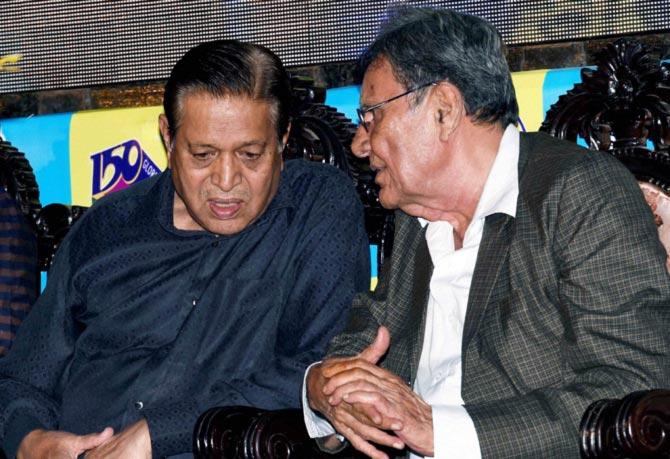 Chandu Borde (left) with Salim Durani in Kolkata. Photograph: PTI
It's not only bouquets and brickbats but also bangles at Eden Gardens, recollected former India captain Chandu Borde in Kolkata.

Remembering his brush with the Eden crowd after Indian were thrashed by an innings and 45 runs thrashing by West Indies in the riot-hit 1966-67 Test, the 80-year-old former India all-rounder said: "I'm sure the Windies would have broken Olympic sprint records by the way they rushed to the team hotel after riots broke out on day two."

"After the match ended, the fans gave us nicely gift-wrapped packets at the railway station. We readily accepted them thinking that it would be sweets. At the next stoppage, when we opened them we were shocked to find bangles!," Borde exclaimed, adding that such was the crowd's passion for the sport.

"I had some fine memories here, from playing my first Test at the Eden vs the West Indies. Facing Eden crowd was more scary. You had it if you misfielded one at the boundary ropes. 'Chandu khelna chhor de' (leave cricket), they would scream," Borde said on Thursday.

Borde said it would take them 43 hours of train journey to come to Kolkata but the pain was worth taking for the sheer thrill of playing at the Eden and coming to Kolkata.

"A friend of mine in the IFA once took me to the nearby ground to watch East Bengal-Mohun Bagan match, we sat near the ground and were enjoying the match and suddenly there were some refereeing errors and the crowd started shouting. My friend told me, 'let's rush out from here'. No where else I noticed such love for the sport."