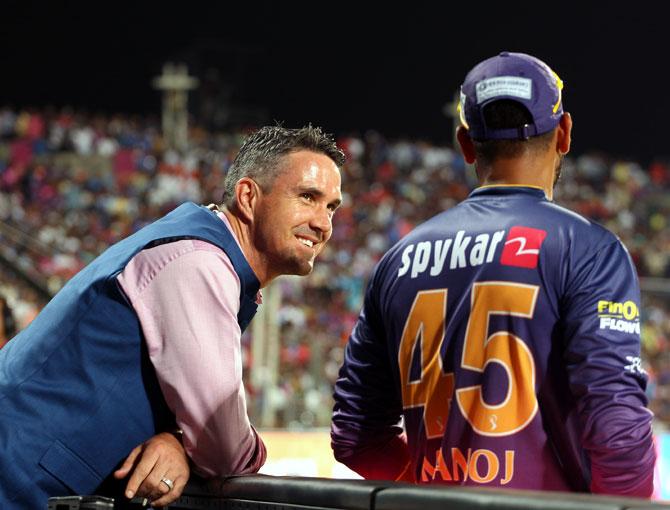 Mahendra Singh Dhoni is a picture of concentration on the field but there was a departure when he decided to have a 'go' at former Indian Premier League teammate Kevin Pietersen.

The former India captain was in a mood to have some fun with Pietersen, who was doing commentary during the IPL match between Rising Pune Supergiant and Mumbai Indians.

It was Manoj Tiwary at first slip, who was on microphone chatting with Pietersen when the former England captain said: "Manoj just tell MS (Dhoni) that I am a better golfer than him."

Manoj was seen duly conveying the message to Dhoni after a delivery. "Pietersen kah raha hain woh aapse accha golfer hain (he is saying he is a better golfer than you)."

Dhoni leaned towards the microphone connected with Manoj and replied with a straight face: "But you are still my only Test wicket!" to leave Pietersen in splits.

For the record, it was in reference to a few overs that Dhoni was forced to bowl his medium pacers during a Test match against England at Lord's back in 2011 after Zaheer Khan hobbled out with a torn hamstring.

Dhoni had Pietersen caught by Rahul Dravid behind the stumps and was given out by Billy Bowden. To his horror, it was overruled after a referral saw that the batsman didn't edge it. Pietersen went onto score a double hundred as England won the Test match. Dhoni never bowled in Tests again.
Image: Kevin Pietersen speaks to Manoj Tiwary of Rising Pune Supergiant.
Photograph: BCCI