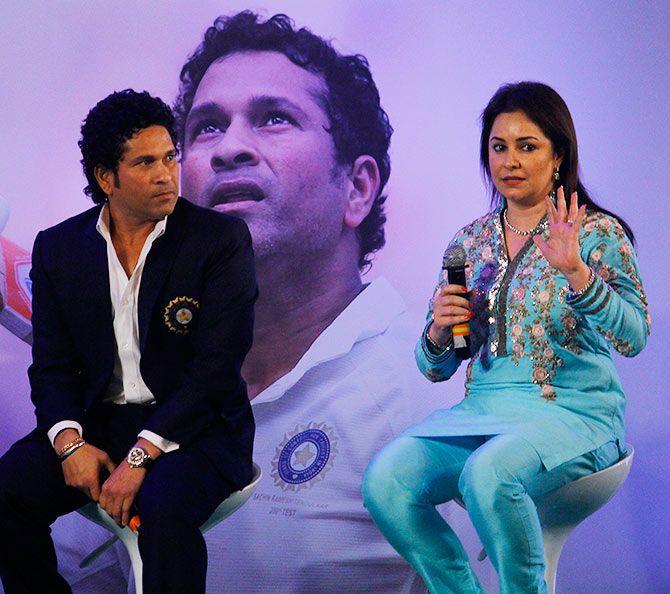 It was at an airport where medical student Anjali Mehta saw the wonder boy of Indian cricket and was floored by his "cute looks".
Anjali, on Wednesday, revealed that she wooed the Indian cricket legend when he was just 17 years of age because she found him cute, even though she had no interest in cricket then.
Tendulkar's autobiography, Playing It My Way, was launched at a glittering function, attended by some of his former teammates, including Zaheer Khan, Rahul Dravid, Sourav Ganguly and VVS Laxman, family members, and close friends.
The book was unveiled by Tendulkar himself amid thunderous applause from the packed room at the ITC Maratha Hotel in Mumbai.
At the launch, Tendulkar's daughter, Sara, presented a copy to the legend's mentor and childhood coach, Ramakant Achrekar.
Anjali, who has never gone public about her relationship with Sachin, recollected how it all began and then blossomed.
"Sachin often tells me I want to put you in the middle of the cricket field in front of thousands of people screaming and get somebody to bowl fast at you. For me, this is [book launch] equivalent to that. There is so much stress talking in front of everyone," said Anjali.
"I didn't know he was 17... I didn't know who he was. I was with my friend Aparna, who told me, 'Don't you know who this is? He is Sachin Tendulkar, the wonder boy of Indian cricket and the youngest boy to score a hundred in cricket'. I didn't care what he was or who he was; I had no interest in cricket. I just thought he was really cute," she added.
'Sachin was so embarrassed that he didn't look at me'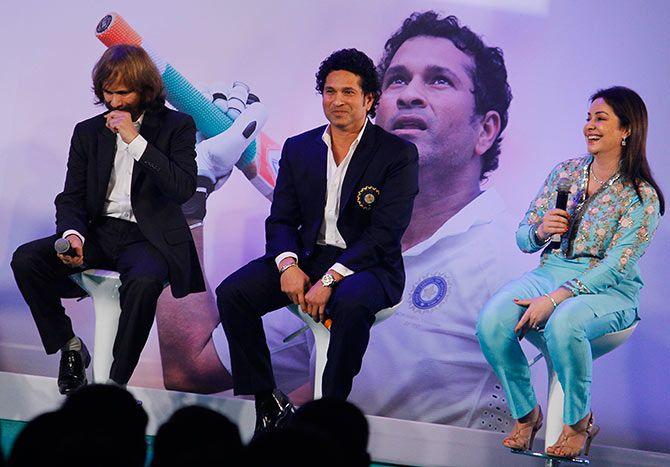 Anjali had gone to the airport to pick up her mother, who was coming from England.
"In those days at the airport there was a viewing gallery and I was there to receive my mom who was coming from England. I forgot about my mother and I ran screaming 'Sachin, Sachin, so cute'. The funny thing is Ajit and Nitin [Tendulkar's brothers] were there with him and Sachin was so embarrassed that he didn't look at me. He just looked down and stepped into the car.
"This is what I say is destiny. I called Sachin and he was not used to picking up the phone. That day he picked up the phone. I said, 'I am Anjali and you dont know me, and I saw you at the airport yesterday.' He said, 'Ya ya, I remember, I saw you.' So I asked him, 'Really? Tell me what you remember'. So he told me I was wearing an orange shirt. That's what I call destiny.
'When I was in England, my uncle told me to come and meet the Indian team as they are very happy to meet an Indian girl. I told him that I wasn't interested in cricket and I didn't go. Even when he scored the hundred, my dad told me to come and see him, and he is the youngest to score a hundred, I told my daddy that I don't want to see this boy. There were two other times it happened; I would might as well be chasing a 15-year-old boy.'
'Writing letter was the only option'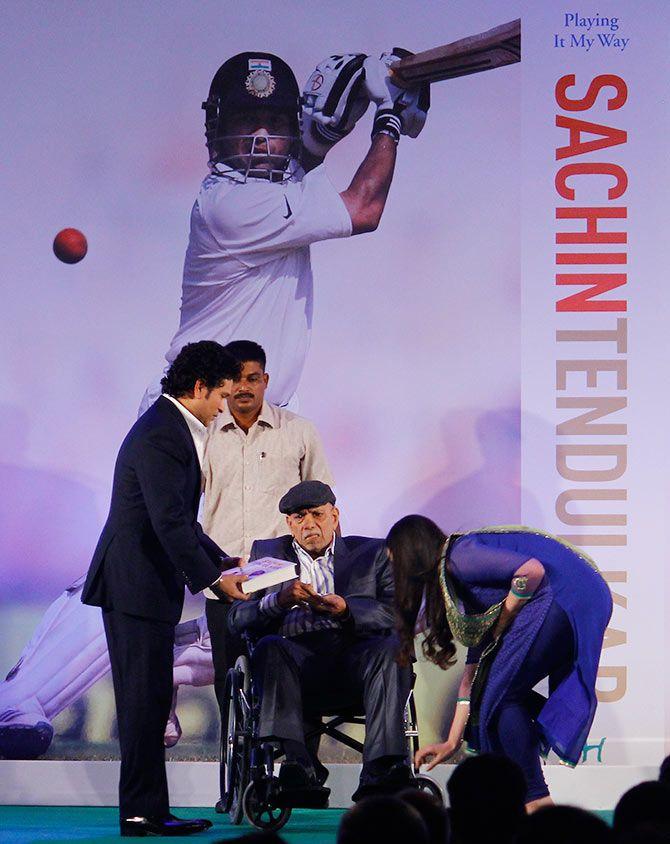 Recollecting her first visit to Tendulkar's home, Anjali revealed that the maestro was a bit hesitant at first.
"First time he wanted me to come to his house, he was hesitant and was wondering how a girl can come to my house? So he came up with this plan, and told everyone that I was a journalist.
"So you pretend that you were a journalist. I didn't know the poor chap was tensed. No female journalist had ever come to his house, so his sister-in-law was peeping from the curtains and he had one chocolate which he cut in to bits and gave it to me.
"Young people won't even know what it is to write letters, but in 1990 there were no mobile phones or computers, so if ever I wanted to call him there were these PCOs [public telephones], so I had to get out of the Grant Medical College campus, which was nearly 46 acres, and go to a PCO booth when the STD and ISD rates were more.
"So the best option was to write a letter. I had to plan ahead as to which city he would be in after 10 days and when he would get the letter he would reply back. That is the way we communicated in those days," she said.
'Being a cricketer's wife is not easy'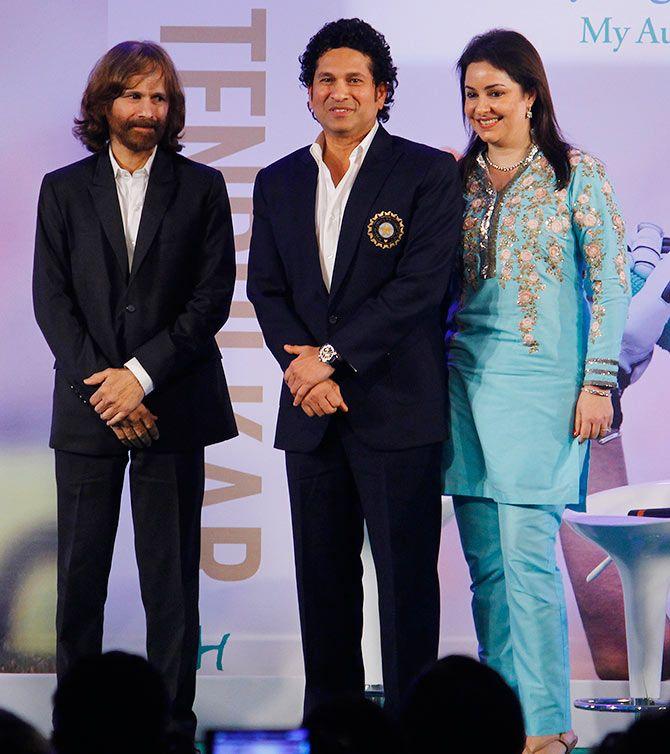 Speaking about life together, Anjali said unlike the common perception that cricketers' spouses' life is all about attending parties, it is rather difficult.
"Everyone thinks to marry a cricketer is a glamorous life, and it is attend parties and functions. In reality, it's difficult; lot of the times your husband is not there so you have to manage everything on your own, and with kids is not easy.
"My main aim always was that Sachin should not be disturbed, and it was more important that he gets to sleep, as the next day he had to bat."
'Breaking the news of his father's death was the toughest moment'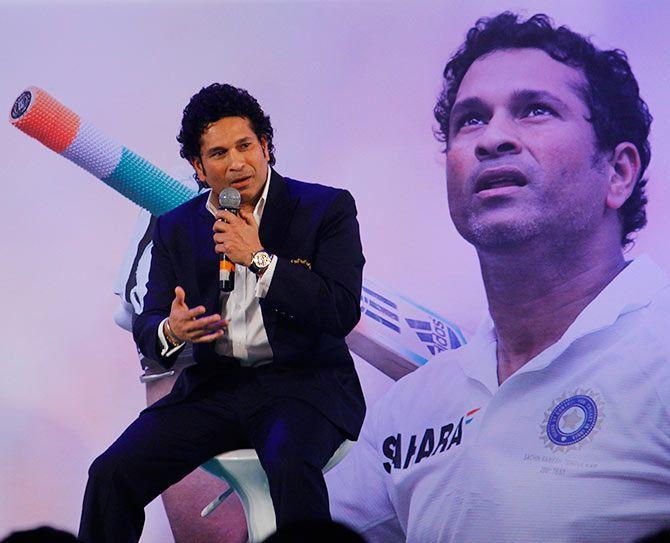 So what was the toughest moment for her?
"When his father Ramesh died, Ajit called me and told me, 'I don't want anyone else to tell him; you have to tell him', so it was late in the night. My mother drove the car and Sara, who was very small, was on my lap and we drove all the way back to Leicester and I called Ajay Jadeja and Robin Singh and said make sure you are there outside Sachin's room and don't allow anyone to go in or put any calls through.
"When he opened the door, he knew there was something wrong; there was no way during a tournament I would go his room like that at night. It was like he would any time collapse in front of me. It was one of the most difficult times I've ever been through," revealed Anjali.
So who was the one to break the news about marriage to the parents?
"When we decided to get engaged I had to break the news to his family. It was not that he was afraid, but he was in New Zealand and he called me and asked, 'Do you want to get engaged to me?' I said, 'Yes', and he then told me, 'Since I am in New Zealand will you go to my family and tell them that we want to get engaged?' I don't think he was scared but he was in New Zealand and that is why he told me to tell his family,'" she added.