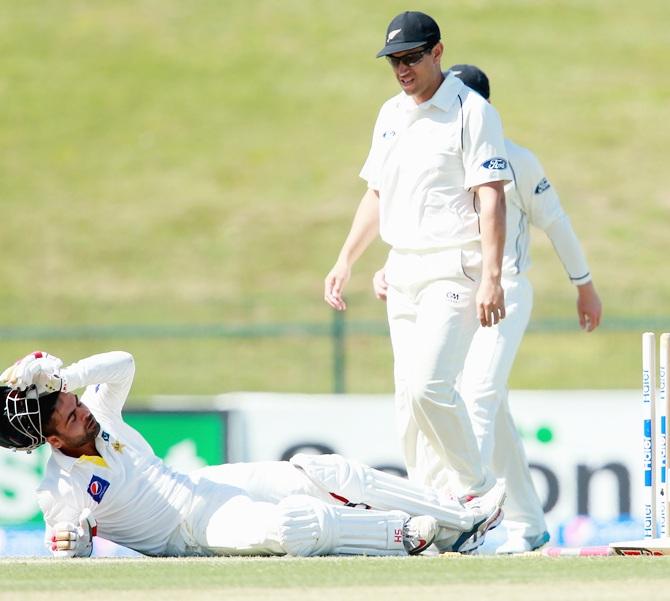 Ahmed Shehzad of Pakistan lies injured after hitting his wicket bowled by Corey Anderson of New Zealand. Photograph: Warren Little/Getty Images
Pakistan Test opener Ahmed Shehzad knows he had a lucky escape when a short-pitched ball cracked his cheekbone earlier this month and says he 'froze' when he heard the news of Australian batsman Phil Hughes' death on Thursday.
Australia cricketer Phillip Hughes succumbs to head injury
Hughes died in a Sydney hospital two days after being struck by a ball that led to a 'catastrophic' injury which caused 'massive' bleeding to his brain.
The news brought an outpouring of grief on social media, with past and present players conveying their shock and passing on tributes, while many expect his death to prompt a rethink of the safety standards in the game.
"I froze when I heard this tragic news and my heart went out to his family because I have been very fortunate to be on my feet again," Shehzad said on Thursday.
Shehzad suffered a hairline fracture of his cheekbone after being hit by a short-pitched ball from New Zealand's Corey Anderson on November 10th.
Shehzad had to undergo scans after complaining of pain and dizziness and was sent home to recover, missing the remainder of the test series.
"I know how it feels. That moment. The day Hughes was hit I knew what his family was going through. I prayed for his recovery," Shehzad added.
"The New Zealand players were sympathetic after I was hit but I know this is part of cricket and one has to endure them."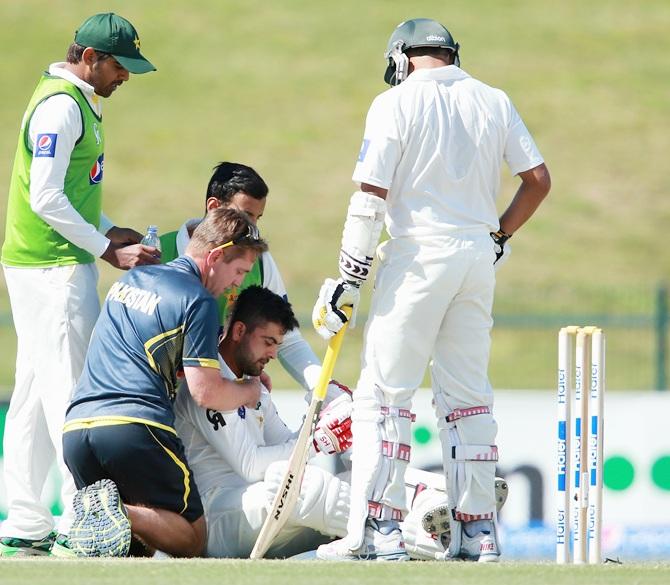 Ahmed Shehzad of Pakistan is injured after receiving a bouncer. Photograph: Warren Little/Getty Images
Pakistan's cricket community was shocked at Hughes' death, and former Test pacer Sarfaraz Nawaz said that Sean Abbott, the player who accidentally hit Hughes, would also need to be looked after.
"I just hope that the bowler who bowled the short-pitched ball to Hughes is being given counselling because he would be distraught at this moment," he said.
"The short-pitched ball is a legitimate ball but as a bowler you are also shaken when you are responsible for causing an injury to someone."
Former wicketkeeper Rashid Latif said the International Cricket Council should order a review of the safety gear provided by manufacturers.
"It should be done now because while no one is to blame for what happened, the ICC and its member boards must make sure helmets available today are top quality and safe," he added.