Australian Dav Whatmore will take over as the head coach of Pakistan's cricket team next month with the Asia Cup in Bangladesh being his first assignment.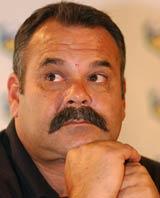 A senior official in the board confirmed that Whatmore and fielding coach Julian Fontain would be arriving in Lahore, in the first week of March to sign their contracts.
"Mohsin Khan does not figure in the plans that the Chairman of the board, Zaka Ashraf has for the Pakistan team," the official said.
He said all details with Whatmore had been worked out and he would take charge of the team before the Asia Cup.
Zaka Ashraf has, however, been insisting in the media that the board had not made any decision on the coaching position in the national team and a committee headed by Intikhab Alam would take the decision.
But the official said a decision had been made with all players on board with the PCB.
Another source in the board confirmed that Zaka was not very happy with Mohsin Khan as the former Test opener had been using pressure tactics to get the board to retain him.
"The Chairman is not happy because he feels that it is the prerogative of the Board to take a decision on the coach and that Mohsin instead of trying to understand and accept the PCB decision has been using all pressure tactics to remain the coach," the source said.
"So much so that it has been a while since the Chairman has spoken to Mohsin who is presently with the team in UAE as their interim coach," he added.