Pakistan coach Dav Whatmore said that he favours having separate players for the three different formats of the sport.
Whatmore also said in an interview given to Geo News channel that he was ready to face challenges in the coming days as the coach of the Pakistan team.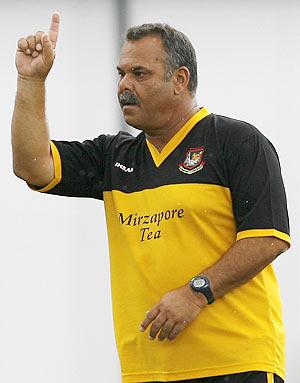 "Personally I am in favor of having separate players for the different formats of the sport. Because the requirement of each format is different," he said referring to reports that he wanted to have separate teams for Test, ODI and T20 cricket in Pakistan.
Presently, Pakistan has one captain for all the three formats of the game in Misbah-ul-Haq.
Whatmore made it clear that he enjoyed the full support of the PCB chairman Zaka Ashraf and said he had taken up the job because he saw it as a big challenge and was already enjoying working in Pakistan.
"The depth of talent in Pakistan cricket is amazing. I got a chance to see the talent while witnessing the recent domestic competitions in Lahore and Rawalpindi," he said.
The former Australian Test batsman, who joined the Pakistan team before the Asia Cup last month replacing Mohsin Khan in controversial circumstances, insisted that in order to produce quality cricketers it was necessary to tap into the immense cricket talent in Pakistan at the domestic and grassroot level.
"It will take time to make Pakistan a top cricket nation and we will also face many challenges and difficult times in future but it can be done," he said.
Whatmore said he and fielding coach, Julian Fountain had already prepared six month, 12 month and 18 month plans for individual players to further polish their talents.
Asked about reports that he was a hard person to get alongwith and that in the past he had faced problems while working with the Sri Lankan and Bangladesh teams, Whatmore said many things written about him were not true.
"A lot of the perception of me as a person and coach is wrong," he added.
Whatmore also insisted that he enjoyed a good relationship with the national selection committee as he believed in team work.
The Australian, who is the fourth foreign coach hired by the Pakistan board since 1999, said he had enjoyed his first experience with the team in the recent Asia Cup.
"Unfortunately we couldn't win all our matches in the tournament but we ended up bringing back the cup home and that gave me satisfaction. The defeat to India was a setback but they played well on that day," he said.
Photograph: Adnan Abidi