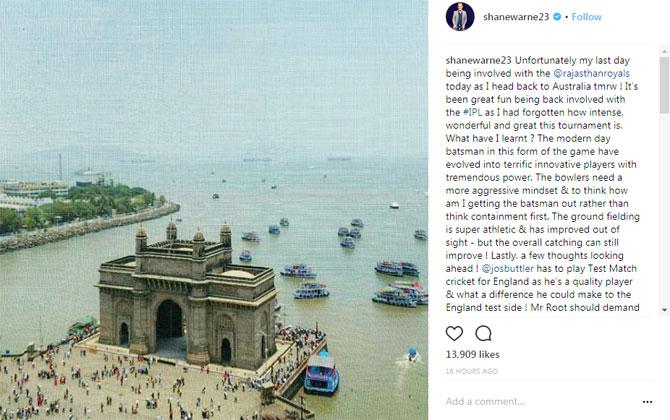 Former Rajasthan Royals captain and current mentor Shane Warne, on Sunday, put up a long post on his Instagram page about working with current bunch of Rajasthan Royals players, his advice to root and the learning he has gained from the IPL this season.

Warne posted a note with the picture of The Gateway of India on his Instagram account, writing: "Unfortunately my last day being involved with the @rajasthanroyals today as I head back to Australia tmrw ! It's been great fun being back involved with the #IPL as I had forgotten how intense, wonderful and great this tournament is. What have I learnt ? The modern day batsman in this form of the game have evolved into terrific innovative players with tremendous power. The bowlers need a more aggressive mindset & to think how am I getting the batsman out rather than think containment first. The ground fielding is super athletic & has improved out of sight -

but the overall catching can still improve !

"Lastly, a few thoughts looking ahead ! @josbuttler has to play Test Match cricket for England as he's a quality player & what a difference he could make to the England test side ! Mr Root should demand he be picked. I've really enjoyed his compnay as he's a quality person too. @stokesy is someone you want in the trenches with you & has a quality work ethic. I'm looking forward to seeing him back playing international cricket, he's a bloody good man ! @shortyjnr23 will become an awesome all round cricketer for Australia & will surprise people with his bowling. @imsanjusamson will be the next big Indian superstar batsman along with Pant & J Archer will soon be the best fast bowler in the world !! Come on the Royals #hallabol," he added.

Here's hoping Root, CA and the BCCI have read this post.