Kohli's ability to accept weak areas and improve on them sets him apart, says Tendulkar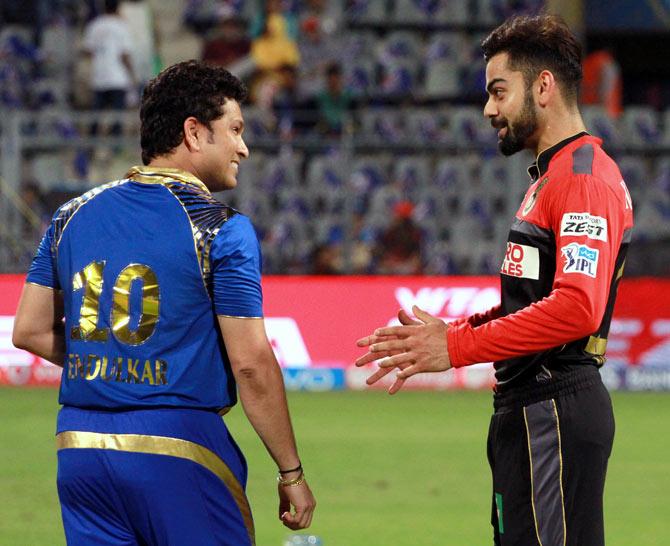 Iconic Sachin Tendulkar says India captain Virat Kohli's ability to identify his weak areas and determination to improve is 'the best part about him'.
Tendulkar, the all-time highest run scorer in Test matches with 15,921 from 200 matches, hailed Kohli's work ethics.
"I could (always) see the hunger and the fire in his eyes. The best part about him is that the moment he realises there are areas he needs to work on he is immediately back in the nets working on those things," Tendulkar said of Kohli.
"A player can only move forward if he accepts - and it requires a lot to accept and admit: 'Okay, these are the areas where I have not done well and I need to go out and change these things'," Tendulkar was quoted as saying by Sky Sports.
Kohli has struck 5,554 runs in his 66 Tests to date at an average of 53.40 but suffered a rare failure in England four years ago when he scored just 134 runs in five Tests at 13.40.
Tendulkar advised Kohli to continue the way he prepares before a match and not to be bothered about the ups and downs in his form.
"He is in a good space. All he needs to do is try and be in the same space. His method of preparing himself before a tour, before a game is really nice. He should continue with that. There are going to be ups and downs, there could be bad tours, but that's not the end of the world."
India coach Ravi Shastri said Kohli's passion, hard work and competitive instinct spreads through the team and that the 29-year-old's desire to score "tough" runs sets him apart from many of his peers.
Asked about the influence Kohli has on the side, Shastri - who became India head coach a year ago - said: "Massive. His work ethics are second to none. The passion that he brings into the dressing room, wanting to play the game as a competitor. He wants to compete and it's like a disease - people want to emulate him, youngsters want to be like him.
"There is no excuse in him, he won't leave a stone unturned. The effort will be maximum and then you will see the results. He doesn't want anything easy - if he wants a hundred it should be a tough hundred in tough conditions. That's what makes him different from a lot of other players.
"He is never one to shy away from a challenge which I think is his biggest quality. I admire his preparation. He wants to excel but he knows there are no shortcuts."