'I am carrying so many chronic injuries. Already 10-12 surgeries. It's not easy. But am happy to do whatever best I can do.'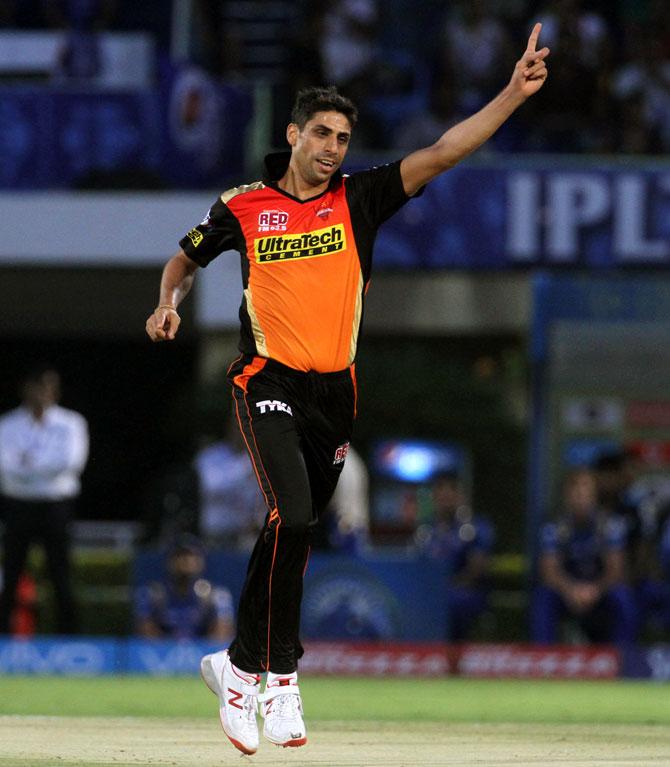 IMAGE: Sunrisers Hyderabad fast bowler Ashish Nehra. Photograph: BCCI
Veteran seamer Ashish Nehra on Tuesday said that his habit of putting in a few extra hours every day has helped him maintain his pace despite undergoing 10 surgeries.

"It's a fitness thing. Pace has been key for me. Pace comes naturally from my action. At the same time, I have to train a lot to keep my fitness level. Whenever it's needed, I can bowl quick," Nehra, a vital cog in defending champions Sunrisers Hyderabad's scheme of things, said on the eve of their IPL opening tie against Royal Challengers Bangalore, in Hyderabad.

The 38-year-old left-arm pacer said he has been working hard to keep himself fit and agile.

"Every player has his different routine and trainers. I have been also working on the same kind of routine for last so many years. All in all, at my age, bowling fast is not easy. Everybody knows. But to be on that level, every day, four to five hours goes to keep myself fit," he said.

"I am carrying so many chronic injuries. Already 10-12 surgeries. It's not easy. But am happy to do whatever best I can do. It takes me one or two hours extra compared to other cricketers. But I am happy to do that.

"Even for the practice, I have to prepare. For me, not a single day is like complete 24 hours break. The day I am really tired after the game, there will be things like may be a massage or an ice bath or a pool. I have to keep doing it," Nehra added.

Stating that his team's first goal is to reach the top-four in the upcoming IPL, Nehra said: "So many people are asking are you guys feeling extra pressure. More than the pressure, I would say it is a responsibility. We would like to do again. Play good cricket and reach last four. In this format, to reach last four, you have 14 games.

"If you play good cricket, not 100 per cent, but 95 per cent you will reach last four. If you reach last four, then it is a matter of one or two good games or bad games that can happen. Our first goal is to reach last four and play good cricket."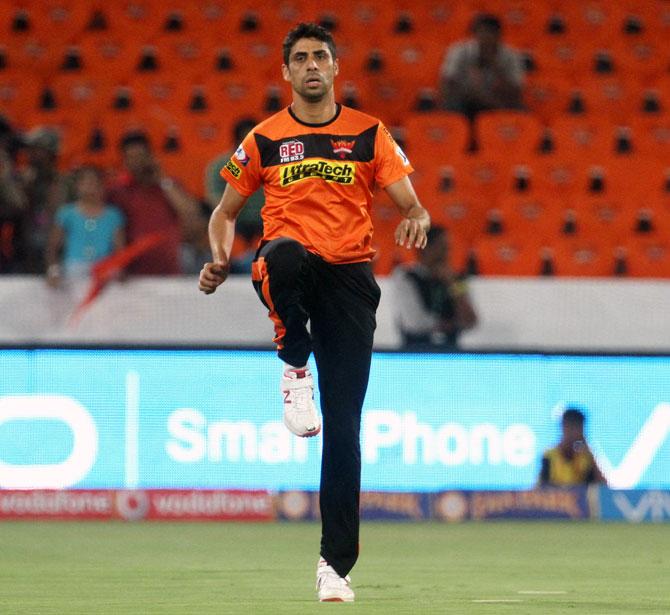 IMAGE: Sunrisers Hyderabad fast bowler Ashish Nehra warms up. Photograph: BCCI
Nehra feels that Hyderabad have good bench strength as far as their bowling attack is concerned.

"Even when Mustafizur (Rahman) was there, there was always responsibility. Not only on me, every bowler plays. It's not that somebody is bowling well, so he can bowl it all. You have only four overs. There will be responsibility. But we have enough back up bowlers also," he said.

"We have Barinder Sran, who did not get that much chance last year. We have (Mohammad) Siraj. The new leg spinner is an x-factor. We have enough back up players. If he (Mustafizur) comes, it is really good. If he does not come, what can we do? All in all, we have a good unit. It does make a difference.

"We cannot look at one player that he is missing. So many times it happens that your main players are there but they are not in form. Other people take over. That's the nature of the game," explained the seasoned bowler.

Rahman played a crucial role in Hyderabad's success last season, though other bowlers too had put in valuable contributions. The Bangladeshi is expected to join the team on April 7 and will miss at least the opener against RCB.

Asked to elaborate on his comments that he does not believe in the theory of speedometer, Nehra said, "Sometimes, even a bowler bowls a slow ball and speedometer shows 140. It's not a 100 per cent proved thing. I can understand if you are a 150 plus bowler which is not possible for a human body to bowl.

"Even the best of the bowlers, when it comes to speed, either it was Brett Lee or Shoaib Akhtar. For how many, what period of time they could bowl 150 plus. May be for one year, two years. You cannot do that consistently. So, it is a combination of all, not only speedometer."