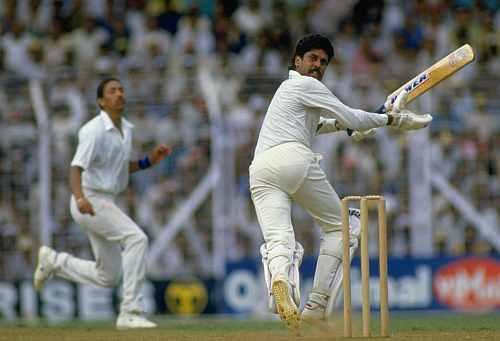 Image: Kapil Dev. Photograph: Allsport UK
Haresh Pandya picks his all-time best Indian Test team which is packed with some exciting stroke-players, a couple of heavy-scorers known to play monumental innings, some superb spinners, a world-class all-rounder and a top-notch wicketkeeper.
Check out his list and then create your own Dream India XI, and share it with family and friends!
India has been playing Test cricket since 1932. In all, 282 players, the latest being medium-pacer Pankaj Singh, have represented the country in the heavyweight division of cricket. Many of them, right from India's first captain C K Nayudu and his two ferocious fast bowlers Mohammad Nissar and Amar Singh, have scaled dizzier peaks of success and left a lasting impression.

Virat Kohli, Cheteshwar Pujara, Ajinkya Rahane and Bhuvneshwar Kumar among the present lot have oodles of talents and appear destined to have outstanding careers.

But if one were to pick one's Dream Team, or All-Time Great XI, the question is not how many but who among these 282 would feature in it.
When I set about picking my favourite all-time Best Indian Test XI, I thought it would be quite easy. But as I looked at many successful players of different eras and their skills and achievements, the fact began to dawn on me that it was actually a Herculean task.
The one rule that I made before selection of the players was that they should have played against Australia, England, New Zealand and the West Indies. These are traditionally among the best Test-playing nations and India has played regularly against them.

India and Pakistan have never had consistently smooth cricket relations. There have been spells when the two neighbours have not played against each other, the longest being from 1962 to 1977.
Sri Lanka got Test status in 1981. South Africa returned to international cricket in 1991 after serving a 20-year ban thanks to its policy of apartheid. But even before the Proteas were isolated, India had never played against them. All this meant some of India';s top players never got to play against these formidable opponents.

Zimbabwe became a full member of the International Cricket Council in 1992 and thus qualified to play Test cricket. Bangladesh became the tenth Test nation in 2000. Compared to Sri Lanka, which has become a force to reckon with in a considerably short time, Zimbabwe and Bangladesh have still been struggling to justify their Test status.
Batsmen keep plundering runs and bowlers keep taking a plethora of wickets against Zimbabwe and Bangladesh without ever being truly tested or challenged. Such records and statistics, howsoever dazzling, have no significance at all.

Being a firm believer in class and quality rather than quantity, I have taken into serious consideration the players' ability to excel in difficult situations against opponents who matter. How they would fare against the best of batsmen and bowlers outside India has also been taken into account.
Nearly all my players are known and respected for their positive approach and eagerness to sacrifice their personal glory for the sake of the team.
A Test match is played over five days, so if a couple of batsmen drop anchor depending on the situation, they should not be considered selfish.
I have picked an eleven with a 12th man. Ideally, the team will consist of six batsmen, one wicket-keeper, two fast bowlers and two spinners.
Sourav Ganguly will bat at No 6 and lead the side. Among the spinners, Anil Kumble, who towers over all the other Indian slower bowlers, will invariably be the first choice. Spin bowling being India's traditional strength, I would like to play three spinners -- the kind that this team has -- regularly. But it is just not possible because of the combination of the playing eleven.

The situation was different in the 1960s and 1970s when India did not have a single world-class fast bowler to speak of, when three spinners were a regular feature of India's playing eleven. Such a luxury is denied to my XI for obvious reasons. The team is packed with some exciting stroke-players, a couple of heavy-scorers known to play monumental innings, some superb spinners, a world-class all-rounder and a wicket-keeper talented enough to walk into any national XI on the strength of his batting alone.

This all-time Best Indian Test XI is capable of taking on not only any powerful Test team but also any World Test XI anywhere under the sun.
Whether they dish out fliers or turning tracks, this team has the batsmen to withstand the most hostile of fast bowlers and the most cunning and craftiest of spinners.
The fast bowling department may appear to be a little weak in the absence of a brutal express bowler like Jeff Thomson or Shoaib Akhtar, but it has enough variety of seam and swing and, anyway, you can rely on the spinners to run through the opposition.

My All-Time Great Indian XI in batting order:

1. Sunil Gavaskar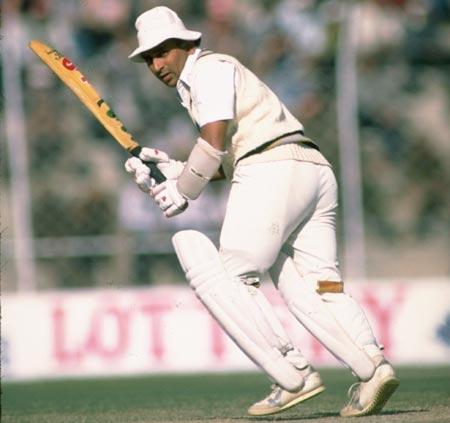 Image: Sunil Gavaskar. Photograph: Adrian Murrell/Allsport UK
There was no competition whatsoever for the No 1 slot. Gavaskar gets it by right on the strength of his high quality batting and outstanding record as an opener. He is not just India's finest opening batsman ever, but the best of all from the subcontinent.
Even if you forget his impressive statistics and records, his ability to face and tame the world's best fast bowlers with his scientific technique and equally solid temperament makes him an ideal choice to open not only for this XI, but any other Test eleven for that matter.

In the 1970s, all Test-playing countries save India boasted of a number of brilliant fast bowlers in their ranks. It called for some talent with the willow and also a bit of mental strength to take on them right from the beginning of the innings; and that too without wearing a helmet. With Gavaskar opening the innings, there is a guarantee of a good start nine times out of ten. There will be no respite for the bowlers. After tiring and conquering the fast bowlers Gavaskar will play spinners with equal aplomb.

How Team India missed an opener like Gavaskar on the recent tour of England is not hard to understand. His very presence would lift the morale of his teammates and help his captain plan some special strategies, for Gavaskar could defend dourly and attack when in the mood, like he did against the West Indies in 1983.
The advantage of having someone like Gavaskar in the team is that you can always hope for a better performance and taking the Test in a draw in the event of a first innings collapse and the inevitable follow-on.

Gavaskar in Test cricket: 125 Tests, 214 innings, 10,122 runs at 51.12, 34 centuries (highest 236 not out), 45 half-centuries.
2. Virender Sehwag
Image: Virender Sehwag against Pakistan in Multan. Photograph: Scott Barbour/Getty Images
The hard-hitting Sehwag will be a good foil to the more cautious and watchful Gavaskar at the other end. The Delhi dasher knows not how to play defensively for a long time. No, he cannot. Nor is it his natural game. The ball is there to be hit is his simple enough principle.
Sehwag has played all his cricket by attempting to dominate the bowlers and has been remarkably successful in his endeavour. His presence at the top of the order will enable the team to score quicker runs, put up a big total or chase a target in fewer overs.

When thinking about Gavaskar's opening partner for this XI, a couple of names did crop up, notably Vijay Merchant and Krishnamachari Srikkanth. Merchant's technical excellence, phenomenal first-class career and his excellent record in his brief Test career notwithstanding, this team needs a more aggressive batsman to provide the necessary spark at the start of the innings, something that even Srikkanth, who did not have an impressive career anyway, cannot lend.
Sehwag is far ahead of both Merchant and Srikkanth. His footwork and technique may not be a purist's delight, but what matters is how many runs you make for your team. Only a handful of batsmen can match Sehwag in this regard.
When in form and in his element, Sehwag has played many stirring, mammoth, innings. He is the only Indian with two triple Test centuries against his name and that speaks volumes for his thirst for massive scores.
If required, he can roll his arm as a part-time off-spinner too.

Sehwag in Test cricket: 104 Tests, 180 innings, 8,586 runs at 49.34, 23 centuries (highest 319), 32 half-centuries.
3. Rahul Dravid
Image: Rahul Dravid in action during the fourth Test against England in London, September 7, 2002. Photograph: Mike Hewitt/Getty Images
With his rock-like defence and steely resolve, as well as cultured batting, Dravid has lent both dignity and status to the all vital No 3 position.
His penchant for spending more time at the crease than in the dressing room, and his ability to hold the innings together in trying circumstances, were his USP. He could not have batted anywhere else in this team, which has welcomed him with open arms, ignoring tall claims by Vijay Manjrekar, Mohinder Amarnath, Dilip Vengsarkar and several other past masters of the willow.

The right-hander who relished batting against fast as well as spin bowlers can be expected to provide stability to the innings in the event of a wicket or two falling cheaply. And if the team has got a rousing start, he will build the innings further with his own insatiable hunger for runs.
It was not without reasons that he was called 'The Wall' and the bowlers, howsoever sharp and shrewd, will find it tougher to break Dravid's defence. This can be frustrating for the bowlers and fielders who, in turn, often end up making a mess of things for their team.

Whenever India played abroad, Dravid's was always the most prized of all wickets. He was amazing in England in 2011 where most other Indian batsmen failed miserably. His mental gifts proved vital to his captain who could consult him at a crucial juncture or two.

Dravid in Test cricket: 164 Tests, 286 innings, 13,288 runs at 52.31, 36 centuries (highest 270), 63 half-centuries.

4. Gundappa Viswanath
Vishy beat quite a few strong contenders -- Vijay Hazare, Polly Umrigar, Mohammed Azharuddin and V V S Laxman -- to this key position on the strength of his sheer genius to play the fastest of bowlers with confidence and ease on greener, bouncier and often unplayable wickets anywhere in the world.
One has still not forgotten his 97 not out against Andy Roberts (Chennai, 1975), 112 against Michael Holding (Trinidad, 1976), 124 against Sylvester Clarke (Chennai, 1979) and 114 against Dennis Lillee (Melbourne, 1981).

They were played in grim adversity against those speed demons in full cry. There were no restrictions on the number of bouncers throughout the 1970s, which saw a string of great fast bowlers. Vishy and his brother-in-law Gavaskar would face them without wearing a helmet.
Any team needs a batsman like Vishy, especially this XI, who can rescue it in an emergency when others fail. Pressure often brought the very best out of Vishy who did not score big centuries by modern standards, but essayed many timely cameos and little gems, which were greater in importance than even 100s and 200s.

With his irresistible elegance, inimitable style and silken touch, Vishy will bring much-needed romance and aestheticism to the game and lift the spectators out of their utilitarian selves and send them into raptures.
After all, cricket is not all about dull defence, brutal attack and cold statistics.
Imagine this scene: Sehwag with his savage hitting at one end and Vishy with his delicate artistry at the other; one a common cricket lover's delight, the other a connoisseur's. Vishy will accompany Dravid and Gavaskar in the slips.

Viswanath in Test cricket: 91 Tests, 155 innings, 6,080 runs at 41.93, 14 centuries (highest 222) and 35 half-centuries.

5. Sachin Tendulkar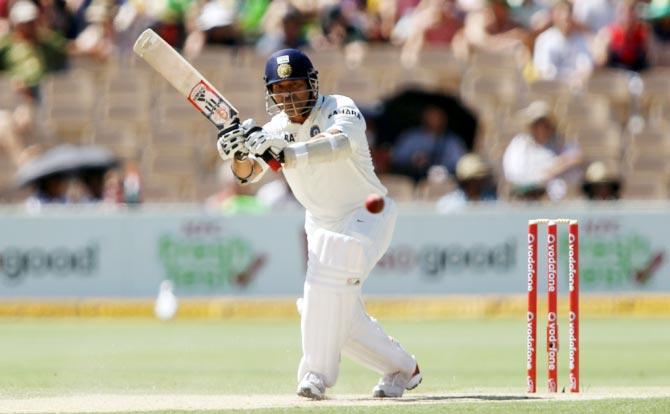 Image: Sachin Tendulkar in action against Australia during the fourth Test at the Adelaide Oval, January 26, 2012. Photograph: Morne de Klerk/Getty Images
When the most talked-about and written-about Indian is always the first name penciled in immediately after Don Bradman's in any world XI, it would be sacrilege to leave him out of this dream team.
Tendulkar was as much an automatic choice as Gavaskar and Kapil Dev. There has been no batsman in India's cricket history to challenge him or come anywhere near him. Given his penchant for going for his wide range of shots, the No 5 slot should suit him best.

The platform will usually be ready for Tendulkar to unfold his repertoire and go after fast bowlers and spinners in an attempt to build a big total on a solid foundation. If not, and if the bowlers are having a field day, he will restore calm and stabilise the innings. And it will be a sight for the gods if Vishy and Tendulkar are together at the wicket and executing delightful shots in their different styles.

Tendulkar may occasionally be asked to roll over his golden arm to unsettle a threatening partnership, considering that this team will take the field with only four specialist bowlers. He was always very confident and enthusiastic about his bowling, which ranged from off-spin to leg-spin and medium-paced deliveries to deceptively slower ones.

Tendulkar in Test cricket: 200 Tests, 329 innings, 15,921 runs at 53.78, 51 centuries (highest 248 not out), 68 half-centuries.

6. Sourav Ganguly (captain):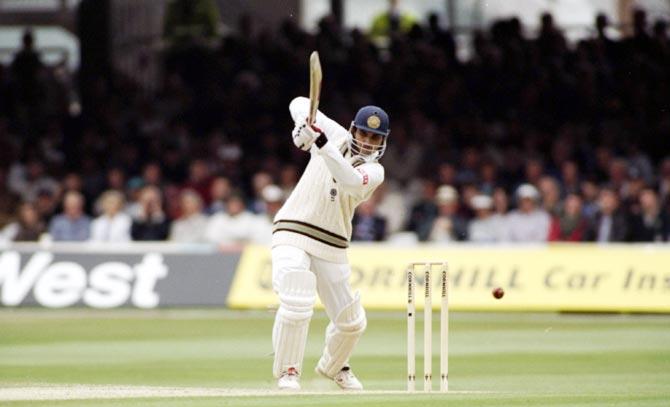 Sourav Ganguly on his way to a century on debut, in the second Test against England at Lord's, June 1996. Photograph: Graham Chadwick/Allsport UK
Many will argue that Ganguly's place should have gone to Azharuddin, Laxman or Polly Umrigar. While they may have a point or two, let it be emphasised that the Bengal tiger has been picked keeping in mind two vital facts about him.
Quite unlike Michael Brearley, who was a great captain but a poor batsman who did not deserve to be in the English team in the first place, Ganguly was an astute leader who earned his place in the team as a specialist batsman and delivered too.

Ganguly may have been a bit vulnerable against the short, rising ball than against express pace bowling, but his exploits make him the greatest left-hand batsman India has ever produced.
When he batted as if possessed, which he often did, Ganguly's game was no less beautiful than Vishy's. And who will ever forget his mastery on the off-side?
Dravid was only echoing the sentiments of many when he famously said: 'On the off-side, first there is God and there is Sourav Ganguly.'
For good measure, Ganguly hit sixes as effortlessly as he executed the most graceful of cuts and drives on the off-side almost at will.

Only Ganguly was fit and qualified to lead this team. The way he built a strong Indian team from what was shambles following a disastrous tour of Australia in 1999 and in the wake of the heinous match-fixing scandal is part of cricket folklore.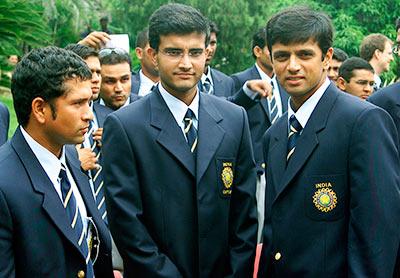 Image: Sourav Ganguly, centre, with Sachin Tendulkar, left, and Rahul Dravid. Photograph: Ananthakrishnan/Reuters
He was aggressive, adventurous and imaginative. It was under Ganguly that India recorded some of her great home and away Test wins.
Ganguly will provide this team, whose nine other members have captained India, the kind of dynamic leadership it needs and deserves. He will also be the team's third medium-pacer when required.

Ganguly in Test cricket: 113 Tests, 188 innings, 7,212 runs at 42.17, 16 centuries (highest 239), 35 half-centuries.

7. Mahendra Singh Dhoni (wicket-keeper, vice-captain)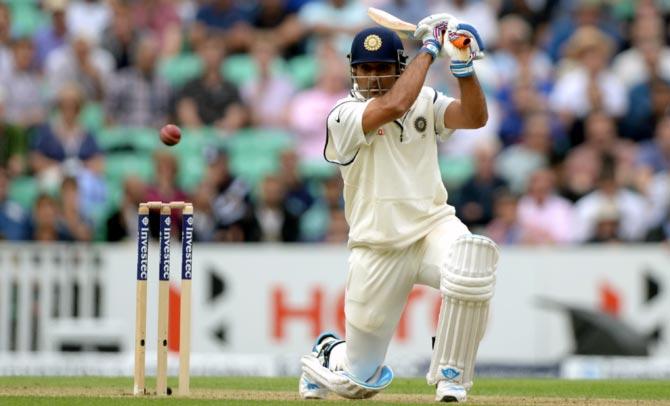 Image: Mahendra Singh Dhoni during the fifth Test against England at the Oval, August 15, 2014. Photograph: Gareth Copley/Getty Images
But for Ganguly, Dhoni would have been captain of my dream XI. There have been better wicket-keepers in Indian cricket -- Syed Kirmani, for instance -- but Dhoni's achievements with the bat are such that quality had to be sacrificed at the altar of convenience.
With no burden of captaincy, he will surely concentrate more behind the stumps and prove to be the wicket-keeper worthy of a place in an XI like this.

It is not that Dhoni is a bad stumper. On his day he can be the best in the business in spite of lacking elegance and style. The problem is he has had lapses in concentration and during such spells he tends to miss an odd ball or two and drop a catch or two.
Despite all this, he does appear to be one of the finest when it comes to stumpings, which is a good sign as this XI is composed of two of the greatest spinners the game has ever seen.

It is a measure of Dhoni's ability that he is capable of walking into any Indian team on the basis of his batting alone. He may not have much to contribute at No 7 in a star-studded batting line-up like this, but if necessary, he will always be there to bail out the team from a difficult situation.

Dhoni in Test cricket: 88 Tests, 140 innings, 4,808 runs at 38.46, 6 centuries (highest 224), 33 half-centuries, 243 catches, 37 stumpings.

8. Kapil Dev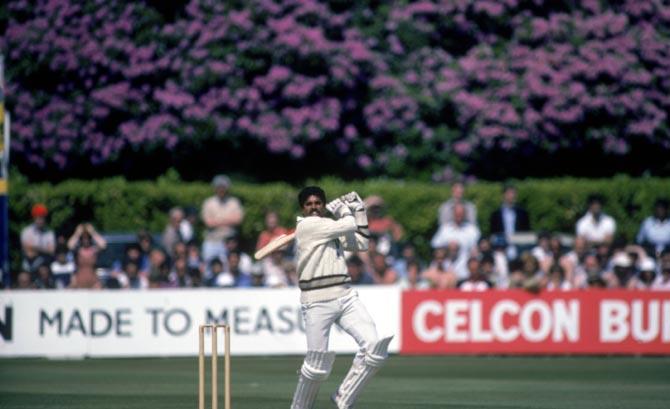 Image: Kapil Dev hits a boundary. Photograph: Trevor Jones/Getty Images
Kapil Dev coming in at No 8 shows the depth in this team's batting. He is one of India's four world-class allrounders, the other being Amar Singh, Vinoo Mankad and Salim Durrani. Though a reliable batsman with a tendency to hit every ball, it is as a medium-pacer that he is more important to this or any other Indian team.
His skills to operate with the new ball and then come again on the firing line with the old one and produce remarkable movement and swing and baffle the batsmen was one of his many endearing qualities.

He took a number of wickets with the new ball as well as old without much of support from the other end. If his line and length were immaculate, his control over the ball was excellent.
One of those workhorses who never tired bowling marathon spells on docile Indian pitches, Kapil Dev needed good wickets and atmosphere to excel and it was no surprise that he did in Australia, England, New Zealand and South Africa.
In fact, when fresh, he would generate lively speed on these wickets. It was at once a tribute to his fitness that he never missed a single Test due to injury or illness.

Besides his bowling and batting down the order, Kapil Dev will lend an extra dimension to the team with his athletic fielding in the deep and clean catching. Ganguly must count his blessings that he has two World Cup-winning captains in Dhoni and Kapil Dev in his side. Doubtless, he will never be short of advice and suggestions.

Kapil Dev in Test cricket: 131 Tests, 184 innings, 5,248 runs at 31.05, 8 centuries (highest 163), 27 half-centuries, 434 wickets at 29.64.

9. Anil Kumble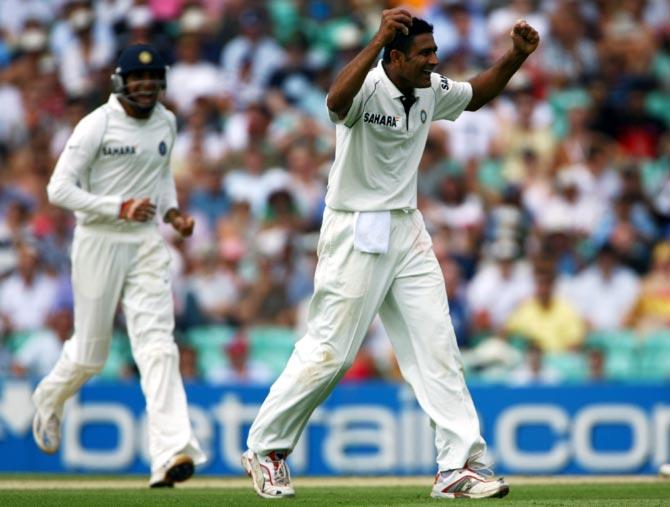 Image: Anil Kumble, right, celebrates a wicket during the third Test against England at the Oval, August 11, 2007. Photograph: Tom Shaw/Getty Images
Though India had two great and effective leggies in Subhash Gupte and Bhagwat Chandrasekhar, they just do not match Kumble's success rate, if not talent.
With 619 Test wickets and proven match-winning ability, Kumble is head and shoulders above all other Indian spinners, not just Gupte and Chandrasekhar, and hence finds a berth in this team by right.
Along with Mushtaq Ahmed and Shane Warne, he was instrumental in reviving almost the forgotten art of leg-spin. Like most leg-spinners, Kumble was a bit fastish off the pitch.

Feared by opponents for wracking havoc on the dusty Indian bowls, he often won Tests on his own. At Delhi, in 1999, he consumed Pakistan's ten wickets in an innings and equalled English off-spinner Jim Laker's long-standing world record.
It was Kumble at his vintage best against a strong opposition not short of accomplished batsmen against spin bowling.

His heart was always in the game and so often did he threaten to run through the opposition. Playing for this team, he will never be short of runs to bowl against, a fact that may make him doubly deadly.
Also, Kumble was no novice with the bat. He would always chip in with a useful score when the chips were down. At The Oval in 2007, he scored his maiden Test hundred 17 years and 118 matches after his debut against England at Old Trafford, Manchester in 1990.

Kumble in Test cricket: 132 Tests, 173 innings, 2,506 runs at 17.77, 1 century (highest 110 not out), 5 half-centuries, 619 wickets at 29.65.

10. Zaheer Khan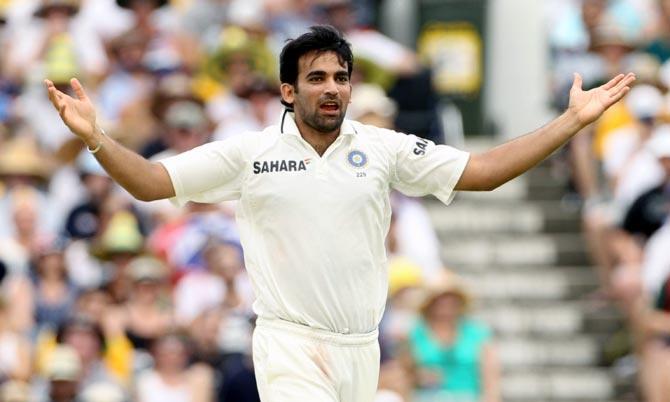 Image: Zaheer Khan celebrates a wicket during the third Test against Australia in Perth, January 14, 2012. Photograph: Hamish Blair/Getty Images
Zaheer Khan is one of the few genuine fast bowlers in India's cricket history. There was a toss-up between Zaheer and Javagal Srinath, but ultimately the former's versatility with the ball bowled me over.
Zaheer relied more on swing and seam rather than on fiery speed and yet caused the same, devastating, effect.

Like most fast bowlers, Zaheer tended to bowl extra quick even on an Indian pitch tailor-made for batsmen. Over the years, he has given the impression of being least bothered about whether there is anyone to share the new ball with him. Nor does he believe in hunting in a pair.
His job is to strike early blows and create openings for the spinners to take over and torment the batsmen.
Injury-prone Zaheer and fitness fanatic Kapil Dev should be a good complement to each other when armed with the new ball.

Zaheer may have played many more Tests than the 92 he has figured in. He has been very accurate, consistent and miserly when it comes to giving away runs.
Zaheer in Test cricket: 92 Tests, 127 innings, 1,231 runs at 11.95, 3 half-centuries (highest 75), 311 wickets at 32.94.

11. Bishan Singh Bedi

Why not Harbhajan Singh? Why not Erapalli Prasanna? Such questions are bound to be asked. Bedi, to me, seems a better choice. The only other name that came to mind was the great Vinoo Mankad. Not only was he a world-class left-arm spinner but also a world-class batsman who could bat at any position.
But since this team is packed with batsmen, Bedi's better bowling skills, as well as his ability to win matches on his own got him in.

If this team were to play only against Australia and New Zealand, master off-spinner Prasanna would get the nod ahead of Bedi. Prasanna succeeded more against the Kangaroos and Kiwis, home and away, while Bedi's success was all-round and more consistent.
With a giant like Kumble in the side, one can take a gamble. Bedi had the guts to buy his wickets. He would give plenty of flight to the ball and lure the batsman into hitting him out of the ground. But on the very next delivery or the one thereafter, he would seduce the batsman with a perfect arm-ball or a floater.
Bedi, an orthodox left-arm spinner in the classical mould, and Kumble, the leggie who sometimes defied proper description but was nonetheless supremely effective and successful, will make a fine combination.
Their class and charisma, as well as the art and effectiveness of Kapil Dev and Zaheer, are such that this team does not really need a fifth bowler, whether slow or quick.

Bedi in Test cricket: 67 Tests, 101 innings, 656 runs at 8.98, 1 half-century (highest 50 not out), 266 wickets at 28.71.

12. Erapalli Prasanna

At his best, Prasanna was the finest off-spinner in the world, particularly in the late 1960s, when he took 100 wickets in merely 20 Tests.
Ian Chappell felt Prasanna was the best offie he had ever seen or played against. Harbhajan Singh may have taken many more wickets, but he was nowhere near Prasanna's class.
Prasanna played in an era when India did not play too many Tests. He could easily have bagged 400 Test wickets or more.

Of all his captains, only 'Tiger' Pataudi understood him well and handled him the way he needed to be handled. Prasanna produced dream results.
He was pure gold, if you like. There was no deception in his bowling, physical or technical. Nobody ever questioned his action. It was flawless.
Like Bedi, Prasanna was a master of seducing the batsmen in the air. He trapped some of the finest batsmen of his era in his web of spin.
One would have loved to have Prasanna bowling in tandem with Bedi in this team as well. But you cannot ignore Kumble and the team combination is such that you cannot play three spinners.
No modern team enters the field with three spinners, especially when better options are available. But Prasanna will be at hand in case Bedi or Kumble is indisposed or unfit.

Prasanna in Test cricket: 49 Tests, 84 innings, 735 runs at 11.48, 37 highest, 189 wickets at 30.38.