Kohli, Rohit join Messi, CR7 to release videos for 'Unscriptd'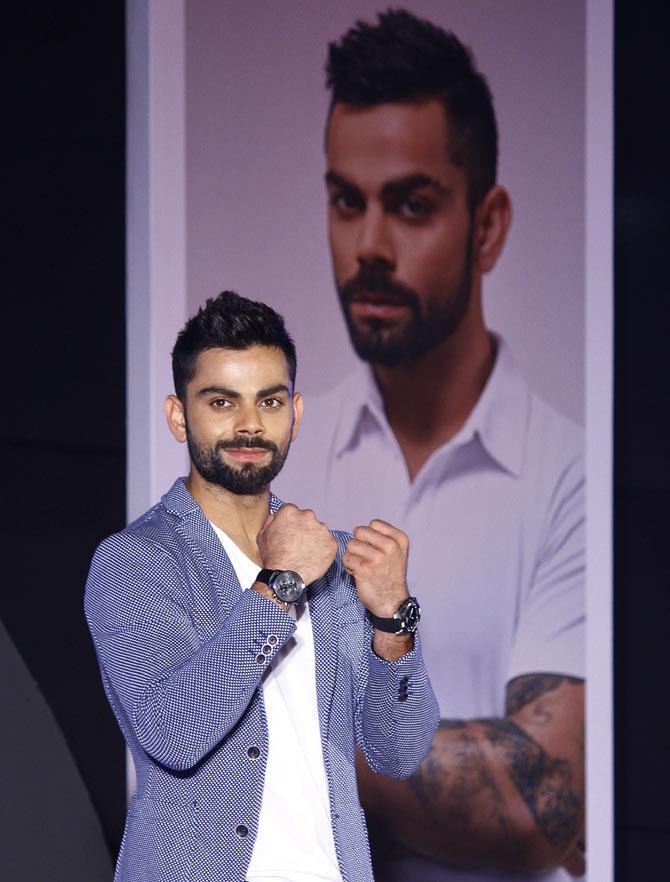 IMAGE: Virat Kohli joins the acclaimed athlete media company 'Unscriptd'. Photograph: Hitesh Harisinghani/Rediff.com .
India's Test captain Virat Kohli and star batsman Rohit Sharma became first Indian sportspersons to join the acclaimed athlete media company 'Unscriptd' that helps professional athletes create and publish their unfiltered personal stories in short-form video.
The cricket superstars are now in the elite league of global sporting icons like Real Madrid's Cristiano Ronaldo and FC Barcelona's Lionel Messi.
Ronaldo's first Unscriptd video in January featuring a behind the scenes tour of his house achieved more than 30 million views in its first week of release.
Both athletes have released their first short videos using Unscriptd's proprietary publishing platform, and have connected with their fans in India and across the globe.
In his debut video, Kohli shares the best advice he received from a coach to date, while Rohit spoke about his cricket idol, Sachin Tendulkar.
Within 48 hours of being shared on social media, the videos received a combined total of more than 900,000 views.
As the second most popular sport globally, cricket has seen a tremendous increase in popularity on social media. Virat Kohli has 34.1 million fans on Facebook and Twitter, and is the most followed active cricketer, while he (Virat) has 2 million followers on Instagram, the only cricketer to reach that figure.
Rohit Sharma has 11.7 million followers on Twitter and Facebook, and 665k followers on Instagram. Making them two of the most followed global athletes. Both athletes joined 'Unscriptd' to share their personal stories through short-form video and to amplify their global reach.
"Unscriptd is enjoying explosive growth, and in the lead up to the T20 World Cup and Indian Premier League, both in India, we're thrilled to announce the addition of two of the worlds best and most popular cricketers to Unscriptd," said Brent Scrimshaw, CEO of Unscriptd.