'I have dated four other men after that, but nobody is talking about them...'
'It's only about Dhoni, just because it is sensational news.'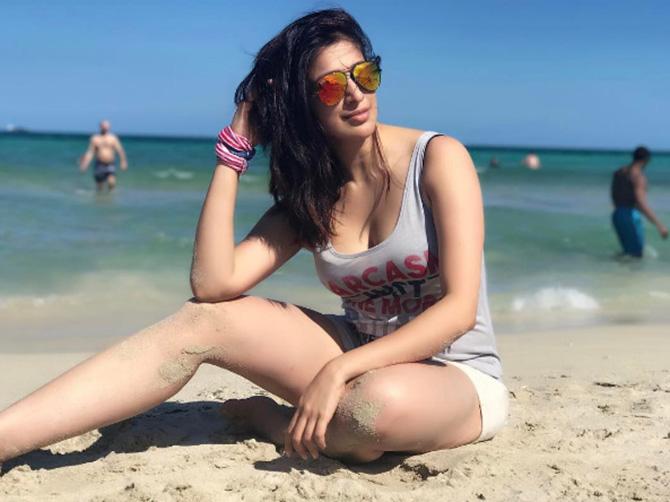 South Indian actress Laxmi Raai, who reportedly once dated Mahendra Singh Dhoni, when asked about him, had shot back, 'Who's he?'
Raai, the lead actress in Julie 2 that is due for release, told spotboye.com: 'It is not about dating or not dating. But people had quickly taken it to a level that I was going to get married to him -- and that was simply not true.'
'The hype got us into an awkward space and that is why I do not talk to the media much about this -- but I am talking a bit now. I do not want to speak about him in detail because I respect him a lot.'
Some reports suggest Raai -- a Southside star -- dated Dhoni during the inaugural IPL in 2008.
'I was the brand ambassador for the team (Chennai Super Kings) that he was a part of and we were together for less than a year,' Raai said.
'We had never committed to each other and never thought of getting married either, so I don't understand why people would talk about us. It didn't work for us, so we moved on,' Raai had said last year.
The actress complained that only her relationship with Dhoni gets highlighted even though she has dated other men after the Indian cricket star.
'I have dated four other men after that, but nobody is talking about them. It's about Dhoni, just because it is sensational news,' Raai said in the spotboye.com interview.
'This needs to have a fullstop,' she said. 'It was a long time ago, he is happily married now, he has kids.'
'Everybody knows everybody in today's world and you may end up with a person tomorrow whom you don't know today.'
'It is the process of life,' the actress, who is single now, said, 'certain things don't work out, then you have to move on.'
IMAGE: Laxmi Raai. Photograph: Kind courtesy, Laxmi Raai/Instagram