Statistical highlights of the opening day's play in the first cricket Test match between India and the West Indies played in Kingston.
# Suresh Raina (82 off 115 balls) posted his first half-century against West Indies -- his third in Tests. His knock is his third highest innings in Tests -- the highest two are 120 against Sri Lanka at Colombo, SSC in July 2010 and 86 against Australia at Mohali in October 2010.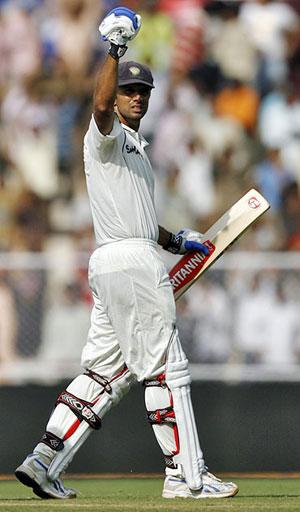 # Mahendra Singh Dhoni, for the first time, has recorded two ducks in a row in Tests -- against South Africa at Cape Town and against West Indies at Kingston.
# Dhoni's fifth duck in Tests is his first duck against the West Indies.
# Harbhajan Singh (70 off 74 balls) recorded his first fifty against West Indies -- his ninth in Test cricket.
# Harbhajan's strike rate of 94.59 is the best by an Indian batsman at Sabina Park, Kingston.
# Harbhajan's innings is the second highest by a number eight batsman for India against West Indies at Sabina Park, next only to Bapu Nadkarni's 78 not out in March 1962. Ajay Ratra is the only Indian number eight batsman to register a hundred against West Indies --115 not out at St.John's in May 2002.
# Harbhajan has recorded two hundreds and an equal number of half-centuries in his last 10 innings.
# Rahul Dravid has completed 15 years in Test Cricket. He made his debut in Tests against England at Lord's on June 20, 1996.
# Dravid, during the course of his 40, has become, the leading run-getter for India at Sabina Park, Kingston -- 318 at an average of 53.00 in four Tests, including three half-centuries.
# Fidel Edwards (4/56) produced his best bowling figures against India in Tests, eclipsing the two for 53 at St. John's in June 2006.
# Abhinav Mukund, Praveen Kumar and Virat Kohli made their debut in Test cricket. Sanjay Bangar, Iqbal Siddiqui and Tinu Yohannan had made their debut against England at Mohali in 2001-02 -- the last instance when three players made their debut in the same Test match for India.
# Harbhajan completed 1,000 runs on foreign soil in Tests, managing 1069 at an average of 19.08, including six fifties, in 42 Tests.