The draw against West Indies despite being in a strong position in the second Test did not disappoint Indian skipper Mahendra Singh Dhoni, who said his side did enough for a win but was done in by the weather gods.
"Rain or bad light is not in our control. There is no reason why we should be disappointed. (May be) 12-13 overs more we could have got it (the win), but you can't control it," remarked Dhoni after a remarkable day's play at the Kensington Oval.
West Indies, set a target of 281 from 83 overs, were 181 for 5, needing another 100 from 18.3 overs when rain interrupted the game for 32 minutes and then another 15 minutes were lost due to a wet square.
When bad light finally ended the game, West Indies were tottering at 202 for 7. Before the rain, the West Indies had made a strong surge and were in with a chance to go for an unlikely win.
"I thought 280 to get in 80 overs was always going to be difficult. The outfield was slow and as we have seen in this series, the shot-making has never been easy," he said.
"They were five wickets down and we needed two more wickets which we did get. Only 100 runs at that stage to get could have appeared 70-run surplus for us.
"It was quite difficult to score freely unless you bowled really bad. That's why scoring rate wasn't high in this Test," he added.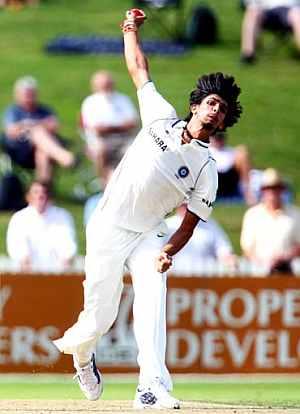 Dhoni quickly shifted his attention to Ishant Sharma who picked up six wickets in the first and four in the second innings for a match haul of 10 for 108.
Right from the IPL, Ishant has been bowling in the right areas. Everything, from seam positioning to rhythm has been perfect from him," Dhoni said.
"That's the reason he is up in pace and bounce. He's been bowling with pace and in good areas and has been the pick of our bowlers.
"Zaheer shared a lot of his experience with him and Sharma is now doing it with other quick bowlers," he added.
Dhoni felt despite the draw, his team had stepped up its performance from the first Test in Jamaica last week.
"Key contributions came from individuals. Ishant was brilliant; (VVS) Laxman, (Suresh) Raina, (Rahul) Dravid all contributed. We stepped up the performance, we were up to mark on the field," he said.
Dhoni didn't want to comment on his first innings dismissal when he was ruled out off a wrong replay or his otherwise poor form in the series.
He also wasn't keen on reacting to umpire Daryl Harper's decision to stand down from the final Test at Dominica, starting July 6.
But the Indian skipper did make a pointed reference about the failure of two of his young batsmen in the series -- Murali Vijay and Virat Kohli.
"Murali is a good talent. He is a good boy, spends a lot of time (in improving himself), studying what needs to be done. He would have had a good deal to learn from the last (South Africa) and the present series," he said.
"(As for Virat), it's a difficult one. Personally after his innings between the break you have to interact with (him).
"Performance is not always in players' control. However, fair exposure and good work in the concerned area could get them there. There is something positive in each decision," he added.