West Indian skipper Darren Sammy believes his side had a good chance to win the second Test against India before rain intervened but he is not too disheartened with the draw either.
"We believe we had a chance. The coach (Ottis Gibson) had outlined the game in stages and with 15 overs remaining, we were right on course," stated Sammy after the match.
Sammy didn't believe that his tailenders would have failed to save the Test if rain hadn't intervened.
"I think our tailenders have shown they are capable of batting for long periods. But I am happy with the result, we can go to Dominica and still level the series," he said referring to the third Test starting July 6.
But Sammy couldn't stop himself from criticising his batsmen and believed the failure to take a first innings lead after getting India out for 201 had a key bearing on the match.
"We are not getting the 300-run target. We could do much better even though (Marlon) Samuels and (Darren) Bravo batted well," he said.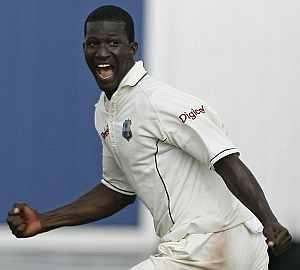 Ramnaresh Sarwan, at number three, has been a constant failure for the West Indies but Sammy had a word of encouragement for him.
"He is one of our more experienced players. We all know he is going through a lean patch right now. We give him all the encouragement he needs," he said.
Sammy was lavish on his praise about Ishant Sharma who picked up a 10-wicket haul from the match.
"He bowled really well. He extracted bounce from the pitch and continuously ran in. He is working hard for his team, just like our bowlers.
"We have to go back to the drawing board because unlike the Pakistan series, where the spinners were taking wickets, it is now the seamers," he said.
"We would look at his footage and play him better," he added.