Former England captain Tony Greig likened the historic Eden Gardens to a 'morgue' when the India-West Indies Test match began with just 1000 spectators in attendance on Monday.
Classy Indian batsman Rahul Dravid too felt the old "magic" was missing at the venue.
The number of the fans increased gradually at the ground, especially when Sachin Tendulkar was bating, and according to official figures about 15,000 fans turned up.
- Dravid highest Test run-getter in 2011
Dravid, who scored a century in India's first innings on Day 1, though said it is not just India where fans are staying away from the game, the situation is same everywhere.
"I remember coming here in the 90s… it was 100,000 people, 80,000 people watching a game of cricket. In some ways, it is little sad. But that's the way it is. It is not only Calcutta, it's all over the world now. It's becoming tougher and tougher to get people on to the ground. It's the sad part," Dravid said after end of the first day's play.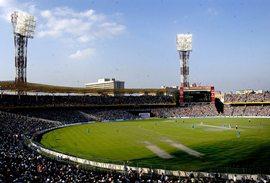 He, however, said that the magic of Test cricket remains even though the Eden is no more the same.
"Not that the magic was not there, but there was a magic about this ground when the atmosphere was electrifying with 80-100,000 people would be cheering," Dravid lamented.
With Tendulkar's impending 100 international century being the only attraction against the low-key West Indians, the Eden atmosphere resembled Ranji-like with less than 1,000 turning up at the start.
Cricketer-turned-commentator Tony Greig described the historic venue as a "morgue" in a tweet.
"Eden Gardens was one of my favourite grounds because of its wonderful atmosphere. Today it looks and sounds like a morgue," the former English all-rounder wrote, blaming it on a Monday start.
Eden has hosted three international matches in the last 20 days and on all occasions full crowd was not there.
In India's ODI against England on October 25, only 27,000 were in attendance, lowest in match involving the home team.
The Twenty20s though had a sizeable crowd of about 35,000.
The renovated Eden Gardens has a 67,000 capacity from the earlier 100,000-plus.