'There are discussions going on about picking four fast bowlers but we all have to wait and see what Dhoni thinks'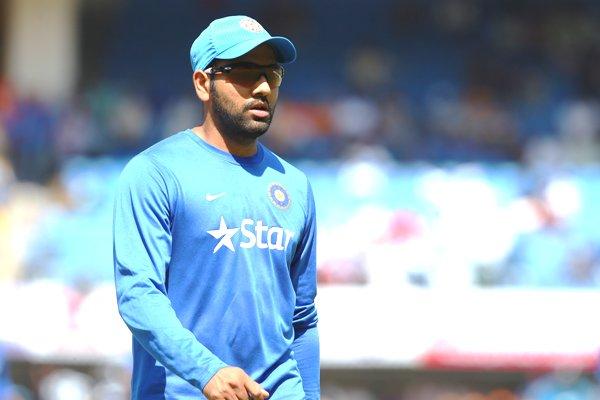 Image: India opener Rohit Sharma slammed 171 runs off 163 balls in the first ODI at Perth. Photograph: BCCI
Rohit Sharma's brilliant hundred was certainly one of the positives in India's five wicket defeat in the first ODI against Australia but one of the worrying factor according to the in-form opener is not picking up wickets in the middle overs.

India had Australia down at 21 for two but George Bailey and Steve Smith added 242 runs for the third wicket en route a comfortable win for the hosts.

"There were a lot of positives to be taken from that game especially scoring 300 runs in Perth.
"Losing is not a positive but we did whatever we could. And also the fact that Australia batted very well," Rohit said ahead of the second ODI at Gabba on Friday.

"Our morale is high because we have played good cricket and we know that. Only thing is that we need to learn as to how we can take wickets in the middle overs and how to build the pressure," the opener was forthright in his assessment of the chinks in the team's armoury.

"If wickets fall in the middle, then it affects the momentum of the opposition team. That is what we need to do this game because we batted well.
"We bowled well with new ball but were halted in the middle overs because we didn't take wickets then. And that's what we have to learn," Rohit added.

Conditions in Brisbane are expected to be much the same, with the pitch having a bit more pace in it than the one at Perth.

Even then, Rohit wouldn't confirm if the Indian team was contemplating playing four fast bowlers, considering that Ishant Sharma is now fully fit and available.

"There are discussions going on (about picking four fast bowlers) but we all have to wait and see what MS (Dhoni) thinks and what he feels is the right combination to go forward with.
"Here in Brisbane, it will be very similar to what we got in Perth.

"I guess there will be a little more bounce. And Perth was on the slower side a little bit, once the shine was taken off the ball. I think here it will be a little more and the fast bowlers will have a little more assistance through a longer period," he said.

Talking more about his innings in Perth, Rohit said, "With the change in rules that there are five fielders outside the circle in the last 10 overs, I think it's very important for a set batsman to play as long as possible.
"It is easier for a set batsman in the middle to play big shots in the last 10 overs as compared to the new batsmen coming in. It is very important for the batsman who is set and batting well to carry on as long as possible because that is how you can stretch your target and get to a competitive score," Rohit explained.