Uncertainty looms large over holding of the fifth ODI between India and Australia on Saturday in Cuttack as heavy rains have caused water logging in the outfield of the Barabati Stadium.
Triggered by a well marked low pressure off north Tamil Nadu and south Andhra Pradesh in the Bay of Bengal, several Odisha districts including Cuttack were experiencing heavy rains since Monday and indications were there that the weather god would play spoil sport during the game.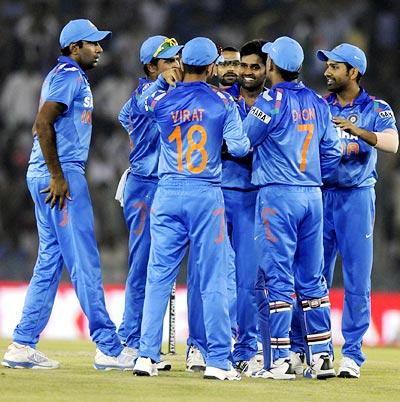 Orissa Cricket Association (OCA) functionaries are in a spot of bother ahead of the ODI as the downpour had led to some water logging in the outfield of the stadium.
"It rained quite heavily today and if it continues till October 25, we will definitely be in serious trouble," said an OCA official. The OCA officials were leaving no stone unturned to keep the pitch intact and the outfield worthy of play.
"It rained heavily but the pitches are intact. We have covered all the three pitches at a width of about 30 ft," curator Pankaj Patnaik said.
Senior OCA functionary Satya Mohanty said though the stadium has excellent drainage system, the organisers have dug cemented wells on all sides of the field for storage of water to be removed with the help of pumps.
"If the rain stops for a day before the match, everything would be ready. We are hopeful that there will be no further rain and we will be able to host the match successfully," Mohanty said.
OCA sources said on-line tickets for the match have been exhausted in a short span of time while selling of tickets at the stadium counter would commence on Wednesday.
OCA officials said the match had been insured for Rs 25 crore against any natural calamity for which a premium of Rs 12 lakh was paid. This would protect the OCA against financial losses owing to cancellation of the match.
Meanwhile, the officials said both the teams would reach Bhubaneswar on October 24 from Ranchi and stay in a private hotel. They would traverse a distance of about 30 km to Cuttack for match practice on October 25. The twin cities of Bhubaneswar-Cuttack had turned into a fortress with deployment of 65 platoons of armed police.
While 45 platoons would be guarding the stadium and other places at Cuttack, 20 platoons in Bhubaneswar where the team would stay, the police said.