'You've got to learn to adapt to conditions from Brisbane to Delhi to Dubai. Good cricketers can adapt'
'We need to get better at actually hitting straight balls, watching the ball for a start'
'We were again just disappointing with the bat, weren't we?'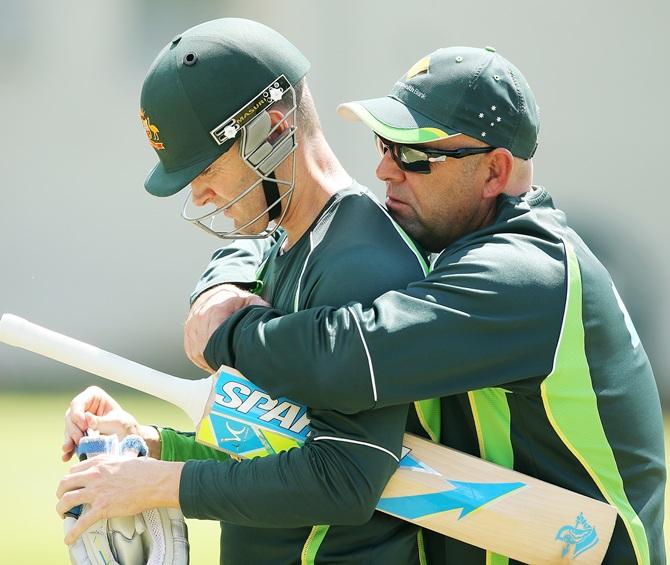 Darren Lehmann, right, of Australia speaks to Michael Clarke, left, during an Australian nets session. Photograph: Morne de Klerk/Getty Images
Australia's batsmen need to concentrate as much on hitting the straight ball as worrying about movement when they face Pakistan's spinners in the ongoing Test series, coach Darren Lehmann has said.
Australia, who topped the world rankings briefly earlier this year, face the prospect of a first series defeat against Pakistan since 1994 after a 221-run loss in the first of two Tests on Sunday.
Pakistan's spinners Zulfiqar Babar and Yasir Shah took 14 wickets between them in Dubai, sometimes bamboozling the batsmen by skidding the ball straight on to the wickets when the Australians expected turn.
Conceding that they had been outplayed in the first test, Lehmann refused to blame the wicket and laid into his players for their failure to play the conditions.
"I think this was a really good cricket wicket and we didn't adapt well enough and didn't play well enough, simple as that," he told reporters in Dubai.
"I think when you are talking about learning to play in these conditions ... we missed a lot of straight balls. I think five or six dismissals throughout the game.
Darren Lehmann, coach of Australia looks on during a nets session. Photograph: Scott Barbour/Getty Images
"We need to get better at actually hitting straight balls, watching the ball for a start.
"We need to be sharper," he added. "A lot of wickets came from no spin, so maybe we're trying to play for things that aren't there." Of the Australian batsmen, only opener David Warner, who scored 133 in the first innings, and Steve Smith, who hit 55 in the second as Australia were battling to avoid defeat, made serious inroads into the Pakistan bowling.
Australia will be keen to limit the impact of Pakistan's spin attack in the second Test, which starts in Abu Dhabi on Thursday.
"We were again just disappointing with the bat, weren't we? We've got to get through that and make big scores," Lehmann added.
"One of the things we haven't done on the sub-continent is make big, big scores. We should have made 450-500. At the end of the day Pakistan out-bowled us and out-played us."
Darren Lehmann, coach of Australia, addresses his players. Photograph: Ryan Pierse/Getty Images
The defeat was a stark reminder of the 4-0 humiliation in India last year, the nadir of Australian cricket in recent years which cost coach Mickey Arthur his job.
Lehmann took over and led the side to a 3-0 defeat in England before helping turn Australia's fortunes around with a 5-0 home Ashes sweep and a 2-1 series triumph in South Africa.
For all that success, the Dubai defeat was a reminder that Australia are far from the finished article.
"To be a very good cricket side you've got to find a way to get out of those situations, which we didn't do," Lehmann said.
"Two, you've got to learn to adapt to conditions from Brisbane to Delhi to Dubai. Good cricketers can adapt.
"And we've got to make sure we're learning each time, and learn quickly, because this game is a tough game."