'When I am bowling there is only hostility for the batsmen'
'I got offers to play in England this year and more recently in the T20 event in South Africa in November but I could not accept them on advice of the board'
'I have been told not to play more than two first class games on a trot'
'I am training to keep myself fit for the World Cup'
Muhammad Irfan of Pakistan bowls. Photograph: Francois Nel/Getty Images
Pakistan's tall left arm pacer Muhammad Irfan had to reject lucrative offers to play in England and South Africa after his cricket board told him to stay fresh for the World Cup.
He will not feature in Pakistan's second test against Australia starting on Thursday or the three Tests against New Zealand in the UAE next month.
"I got offers to play in England this year and more recently in the T20 event in South Africa in November but I couldn't accept them on advice of the board," Irfan told Reuters.
Irfan, whose official height is recorded at 7 feet 1 inch, has been told by the PCB and national team management to also restrict his appearances in first class cricket in order to prepare himself for the World Cup Down Under in February and March.
"I have been told not to play more than two first class games on a trot and bowl a maximum of 15 overs in a day and continue to focus on my training to keep myself fit for the World Cup," he said.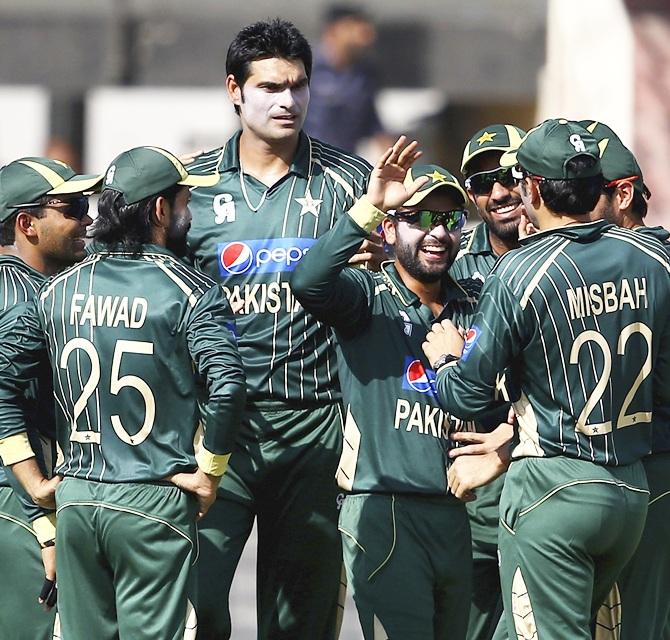 Muhammed Irfan, centre, of Pakistan celebrates with teammates. Photograph: Francois Nel/Getty Images
The 32-year-old has made a telling impact in the depleted Pakistan pace attack since a comeback to the team in 2012 but a hip injury has restricted his international appearances since last October.
Irfan, who has 45 wickets in 33 ODIs and another 10 in four Tests, has been told to focus only on limited overs cricket because of fears he might face fitness issues in the longer form because of his height.
"The specialists say because of my height I need to be selective in playing matches and they want me to be 100 per cent fit for the World Cup in Australia and New Zealand," he said.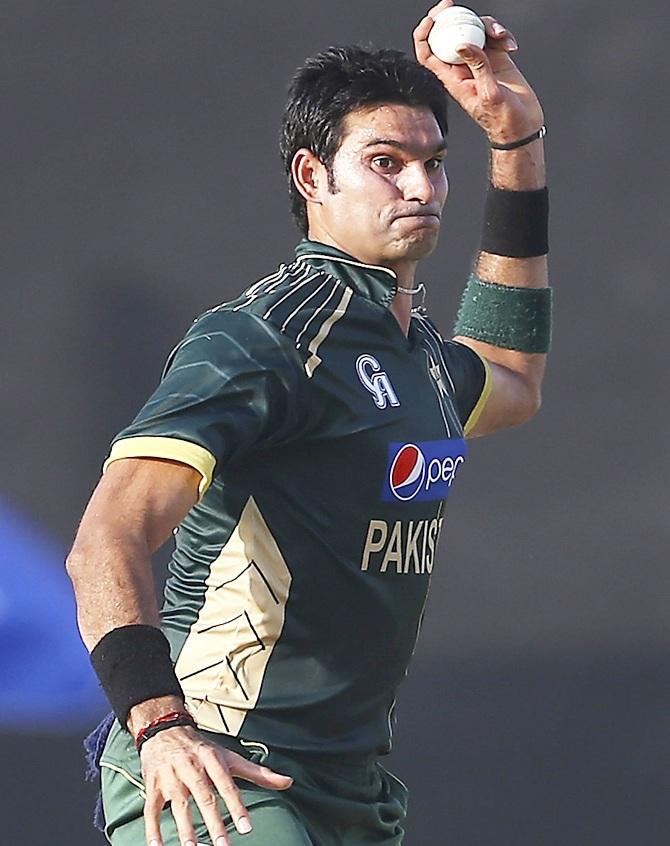 Muhammad Irfan of Pakistan reacts. Photograph: Francois Nel/Getty Images
Irfan made his Pakistan debut in England in 2010 but was shunted out of the team after just one game before making a comeback in a one-day series in India in late 2012.
"I miss playing Test matches but I guess the selectors and coaches know what is best for me," he added, looking forward to getting some game time in December's limited overs contests against New Zealand.
"I have been told to prepare myself for the ODIs and T20 matches. I am happy doing that because I know how important the World Cup is," he stated.
"People think I am very docile in nature because of my personality but believe me when I am bowling there is only hostility for the batsmen. I know some of them don't like facing me at my height and that spurs me on."