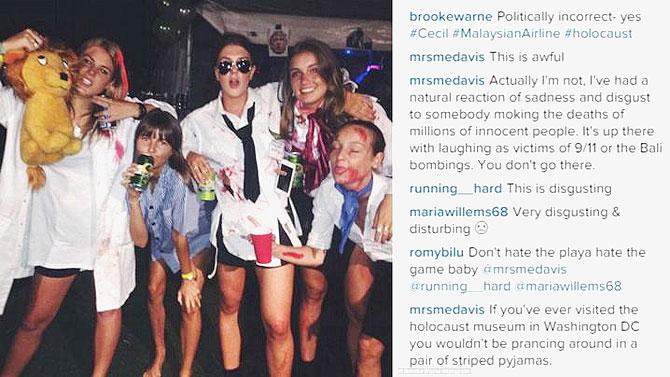 IMAGE: The Instagram picture posted by Brooke Warne (extreme left)
Shane Warne's daughter Brooke Warne has been criticised on social media for making light of tragic events including the Malaysia Airlines crash and the Holocaust.
The 18-year-old daughter of the cricket great also made fun of Cecil the Lion, who made international headlines when shot dead by American dentist Walter Palmer, reports News.com.au.
On her Instragram handle Brooke posted a candid shot at a fancy dress party where in she is seen holding a toy lion by the mane with the caption: "Politically incorrect -- yes #cecil #malaysianairline #holocaust."
Brooke uploaded the photo from a party in Saturday night, showing herself with a stuffed toy lion and alongside friends dressed as blooded flight attendants.
Another girl in the shot was wearing a striped shirt similar to clothes worn by those placed in concentration camps during the Holocaust.
As soon as she posted it, she was criticised by fellow Insta users.
Comments such as, "Only privileged white kids have the ability to distance themselves and mock tragic events that don't affect them" and "Rich kid arrogance at its worse" filled the social media.
However, Brooke has not commented on the issue.
She has deleted the image after it was originally posted on Saturday.