Srinivas Bhogle and Purnendu Maji present Rediff.com's Most Valuable Player ratings for the ongoing IPL 8.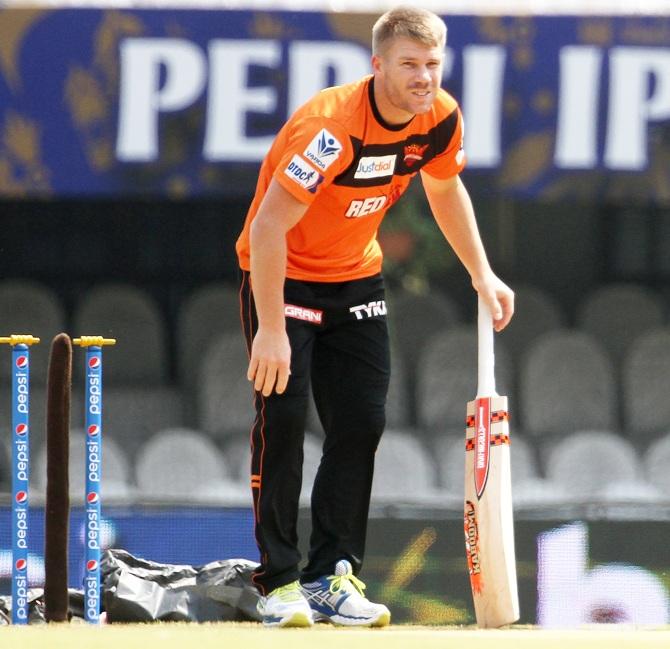 With a MVPI of 619, David Warner is currently the IPL 8's most successful player.
A B de Villiers (603), after his recent magic at Wankhede stadium, is just behind, and could still be this IPL's top player if Royal Challengers Bangalore can make it to the semi-finals.
It is, however, more likely that a West Indian cricketer -- either Andre Russell or Dwayne Bravo -- could be the eventual winner, because both Kolkata Knight Riders and Chennai Super Kings are likely to play the semi-finals. The Indian Premier League has often offered the best platform to showcase West Indian talent.
Recall that the most valuable player index (MVPI) collapses a player's batting, bowling and fielding performances into a one-dimensional 'run equivalent'.
If one also looks at the PVI (player value index in English, and paisa vasool index in Hindi) then Andre Russell -- bought cheap -- is sure to emerge the winner; Russell costs KKR just $158 or Rs 10,000 for every run scored.
Table: Most valuable players at the 2015 IPL (after 51 matches, as on midnight of May 15, 2015):
Rank
Player's
Name
Team
From
Run
6s
Str.
Rate
W
Eco
M
MVPI
Money
Offered
(US $)
PVI
(US$)
PVI
(INR)
1
David Warner
SH
AUS
504
20
156.5
0
-
12
619
916667
1269
76160
2
AB de Villiers
RCB
SA
446
18
177.7
0
-
12
603
1250000
1777
106610
3
Andre Russell
KKR
WI
289
17
194.0
11
8
12
587
100000
158
9491
4
Dwayne Bravo
CSK
WI
166
3
131.7
19
7.9
13
566
666667
1094
65623
5
Jean-Paul Duminy
DD
SA
347
17
127.6
8
7.4
13
517
366667
659
39514
6
Brendon McCullum
CSK
NZ
430
23
156.9
0
-
13
500
541667
1006
60357
7
Virat Kohli
RCB
IND
436
19
129.0
0
5.5
12
488
2083333
3659
219555
8
Ajinkya Rahane
RR
IND
461
11
131.0
0
-
12
482
1250000
2408
144487
9
Kieron Pollard
MI
WI
342
20
154.8
2
11
13
455
1250000
2551
153061
10
Rohit Sharma
MI
IND
406
17
139.5
0
-
13
447
2083333
4328
259668
11
Chris Gayle
RCB
WI
387
31
155.4
0
-
10
442
1583333
3070
184228
12
Robin Uthappa
KKR
IND
350
7
130.1
0
-
12
428
833333
1808
108478
13
Shreyas Iyer
DD
IND
419
20
129.3
0
-
13
416
433333
967
58036
14
Axar Patel
KXI
IND
174
7
120.0
13
8.3
13
415
125000
280
16781
15
David Miller
KXI
SA
346
21
137.8
0
-
12
392
2083333
4935
296101
16
Moises Henriques
SH
AUS
219
9
128.8
9
6.6
7
390
166667
366
21978
17
Bhuvneshwar Kumar
SH
IND
17
1
212.5
18
7.5
12
359
708333
1691
101472
18
MS Dhoni
CSK
IND
303
14
123.2
0
-
13
358
2083333
5404
324222
19
Lendl Simmons
MI
WI
359
11
119.3
0
-
10
348
50000
133
8005
20
Dwayne Smith
CSK
WI
325
15
119.9
0
-
13
342
750000
2036
122180
21
Shikhar Dhawan
SH
IND
344
6
124.2
0
-
12
339
2083333
5268
316056
22
Harbhajan Singh
MI
IND
105
8
156.7
13
8
12
339
916667
2511
150653
23
Mitchell Starc
RCB
AUS
10
0
76.9
17
6.5
9
338
833333
2113
126796
24
Parthiv Patel
MI
IND
253
4
139.8
0
-
11
332
233333
653
39157
25
Ashish Nehra
CSK
IND
1
0
16.7
17
7.1
12
325
333333
952
57143
26
Yusuf Pathan
KKR
IND
268
11
136.7
2
9.7
12
321
541667
1567
94014
27
Nathan Coulter-Nile
DD
AUS
20
1
111.1
15
7.6
11
316
708333
2081
124887
28
Suresh Raina
CSK
IND
280
13
121.7
1
6.1
13
314
1583333
4682
280937
29
Steven Smith
RR
Aus
267
3
135.5
0
-
12
312
666667
1984
119048
30
David Wiese
RCB
SA
110
3
139.2
11
8.2
10
305
466667
1311
78689
31
Gautam Gambhir
KKR
IND
326
4
118.5
0
-
12
303
2083333
6385
383074
32
Lasith Malinga
MI
SL
6
0
60.0
17
7.9
12
302
1583333
4868
292100
33
Ambati Rayudu
MI
IND
235
13
146.0
0
-
12
295
666667
2098
125908
34
Wriddhiman Saha
KXI
IND
234
9
126.5
0
-
13
286
366667
1190
71429
35
Faf du Plessis
CSK
SA
258
3
126.5
0
-
13
284
750000
2452
147133
36
Sanju Samson
RR
IND
191
8
130.8
0
-
12
283
666667
2187
131247
37
Ravindra Jadeja
CSK
IND
102
2
94.4
9
7.4
13
282
1250000
4116
246960
38
Angelo Mathews
DD
SL
143
6
141.6
7
8.2
10
277
1250000
4190
251418
39
George Bailey
KXI
AUS
247
7
135.0
0
-
12
271
541667
1856
111360
40
Karn Sharma
SH
IND
89
6
139.1
9
7.8
12
265
625000
2022
121294
41
Shane Watson
RR
AUS
233
9
120.7
4
9.5
8
263
2083333
7356
441336
42
Chris Morris
RR
SA
72
5
189.5
8
7.2
9
257
233333
843
50584
43
Yuzvendra Chahal
RCB
IND
1
0
100.0
17
9.1
11
251
16667
57
3415
44
Piyush Chawla
KKR
IND
54
2
117.4
11
7.6
12
248
708333
2652
159130
45
Kedar Jadhav
DD
IND
189
7
136.0
0
-
13
246
333333
1258
75494
46
Sandeep Sharma
KXI
IND
9
0
64.3
12
7.1
13
244
141667
539
32348
47
Harshal Patel
RCB
IND
17
2
170.0
12
7.3
11
242
66667
236
14168
48
Ravi Bopara
SH
ENG
145
6
120.8
6
8
9
236
166667
605
36320
49
Manish Pandey
KKR
IND
204
7
125.2
0
-
12
232
283333
1134
68042
50
Yuvraj Singh
DD
IND
237
9
116.7
1
8
13
229
2666667
10813
648784
51
Imran Tahir
DD
SA
5
0
83.3
15
8.8
10
227
33333
136
8181
52
Anureet Singh
KXI
IND
18
1
58.1
15
8.9
13
226
33333
137
8217
53
James Faulkner
RR
AUS
134
5
135.4
7
9.2
11
225
1583333
6534
392063
54
Ravichandran Ashwin
CSK
IND
26
0
173.3
8
6.1
10
225
916667
3783
226984
55
Murali Vijay
KXI
IND
251
8
110.1
0
7
11
222
500000
2091
125483
56
Mayank Agarwal
DD
IND
213
7
120.3
0
-
10
205
266667
1208
72474
57
Dinesh Karthik
RCB
IND
103
3
119.8
0
-
12
199
1750000
7538
452261
58
Suryakumar Yadav
KKR
IND
157
8
140.2
0
-
12
195
116667
556
33333
59
Deepak Hooda
RR
IND
140
11
172.8
1
8.5
12
193
66667
321
19245
60
Ishwar Pandey
CSK
IND
0
0
-
10
7.2
9
193
250000
1203
72169
61
Pawan Negi
CSK
IND
98
4
166.1
4
8.4
6
192
16667
81
4836
62
Morne Morkel
KKR
SA
0
0
-
10
7
6
192
466667
2257
135417
63
Mitchell McClenaghan
MI
NZ
13
2
216.7
11
8.3
9
183
50000
254
15222
64
Eoin Morgan
SH
ENG
167
10
128.5
0
-
7
181
250000
1184
71034
65
Trent Boult
SH
NZ
0
0
-
9
8.4
7
174
633333
3120
187192
66
Brad Hogg
KKR
AUS
7
0
116.7
9
6.9
6
174
83333
445
26683
67
Glenn Maxwell
KXI
AUS
139
8
141.8
2
9.9
10
172
1000000
5399
323920
68
Mohit Sharma
CSK
IND
4
0
50.0
11
8.4
13
168
333333
1842
110544
69
Amit Mishra
DD
IND
8
0
66.7
9
7.7
12
165
583333
3283
196970
70
Naman Ojha
SH
IND
137
4
114.2
0
-
12
165
83333
433
25974
71
Jagadeesha Suchith
MI
IND
47
2
151.6
7
9
10
160
16667
97
5804
72
Karun Nair
RR
IND
153
5
125.4
0
-
12
158
125000
735
44078
73
Dhawal Kulkarni
RR
IND
1
0
50.0
9
7.9
9
156
183333
1091
65476
74
Mandeep Singh
RCB
IND
98
5
181.5
0
-
10
154
133333
742
44527
75
Hardik Pandya
MI
IND
111
8
191.4
1
10.8
6
153
16667
101
6069
76
Zaheer Khan
DD
IND
0
0
-
7
6.5
6
148
666667
4183
250965
77
Stuart Binny
RR
IND
74
1
113.8
4
7.6
11
147
916667
5790
347425
78
Ashish Reddy
SH
IND
56
4
180.6
3
8.3
5
138
33333
207
12422
79
Sunil Narine
KKR
WI
0
0
0.0
7
7.3
8
138
1583333
10654
639234
80
Umesh Yadav
KKR
IND
5
0
166.7
9
9.1
11
133
433333
3025
181525
81
Saurabh Tiwary
DD
IND
96
4
139.1
0
-
6
125
116667
867
52000
82
Albie Morkel
DD
SA
86
2
132.3
3
9.1
4
125
50000
371
22286
83
Pravin Tambe
RR
IND
3
0
60.0
7
7.8
10
122
16667
127
7611
84
Corey Anderson
MI
NZ
114
6
117.5
1
8.3
4
119
750000
5852
351140
85
Lokesh Rahul
SH
IND
117
5
114.7
0
-
7
119
166667
1200
72029
86
Tim Southee
RR
NZ
13
0
144.4
6
8.8
7
115
200000
1615
96894
87
Mitchell Johnson
KXI
AUS
31
1
86.1
9
9.4
9
109
1083333
9229
553735
88
Unmukt Chand
MI
IND
102
2
122.9
0
-
6
108
108333
931
55886
89
Ryan ten Doeschate
KKR
NETH
61
3
135.6
0
4
6
95
166667
1629
97744
90
Sarfaraz Khan
RCB
IND
79
2
161.2
0
-
9
93
83333
768
46083
91
Shakib Al Hasan
KKR
BAN
23
0
143.8
4
8.7
3
90
466667
4815
288889
92
Iqbal Abdulla
RCB
IND
20
0
111.1
4
7.9
5
87
108333
1067
64039
93
Virender Sehwag
KXI
IND
99
3
117.9
0
-
8
86
533333
5759
345515
94
Shaun Marsh
KXI
AUS
81
3
139.7
0
-
4
85
366667
4006
240336
95
Vinay Kumar
MI
IND
0
0
0.0
4
8.4
10
83
466667
5221
313253
96
Johan Botha
KKR
SA
31
1
206.7
1
8.1
4
77
166667
2010
120594
97
Domnic Muthuswami
DD
IND
1
0
33.3
4
7.2
6
73
125000
1590
95401
98
Sreenath Aravind
RCB
IND
0
0
-
5
8.7
3
73
50000
587
35225
99
Praveen Kumar
SH
IND
13
0
68.4
6
9.3
10
70
366667
4490
269388
100
Beuran Hendricks
KXI
AUS
0
0
-
4
8.4
3
70
300000
3980
238776