Srinivas Bhogle and Purnendu Maji reveal Rediff's Most Valuable Players in IPL 10.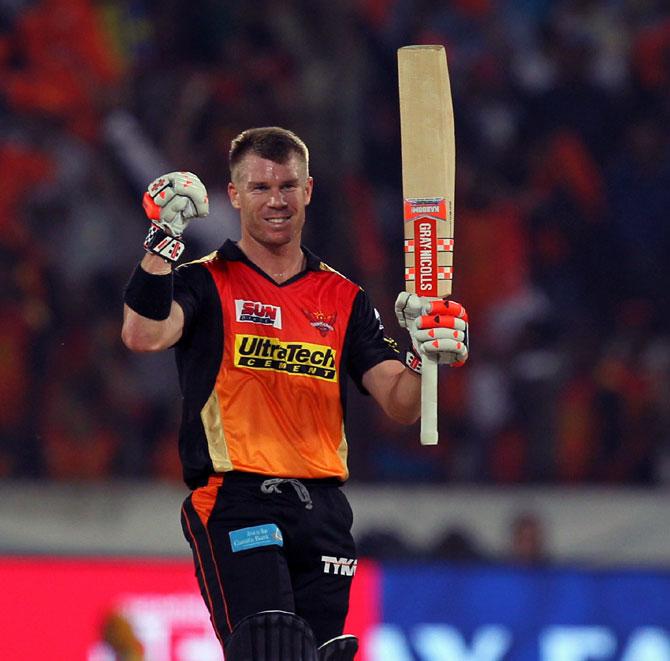 We know Ben Stokes of Rising Pune Supergiant and England is 'officially' the most valuable player of the tenth IPL, but based on the Rediff MVP calculation formula he is second behind David Warner of the Sun Risers Hyderabad and Australia.
It really depends on what formula one chooses to make the calculation. Rediff.com continues to use its MVPI formula devised even before the first IPL in 2008 (see The most valuable IPL players over the years
There are essentially two challenges in devising the formula: How do you compare bowlers and batsmen using the same index, and how do you accord greater weightage to higher strike rates and lower economy rates?
To 'equate' bowlers to batsmen, we give bowlers 'runs' for every wicket taken.
In the IPL of 2017, the total of all first innings scores was just under 9,600 in 60 matches for an average par score of 160 per innings.
We therefore give a bowler 16 'runs' for every wicket taken (this is debatable, but we at least have a well-defined conversion metric).
Everything follows once the par score (of 160 this year) is determined.
It means that the par score per over is 8.
So, on the average, we expect batsmen to score 8 runs every over, and the par strike rate to be (8/6)*100 = 133 for every 100 balls.
Likewise, we expect bowlers to concede 8 runs per over for a par economy rate is 8 per over.
The Rediff.com MVP formula uses an additive model.
We therefore add 'bonus runs' to batsmen who score faster than a strike rate of 133, and take away 'penalty runs' if they score slower than 133.
If bowlers concede less than 8 runs per over they get bonus runs, and, if they concede more than 8 runs per over, they lose penalty runs.
The Rediff.com MVPI formula also allows us to compute the Paisa Vasool Index: We divide the total money paid in $ by the player's MVPI to get a very good estimate of how many S$ the franchise paid for every 'run' scored.
The final table after IPL 10 presents the complete picture.
| Rank | Player's Name | Team | From | Run | Top Score | 4's | 6's | Str Rate | W | Eco | M | MVPI | Money Offered (US $) | PVI(US$) | PVI(INR) | Age | Type |
| --- | --- | --- | --- | --- | --- | --- | --- | --- | --- | --- | --- | --- | --- | --- | --- | --- | --- |
| 1 | David Warner | SH | AUS | 641 | 126 | 63 | 26 | 141.8 | 0 | - | 14 | 727 | 820000 | 1128 | 75653 | 30 | BAT |
| 2 | Ben Stokes | RPS | ENG | 316 | 103 | 22 | 15 | 143 | 12 | 7.2 | 12 | 609 | 2164000 | 3553 | 238095 | 26 | AR |
| 3 | Glenn Maxwell | KXI | AUS | 310 | 47 | 19 | 26 | 173.2 | 7 | 6.6 | 14 | 548 | 895000 | 1633 | 109489 | 29 | AR |
| 4 | Axar Patel | KXI | IND | 227 | 44 | 11 | 11 | 140.1 | 15 | 7.5 | 14 | 536 | 111000 | 207 | 13993 | 23 | AR |
| 5 | Robin Uthappa | KKR | IND | 388 | 87 | 36 | 21 | 165.1 | 0 | - | 14 | 531 | 746000 | 1405 | 94162 | 31 | WK |
| 6 | Suresh Raina | GL | IND | 442 | 84 | 42 | 13 | 144 | 1 | 8.5 | 14 | 517 | 1865000 | 3607 | 241779 | 30 | BAT |
| 7 | Sunil Narine | KKR | WI | 224 | 54 | 34 | 10 | 172.3 | 10 | 7 | 16 | 511 | 1417000 | 2773 | 185910 | 29 | Bowl |
| 8 | Gautam Gambhir | KKR | IND | 498 | 76 | 62 | 7 | 128 | 0 | - | 16 | 509 | 1865000 | 3664 | 245580 | 36 | BAT |
| 9 | Bhuvneshwar Kumar | SH | IND | 4 | 4 | 0 | 0 | 100 | 26 | 7.1 | 14 | 508 | 634000 | 1248 | 83661 | 27 | Bowl |
| 10 | Rishabh Pant | DD | IND | 366 | 97 | 28 | 24 | 165.6 | 0 | - | 14 | 489 | 283000 | 579 | 38855 | 20 | WK |
| 11 | Jaydev Unadkat | RPS | IND | 2 | 2 | 0 | 0 | 40 | 24 | 7 | 12 | 486 | 44000 | 91 | 6173 | 26 | Bowl |
| 12 | Shikhar Dhawan | SH | IND | 479 | 77 | 53 | 9 | 127.4 | 0 | - | 14 | 485 | 1865000 | 3845 | 257732 | 31 | BAT |
| 13 | Steven Smith | RPS | WI | 472 | 84 | 38 | 12 | 122 | 0 | - | 15 | 480 | 820000 | 1708 | 114583 | 28 | BAT |
| 14 | Pawan Negi | RCB | IND | 144 | 35 | 10 | 7 | 129.7 | 16 | 6.1 | 12 | 476 | 149000 | 313 | 21008 | 24 | AR |
| 15 | Krunal Pandya | MI | IND | 243 | 47 | 24 | 7 | 135.8 | 10 | 6.8 | 13 | 462 | 298000 | 645 | 43290 | 26 | AR |
| 16 | Hashim Amla | KXI | SA | 420 | 104 | 40 | 17 | 145.8 | 0 | - | 10 | 456 | 149000 | 327 | 21930 | 34 | BAT |
| 17 | Parthiv Patel | MI | IND | 395 | 70 | 49 | 8 | 134.8 | 0 | - | 16 | 455 | 208000 | 457 | 30769 | 32 | WK |
| 18 | Kieron Pollard | MI | WI | 385 | 70 | 26 | 22 | 139.5 | 0 | 16.4 | 17 | 447 | 1417000 | 3170 | 212528 | 30 | AR |
| 19 | Hardik Pandya | MI | IND | 250 | 35 | 11 | 20 | 156.3 | 6 | 8.2 | 17 | 442 | 14000 | 32 | 2262 | 24 | AR |
| 20 | Rahul Tripathi | RPS | IND | 391 | 93 | 43 | 17 | 146.4 | 0 | 12 | 14 | 442 | 14000 | 32 | 2262 | 26 | AR |
| 21 | Sanju Samson | DD | IND | 386 | 102 | 32 | 19 | 141.4 | 0 | - | 14 | 440 | 626000 | 1423 | 95455 | 22 | WK |
| 22 | Jasprit Bumrah | MI | IND | 16 | 16 | 0 | 1 | 133.3 | 20 | 7.4 | 16 | 427 | 179000 | 419 | 28103 | 23 | Bowl |
| 23 | Dinesh Karthik | GL | IND | 361 | 65 | 30 | 11 | 139.4 | 0 | - | 14 | 425 | 343000 | 807 | 54118 | 32 | WK |
| 24 | Manish Pandey | KKR | IND | 396 | 81 | 28 | 12 | 128.6 | 0 | - | 14 | 413 | 253000 | 613 | 41162 | 28 | BAT |
| 25 | Rashid Khan | SH | AFG | 11 | 6 | 0 | 1 | 122.2 | 17 | 6.6 | 14 | 408 | 597000 | 1463 | 98039 | 19 | Bowl |
| 26 | Chris Morris | DD | SA | 154 | 52 | 15 | 6 | 163.8 | 12 | 7.7 | 9 | 403 | 1044000 | 2591 | 173697 | 30 | AR |
| 27 | Brendon McCullum | GL | NZ | 319 | 72 | 29 | 18 | 147 | 0 | - | 11 | 397 | 820000 | 2065 | 138539 | 36 | BAT |
| 28 | Aaron Finch | GL | AUS | 299 | 72 | 25 | 19 | 166.1 | 0 | - | 13 | 394 | 149000 | 378 | 25381 | 30 | BAT |
| 29 | Chris Lynn | KKR | AUS | 295 | 93 | 25 | 19 | 181 | 0 | - | 7 | 381 | 194000 | 509 | 34121 | 27 | BAT |
| 30 | Shreyas Iyer | DD | IND | 338 | 96 | 36 | 10 | 139.1 | 0 | - | 12 | 372 | 388000 | 1043 | 69892 | 22 | BAT |
| 31 | Ajinkya Rahane | RPS | IND | 382 | 60 | 35 | 9 | 118.3 | 0 | - | 16 | 365 | 1417000 | 3882 | 260274 | 29 | BAT |
| 32 | Manoj Tiwary | RPS | IND | 324 | 60 | 31 | 11 | 137.3 | 0 | - | 15 | 357 | 74000 | 207 | 14006 | 31 | BAT |
| 33 | MS Dhoni | RPS | IND | 290 | 61 | 15 | 16 | 116 | 0 | - | 16 | 347 | 1865000 | 5375 | 360231 | 36 | WK |
| 34 | Rohit Sharma | MI | IND | 333 | 67 | 31 | 9 | 122 | 0 | - | 17 | 342 | 1865000 | 5453 | 365497 | 30 | BAT |
| 35 | Kedar Jadhav | RCB | IND | 267 | 69 | 25 | 10 | 143.5 | 0 | - | 13 | 342 | 324000 | 947 | 63450 | 32 | BAT |
| 36 | Pat Cummins | DD | AUS | 77 | 24 | 5 | 4 | 145.3 | 15 | 8.1 | 12 | 340 | 671000 | 1974 | 132353 | 24 | Bowl |
| 37 | Daniel Christian | RPS | AUS | 79 | 17 | 5 | 5 | 161.2 | 11 | 7.5 | 13 | 331 | 149000 | 450 | 30211 | 34 | AR |
| 38 | Nitish Rana | MI | IND | 333 | 62 | 24 | 17 | 126.1 | 0 | - | 13 | 330 | 14000 | 42 | 3030 | 23 | BAT |
| 39 | Jos Buttler | MI | ENG | 272 | 77 | 27 | 16 | 153.7 | 0 | - | 10 | 312 | 567000 | 1817 | 121795 | 27 | WK |
| 40 | Virat Kohli | RCB | IND | 308 | 64 | 23 | 11 | 122.2 | 0 | - | 10 | 308 | 1865000 | 6055 | 405844 | 28 | BAT |
| 41 | Imran Tahir | RPS | SA | 0 | 0 | 0 | 0 | 0 | 18 | 7.9 | 12 | 300 | 716000 | 2387 | 160000 | 38 | Bowl |
| 42 | Yuvraj Singh | SH | IND | 252 | 70 | 30 | 8 | 142.4 | 1 | 11 | 12 | 298 | 1044000 | 3503 | 234899 | 35 | AR |
| 43 | Karn Sharma | MI | IND | 49 | 19 | 5 | 2 | 119.5 | 13 | 7 | 9 | 295 | 477000 | 1617 | 108475 | 29 | AR |
| 44 | Karun Nair | DD | IND | 281 | 64 | 39 | 6 | 124.3 | 0 | - | 14 | 293 | 597000 | 2038 | 136519 | 25 | BAT |
| 45 | Ishan Kishan | GL | IND | 277 | 61 | 29 | 13 | 134.5 | 0 | - | 11 | 291 | 52000 | 179 | 12027 | 19 | WK |
| 46 | Chris Woakes | KKR | ENG | 46 | 18 | 4 | 1 | 97.9 | 17 | 8.8 | 13 | 291 | 626000 | 2151 | 144330 | 28 | AR |
| 47 | Kane Williamson | SH | NZ | 256 | 89 | 20 | 10 | 151.5 | 0 | - | 7 | 291 | 89000 | 306 | 20619 | 27 | BAT |
| 48 | Ravindra Jadeja | GL | IND | 158 | 28 | 13 | 4 | 139.8 | 5 | 9.2 | 12 | 288 | 1417000 | 4920 | 329861 | 28 | AR |
| 49 | Andrew Tye | GL | AUS | 53 | 25 | 4 | 3 | 176.7 | 12 | 6.7 | 6 | 285 | 74000 | 260 | 17544 | 30 | Bowl |
| 50 | Shaun Marsh | KXI | AUS | 264 | 84 | 36 | 5 | 136.1 | 0 | - | 9 | 277 | 328000 | 1184 | 79422 | 34 | BAT |