The Mumbai Cricket Association's Managing Committee on Tuesday decided to contact the family of late Shiv Sena chief Bal Thackeray and seek their consent to name the media box at the Wankhede Stadium after him.
"The president will talk to the family of Mr Bal Thackeray and, if they give the consent, then the decision (to name the media box) will be taken," said MCA Joint Secretary P V Shetty after the committee's meeting in Mumbai.
A proposal to name the air-conditioned box after the late Sena leader was sent to the MCA by two clubs affiliated to it. Recently, a letter had been sent by another club asking the committee about the progress on the issue.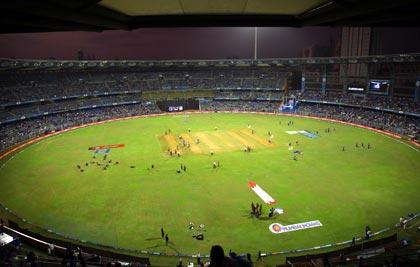 Meanwhile, the panel deliberated about the course of action to be taken against its former vice-president Ratnakar Shetty, who had replied to the show-cause notice served on him for his utterances at MCA's Annual General Meeting held in March.
Shetty had stated at the AGM that tickets requested by MCA from its Gujarat counterpart for the T20 game between India and Pakistan, held at the Motera Stadium in Ahmedabad in December 2012, could have been sold on the black market.
In his reply to the notice, Shetty clarified he did not allege but only raised the possibility that the tickets could have been sold on the black market as they were issued to someone else and not to the MCA, which had asked for them.
Some MCA sources said Shetty will be given seven days' time to listen and watch the video recording of the meeting and revert to the committee.
'We need to follow a process. It will take seven days' time to complete the process," said a panel member.
Another member insisted that a decision has already taken by the committee to ban Shetty for five years from MCA activities.
However, MCA president Ravi Savant and the joint secretary declined to speak on the matter.
Photograph: BCCI