'We never complained about it being a dangerous wicket. They prepared this wicket, we never told them to prepare a track like this.'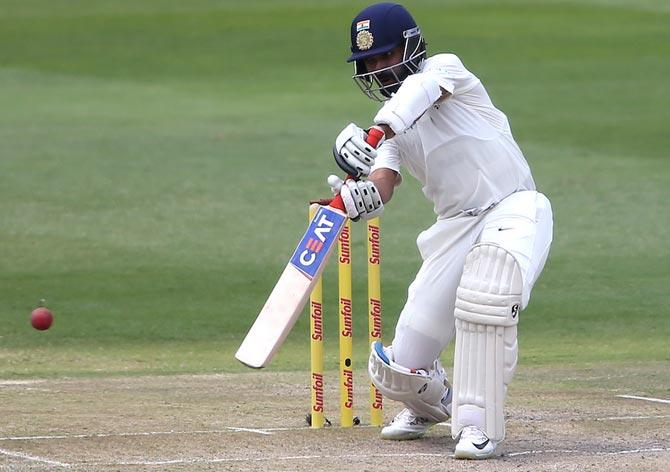 IMAGE: Ajinkya Rahane bats during Day 3. Photograph: BCCI
Insisting that Indian players have played on worse tracks back home, vice captain Ajinkya Rahane termed the Wanderers' pitch as 'challenging' and not dangerous.

Rahane said match should continue on Day 4 on Saturday and cited South Africa's tactics to justify resumption.

The Mumbai batsman played a vital innings of 48 off 68 balls on a difficult wicket as India finished on 247 in their second innings, setting a 241-run target for South Africa to win the third and final Test in Johannesburg.
Play was halted in the last 15 minutes because Dean Elgar got hit twice in one over from Jasprit Bumrah.

"The wicket was definitely challenging, but if you see our openers batted so well. The wicket was similar for both teams. Murali Vijay got 25 runs, and he faced 130-140 balls. It was completely the same for everyone. Our approach was that we want to play and win this Test match," Rahane said.

The Indian vice captain said no one stopped South Africa bowlers from bowling bouncers to their tailenders in similar conditions.

"What about (the fact) when they were bowling short balls to our bowlers? The pitch behaved differently on all three days but when Ishant (Sharma), Bhuvneshwar (Kumar), (Mohammed) Shami and (Jasprit) Bumrah, they were batting and everyone was bowling bouncers," Rahane asked.

The pitches were a huge subject of debate when South Africa toured India in 2015. The pitch used for the Test match in Nagpur, which finished inside three days, was reported as unfit after match finished in three days on a rank turner.

Rahane said that Indian cricketers have played on worse wickets than the Wanderers.

"Many times, when you see local cricket in Mumbai, Kanga league for example, you have played on more dangerous pitches than this. But as a cricketer when you represent your country whatever challenges are ahead of you, you have to face that and overcome that.

"And you cannot call it a dangerous wicket just because Elgar got hit. Most of the batsmen got hit, even Amla got hit in first innings, Vijay, Pujara batted well in first innings, Virat batted well, they got hit."

Rahane said India never made exuses while batting in similar conditions.

"We never complained about it being a dangerous wicket. They prepared this wicket, we never told them to prepare a track like this. In India when we play on turning tracks, they are called more dangerous.

"We all knew that when we come to South Africa, we will get wickets like this. We have to be prepared to play on these kinds of wickets," he added.

Talking about the ball which hit Elgar on the helmet, Rahane said,"I think the ball was back of a length and it kicked off."

"Slightly more bounce than usual, but if you see the wicket and see the bounce here, it was completely natural. Even when Bhuvi and I were batting, or Vijay was batting against the new ball, we faced the same. It is not dangerous and it is completely similar for both teams," he added.

Talking further about Elgar getting hit and players going off, the Indian vice-captain said, "I don't want to comment on that (South Africa eager to get off). But batting against the new ball is challenging. You cannot call it a dangerous wicket though. When Hashim Amla got 60-odd in the first innings, no one was talking about that. Everyone was talking about his innings, and how he played. Unfortunately Elgar got hit on his head, and I hope he is fine."

Rahane was left out of the first two Tests in favour of Rohit Sharma. But he returned like a man possessed and stroked his way to a near half-century on a very tough wicket.

"I was visualizing when I was sitting in the dressing room. I was thinking what my approach was going to be because only survival was not the point on this wicket as we wanted to score runs. I was actually thinking from last night what are the important shots on this wicket.

"I wanted to put South Africa on the backfoot because they were dominating with their bowling. I was just thinking about going aggressive. If the ball is there to be hit, I will play my shot and that's it," he said.

"My behaviour off the field is different from my batting because opponents some times see how you are aggressive off the field. I try and bat according to the situation. This was an opportunity for me, because I thought if I perform here I would be a hero.

"So my thinking was completely positive and even scoring 30-40 runs would be very good on this wicket. I was aggressive like I played against Australia in Dharamsala and my intention was to dominate South African bowling," he added.