Three more Pakistani cricketers have been implicated in the spot-fixing scandal during the ongoing trial of tainted trio Salman Butt, Mohammad Aamir and Mohammad Asif, at a court in England.
In February, British prosecutors had "authorised charges of conspiracy to obtain and accept corrupt payments, and also conspiracy to cheat" against the three Pakistani players implicated in the spot-fixing scandal as well as alleged bookmaker Mazhar Majeed.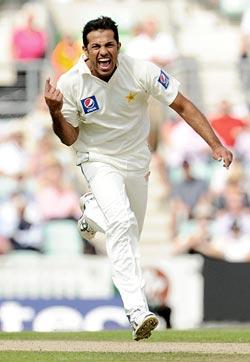 During the trial, prosecutors told the Southwark Crown Court that Majeed boasted to an undercover reporter, who was posing as a rich businessman, that seven players in Pakistan's national side were fixing matches for him in a hugely lucrative betting scam, the Daily Mail reports.
- Coverage: The Match-Fixing Episode II
The 36-year old bookie spoke of the advantages of ''grooming" younger cricketers to work with him as they would be ''around for years".
Majeed named 'his' players as Butt, Asif, Aamir, fast bowler Wahab Riaz, wicket-keeper Kamran Akmal, and batsmen Umar Akmal and Imran Farhat, although prosecutor Aftab Jafferjee said that the agent explained that there was a 'little question mark' about Farhat.
According to the report, Majeed told the undercover journalist that the cricketers he worked with had agreed to fix parts of their next game for him during two 'brackets' -- a set period on which to bet -- in return for 150,000 pounds, the court heard.
"They're not willing to give you anything, until you give a large, substantial amount. Ten grand is peanuts," the agent allegedly said.
On August 25, the day before the final Test match of the series between England and Pakistan at Lord's, the journalist met Majeed in a room at the Copthorne Tara hotel off Kensington High Street in central London, the report said.
The jury was shown a secretly-filmed video of the undercover reporter handing 140,000 pounds in 50 pound notes to the agent, who counted out the money on a table in front of him.
Majeed promised the undercover reporter that Pakistan fast bowlers Aamir, 19, and Asif, 28, would deliver three no-balls at specific points in the Lord's Test, the court heard.
Majeed allegedly said that the no-balls would be 'well over the mark' to ensure that they were noted by the match officials.
Prosecutor Aftab Jafferjee QC commented: "No umpire could possibly miss it. Asif, with his tact and greater experience, would bowl a no-ball which could not fail to be called, but only inches over the popping-crease."
"The relatively hapless Aamir would end up bowling no-balls that, as a seasoned cricket statistician will tell you, were the biggest no-balls he's ever seen," he added.
The footage of the Lord's match was played in court, and the prosecutor noted that Aamir's first invalid delivery was 'an enormous no-ball'.
The tainted trio face up to seven years in prison if they are convicted of corruption and cheating.