Preparations are underway in Visakhapatnam for the third T20 cricket match between India and Sri Lanka on February 14 and tickets will be sold to spectators from February 11.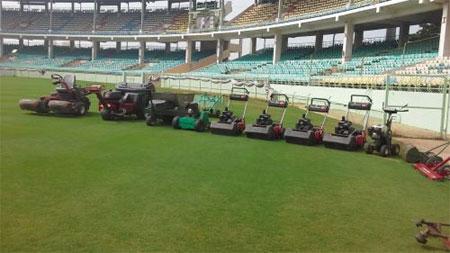 The Andhra Cricket Association and the Visakhapatnam District Cricket Association (ACA-VDCA) are making arrangements for the game, the last of the three-match series, at its stadium in Pothinamallayyapalem.
Addressing a media conference after a meeting of the ACA-VDCA Organising Committee, its Chairman M T Krishna Babu said the sub-committees appointed to make arrangements have submitted their reports.
It was decided that tickets to spectators priced in denominations of Rs 1,500, Rs 1,000, Rs 600 and Rs 300 will be sold through 20 e-seva kendras, he said on Tuesday.
Babu, who is also chairman of Visakhapatnam Port Trust, said tickets in denominations of Rs 3,000 and Rs 2,000 will be available at Axis Bank, Madhuravada branch and at the ACA-VDCA stadium. Online tickets in denominations of Rs 3,000, and Rs 2,000 will be sold through www.kyazoonga.com.
He said both teams will arrive in Visakhapatnam on the afternoon of February 13.
Babu also inaugurated the new media box constructed as per instructions of BCCI, which has accorded Test status to the stadium.
The centre, which can seat up to 150 people, is equipped with all modern communication and other facilities and has been constructed at a cost of Rs 1.15 crore.
Image: Vizag stadium
Photograph: Photographs courtesy: Andhra Cricket Association