Is Virat threatening to overhaul Sachin's batting records?
At the rate he is scoring at the moment, Aruneel Sadadekar/Rediff.com, comparing the statistics of the champion batsmen at the same point in their careers, feels he could surpass the Master.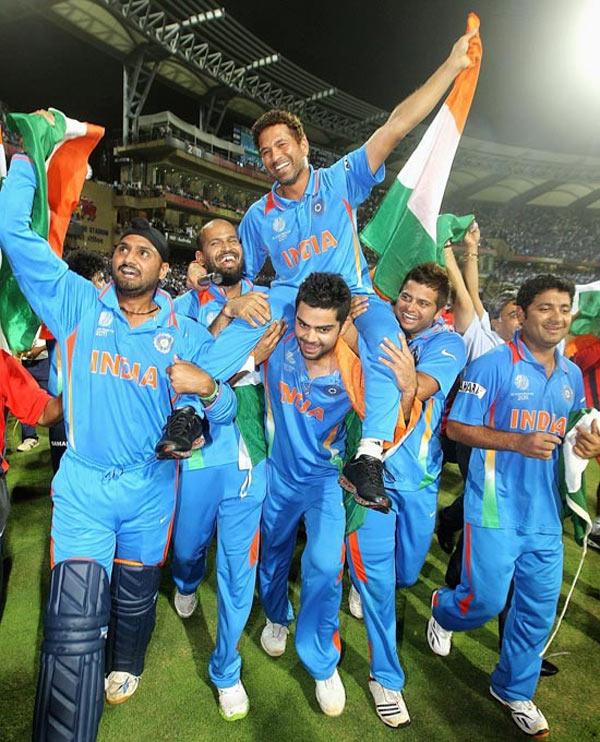 IMAGE: Virat Kohli hoists Sachin Tendulkar after India's 2011 World Cup triumph at the Wankhede Stadium.
Virat Kohli's unbeaten 82, which paved the way for India's victory over Australia in the World T20 Super 10s match in Mohali, can be considered one of the best knocks while chasing in limited overs cricket.
The Delhi batsman's spectacular performances, especially in the last two years, have led cricket fans to compare him with the legendary Sachin Tendulkar.
Tendulkar was seen cheering Kohli uring the game against Pakistan at the Eden Gardens. After the match against Australia, both Tendulkar and Kohli shared their mutual affection and respect via an epic exchange of tweets.
'Woooow @imVkohli ...special it was... Great win, fighting all the way! #IndvsAus,' Tendulkar tweeted in praise of the heroic knock.
Kohli, who had bowed to the batting icon after scoring an unbeaten 37 ball 55 at the Eden Gardens, shared his gratitude.
'Thank You @sachin_rt paaji. Less special than you!' he tweeted.
While fans continue to debate who is the better batsman, a comparision of the duo at the same point in their careers.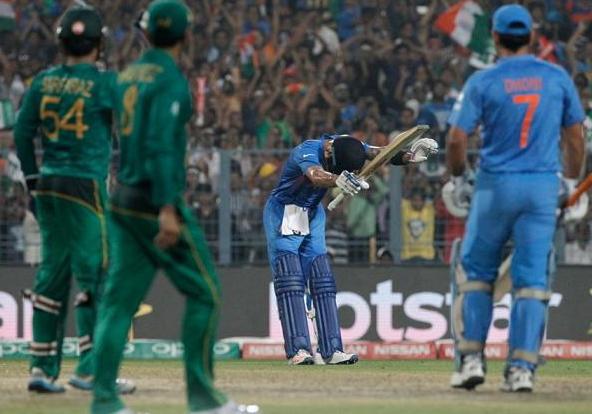 IMAGE: Virat dedicates his match-winning half-century against Pakistan in the 2016 World T20 to Sachin at the Eden Gardens. Photograph: BCCI
IN NUMBERS:
TESTS
Kohli, after 41 matches: 2,994 runs, 11 hundreds, average 44.02. Highest score: 169.
Tendulkar, after 200 matches: 15,921 runs, 51 hundreds, average 53.78. Highest score: 241 not out.
Tendulkar, after 41 matches: 2,911 runs, 10 hundreds, average 54.92. Highest score: 179.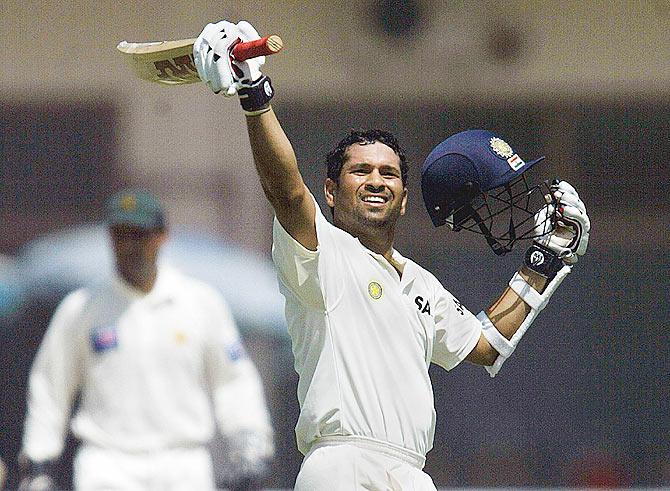 IMAGE: Sachin, after hitting a century in the first Test between India and Pakistan, Multan, March 29, 2004. Photograph: Arko Datta/Reuters
Tendulkar's career is a benchmark in Test history in terms of longevity.
His astonishing average of 53.78 after 200 Tests is the 25th highest ever (minimum 20 innings), which in itself is a phenomenal achievement.
Kohli has a lot to achieve in the longer format of the game. While he may have overtaken his idol in the number of centuries scored at the same time in their careers, Tendulkar is way ahead with respect to his consistency, averaging 10 runs more.
ODIs
Kohli, after 171 matches: 7,212 runs, 25 hundreds, average 51.51. Highest score: 183.
Tendulkar, after 463 matches: 18,426 runs, 49 hundreds, average 44.83. Highest score: 200 not out.
Tendulkar, after 171 matches: 5,828 runs, 12 hundreds, average 38.85. Highest score: 137.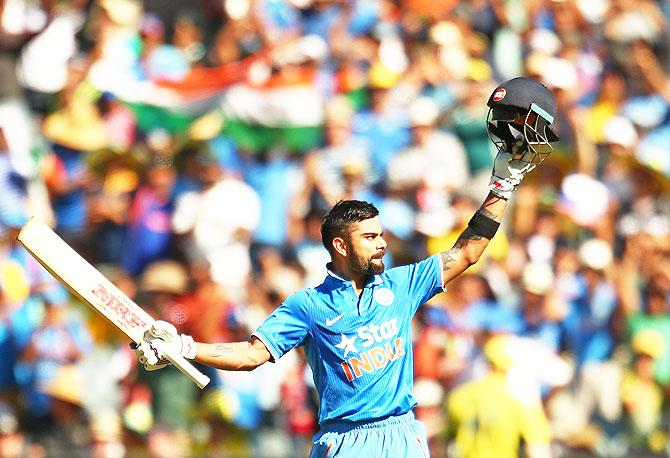 IMAGE: Virat, after scoring an ODI century in Australia. Photograph: Getty Images
It's against the white ball that Kohli's extraordinary record makes him an ODI legend.
At one point Tendulkar's ODI records seemed unconquerable, but the way Kohli is scoring at the moment, he can surpass the Master.
The fastest player in history to 7,000 ODI runs, Kohli has broken several records in eight years on the ODI scene.
His greatness is evident from the fact that he has already scored 25 ODI centuries. That tally is equal to the number of tons scored by Kumar Sangakkara, another modern great. The Sri Lankan giant took 404 matches to do so. Kohli has played just 171 ODIs.
He is joint fourth in the list of ODI century scorers, behind Tendulkar (49), Ricky Ponting (30) and Sanath Jayasuriya (28).
An interesting stat for Kohli fans: Tendulkar had just 12 hundreds at the 171 match mark.