- 'Kohli stamps his impression on the game and looks to dominate the bowlers. It takes a brave batsman to do that and he is showing no fear.'
- 'Williamson will break all the New Zealand batting records in time and again, he plays normal cricket shots.'
- 'De Villiers is another of those really destructive and orthodox players who can take the game away. So they are the top three in world cricket and rankings would reflect that.'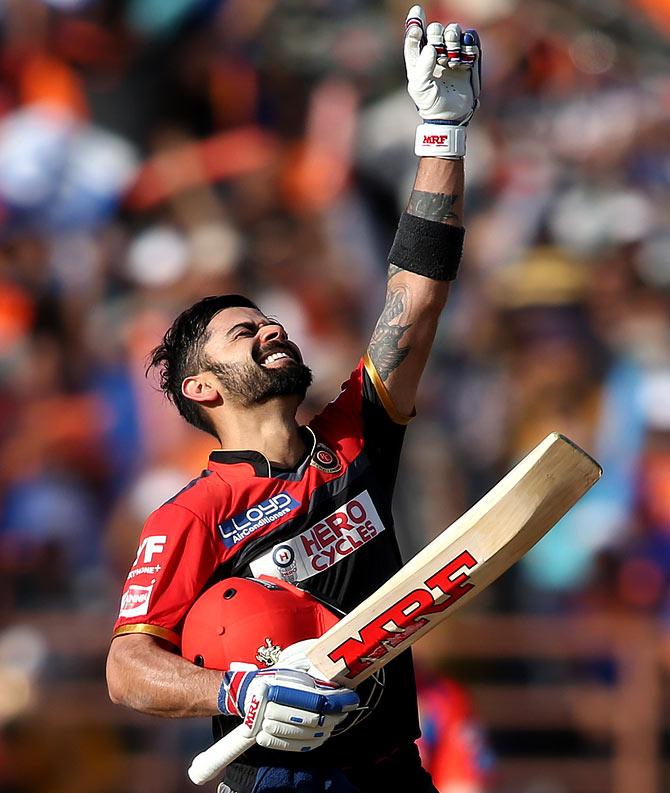 IMAGE: Virat Kohli celebrates scoring a century during IPL 9. Photograph: BCCI
India's batting sensation Virat Kohli is a 'phenomenal player and a treat to watch', feels legendary New Zealand fast bowler Sir Richard Hadlee.

"He is world class clearly and is a phenomenal player. It's a real joy to watch (him play). He plays proper cricket shots in all forms of the game, even in T20 cricket. The four hundreds in a row he scored in the IPL were beautiful to watch.

"He stamps his impression on the game and looks to dominate the bowlers. It takes a brave batsman to do that and he is showing no fear. (He is) beautiful to watch," said Hadlee, who scalped 431 wickets in 86 Test matches for New Zealand from the early 1970s till he retired in 1990.

Asked whether Kohli is currently the best batsman in the world when there are players like Kane Williamson and England's Joe Root, Hadlee said, "They are different sorts of players. Kane Williamson is a fantastic player. He, without doubt, will be our best-ever batsman.

"He (Williamson) will break all the New Zealand batting records in time and again, he plays normal cricket shots. He just places the ball, sometimes he has the power-hit, but (generally) he plays normal cricket shots.

"(AB) de Villiers is another of those really destructive and orthodox players who can take the game away. So they are the top three in world cricket and rankings would reflect that. They are different and a joy to watch," he said.

Kohli has been in superb form and scored heavily for India in the ICC World T20 championship before carrying on his sublime form into the Indian Premier League by scoring four hundreds for Royal
Challengers Bangalore.

Asked whether the Indian star should lead in all the three formats, Hadlee said,"I don't want to interfere with what India do. It's not unusual to have different captains in different forms of the game. That's the the decision for local authorities (to take)".

While agreeing that modern bats do cause some sort of uneven contest in terms of number of balls crossing the ropes, Hadlee - who will be 65 on July 3 - said that things can be evened out by lengthening the boundaries.

"I think we are seeing more results in Test cricket these days. The contest between bat and ball is pretty fair. Having said that with the bigger bats, heavier bats, (or) in some ways light bats with thick edges, a lot more boundaries are being hit.

"In Test cricket, we are getting results, you are always going to get results in ODIs and T20 game, so the balance is actually okay. What I would like to see is bigger boundaries.

"Bowlers, at times, do suffer in some formats with smaller boundaries, and you want to make that a contest. Running between the wickets is an important part of the game, but we don't see a lot of threes being run, so make it (boundary) little bigger," he said.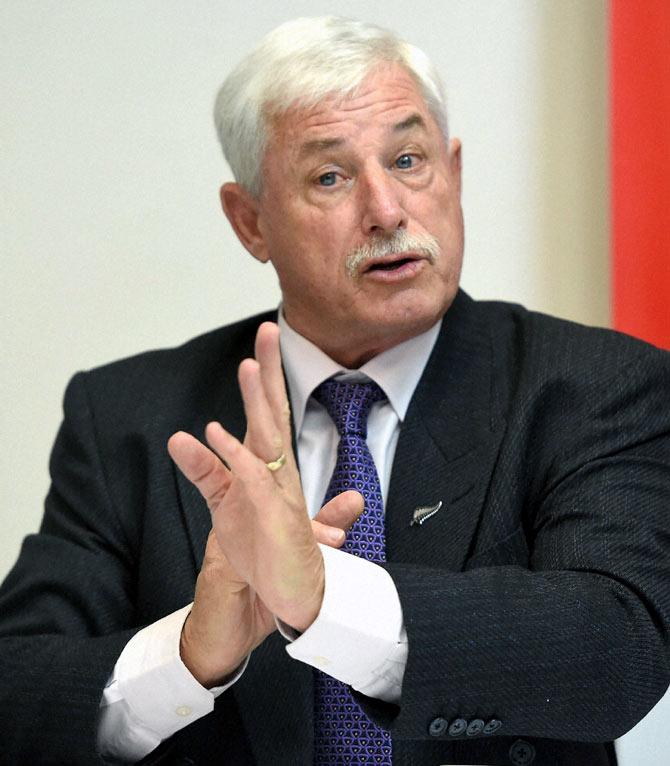 IMAGE: Richard Hadlee speaks during a media event in Mumbai. Photograph: BCCI
Hadlee also spoke about the changes he made in his bowling, which helped him to become more successful.

"I started first-class cricket in 1971-72 as a tearaway fast bowler, just trying to bowl as fast as I could and not a lot of control, bowling halfway down the pitch and all that sort of stuff. There's not much of a skill in doing that! By the time 1976 came, I took 25 wickets in six Tests on tours to India and Pakistan - three (games) in each country. That's not bad in sub-continental conditions.

"I was just starting to get it right, with my rhythm and technique being a little more efficient. Again, another big change happened during my career - with (me) going from a long to a shorter run up in English county cricket.

"I was criticised in my initial season for the shorter run-up by the media, fellow players and spectators. I copped a fair 'bagging' because people felt that I was taking short cuts, and that if you're a fast bowler you've got to run in from 25 yards. And so I made a professional decision to stay with a shorter run up and I really honed in on a classical action, nicely and efficiently," he said.

"I was three times more effective off the shorter run-up internationally than I was off the longer run-up. So the decision I made was right, and I was pleased about it," he said.

Hadlee, who competed with Imran Khan of Pakistan, India's Kapil Dev and England's Ian Botham for the best all-rounder's title in world cricket in the 1970s and 1980s, said the quartet closely followed each other's progress.

"We did that, (but) mind you technology was a bit different in our day. We had to read it in newspapers that Kapil got five wickets or Beefy (Botham) got a hundred. We kept an eye on each other because we were similar sort of players even though we had different skill sets.

"We were interested to know what others were doing and clearly when we were playing against each other. I rated Imran as the better of the four because he was more consistent with the bat and ball in my view. I'd like to think I was the better bowler than the others, but my batting was a weaklink. And stats would back that," he added.