Ahead of the India-New Zealand series, Rajneesh Gupta looks at the Black Caps' Test records.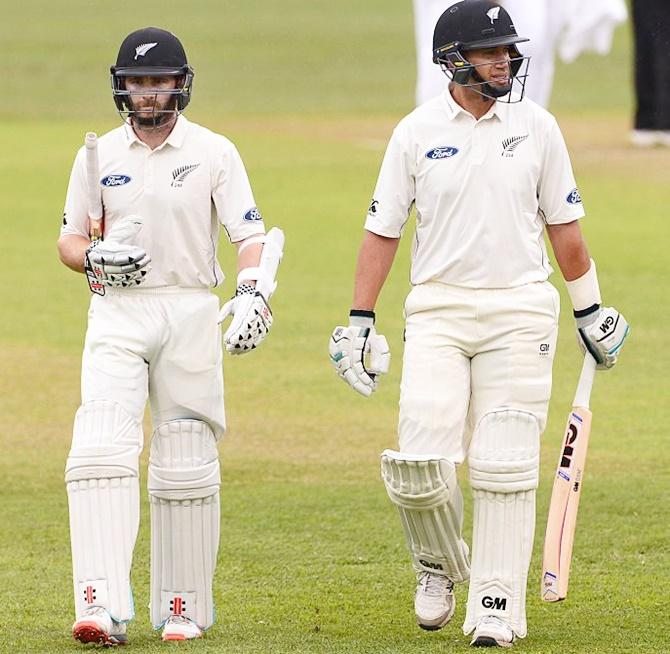 IMAGE: Kane Williamson and Ross Taylor, two of New Zealand's finest batsmen. Photograph: Lee Warren/Gallo Imagess/Getty Images
The three Test series between India and New Zealand kicks off in Kanpur on Thursday, September 22.
Virat Kohli and Kane Williamson's sides will go up against each in Kanpur, Kolkata and Indore.
Presenting the Kiwis' career stats.
Career figures -- Batting and Fielding
| | | | | | | | | | | |
| --- | --- | --- | --- | --- | --- | --- | --- | --- | --- | --- |
| | Matches | Innings | Not Out | Runs | Highest Score | Average | 100 | 50 | 0 | Caught/Stumped |
| Kane Williamson (Captain) | 52 | 95 | 9 | 4,393 | 242* | 51.08 | 14 | 22 | 6 | 47 |
| Trent Boult | 43 | 56 | 28 | 442 | 52* | 15.79 | 0 | 1 | 8 | 19 |
| Doug Bracewell | 27 | 45 | 4 | 568 | 47 | 13.85 | 0 | 0 | 11 | 10 |
| Mark Craig | 14 | 23 | 9 | 586 | 67 | 41.86 | 0 | 3 | 1 | 14 |
| Martin Guptill | 44 | 83 | 1 | 2,427 | 189 | 29.60 | 3 | 16 | 9 | 47 |
| Matt Henry | 4 | 7 | 2 | 152 | 66 | 30.40 | 0 | 1 | 0 | 1 |
| Tom Latham | 22 | 41 | 1 | 1,554 | 137 | 38.85 | 5 | 7 | 4 | 21 |
| James Neesham | 9 | 17 | 1 | 612 | 137* | 38.25 | 2 | 3 | 1 | 7 |
| Henry Nicholls | 6 | 8 | 0 | 221 | 76 | 27.63 | 0 | 2 | 0 | 3 |
| Luke Ronchi | 1 | 2 | 0 | 119 | 88 | 59.50 | 0 | 1 | 0 | 4 |
| Mitchell Santner | 7 | 7 | 0 | 146 | 45 | 20.86 | 0 | 0 | 1 | 4 |
| Ish Sodhi | 13 | 17 | 3 | 348 | 63 | 24.86 | 0 | 2 | 2 | 5 |
| Ross Taylor | 73 | 133 | 16 | 5,599 | 290 | 47.85 | 15 | 25 | 10 | 117 |
| Neil Wagner | 23 | 29 | 7 | 271 | 37 | 12.32 | 0 | 0 | 4 | 5 |
| B J Watling | 42 | 69 | 10 | 2322 | 142* | 39.36 | 6 | 12 | 7 | 133/6 |
Career figures -- Bowling
| | | | | | | | | | | | |
| --- | --- | --- | --- | --- | --- | --- | --- | --- | --- | --- | --- |
| | Matches | Balls | Maidens | Runs | Wickets | Best | Average | Strike Rate | Runs Per Over | 5I | 10M |
| Kane Williamson | 52 | 1,989 | 46 | 1,102 | 29 | 4/44 | 38.00 | 68.59 | 3.32 | 0 | 0 |
| Trent Boult | 43 | 9,384 | 346 | 4,634 | 158 | 6/40 | 29.33 | 59.39 | 2.96 | 5 | 1 |
| Doug Bracewell | 27 | 4,984 | 147 | 2,797 | 72 | 6/40 | 38.85 | 69.22 | 3.37 | 2 | 0 |
| Mark Craig | 14 | 3,387 | 91 | 2,187 | 48 | 7/94 | 45.56 | 70.56 | 3.87 | 1 | 1 |
| Martin Guptill | 44 | 398 | 8 | 279 | 8 | 3/11 | 34.88 | 49.75 | 4.21 | 0 | 0 |
| Matt Henry | 4 | 1,015 | 30 | 632 | 10 | 4/93 | 63.20 | 101.50 | 3.74 | 0 | 0 |
| Tom Latham | 22 | - | - | - | - | - | - | - | - | - | - |
| James Neesham | 9 | 779 | 13 | 472 | 12 | 3/42 | 39.33 | 64.92 | 3.64 | 0 | 0 |
| Henry Nicholls | 6 | - | - | - | - | - | - | - | - | - | - |
| Luke Ronchi | 1 | - | - | - | - | - | - | - | - | - | - |
| Mitchell Santner | 7 | 1,027 | 41 | 438 | 15 | 2/16 | 29.20 | 68.47 | 2.56 | 0 | 0 |
| Ish Sodhi | 13 | 2,616 | 67 | 1,625 | 35 | 4/60 | 46.43 | 74.74 | 3.73 | 0 | 0 |
| Ross Taylor | 73 | 96 | 3 | 48 | 2 | 2/4 | 24.00 | 48.00 | 3.00 | 0 | 0 |
| Neil Wagner | 23 | 5,050 | 172 | 2,738 | 94 | 6/41 | 29.13 | 53.72 | 3.25 | 4 | 0 |
| B J Watling | 42 | - | - | - | - | - | - | - | - | - | - |
Career figures versus India -- Batting and fielding
| | | | | | | | | | | |
| --- | --- | --- | --- | --- | --- | --- | --- | --- | --- | --- |
| | Matches | Innings | Not Out | Runs | Highest score | Average | 100 | 50 | 0 | Caught/Stumped |
| Kane Williamson | 7 | 13 | 0 | 496 | 131 | 38.15 | 2 | 2 | 1 | 1 |
| Trent Boult | 4 | 7 | 4 | 20 | 7* | 6.67 | 0 | 0 | 1 | 3 |
| Doug Bracewell | 2 | 4 | 0 | 83 | 43 | 20.75 | 0 | 0 | 0 | 1 |
| Martin Guptill | 7 | 13 | 0 | 323 | 85 | 24.85 | 0 | 2 | 1 | 4 |
| Tom Latham | 1 | 2 | 0 | 29 | 29 | 14.50 | 0 | 0 | 1 | 0 |
| James Neesham | 1 | 2 | 1 | 170 | 137* | 170.00 | 1 | 0 | 0 | 0 |
| Ish Sodhi | 1 | 2 | 0 | 23 | 23 | 11.50 | 0 | 0 | 1 | 1 |
| Ross Taylor | 9 | 16 | 0 | 659 | 151 | 41.19 | 3 | 1 | 0 | 12 |
| Neil Wagner | 2 | 4 | 2 | 21 | 14 | 10.50 | 0 | 0 | 1 | 0 |
| B J Watling | 3 | 6 | 1 | 144 | 124 | 28.80 | 1 | 0 | 1 | 17/0 |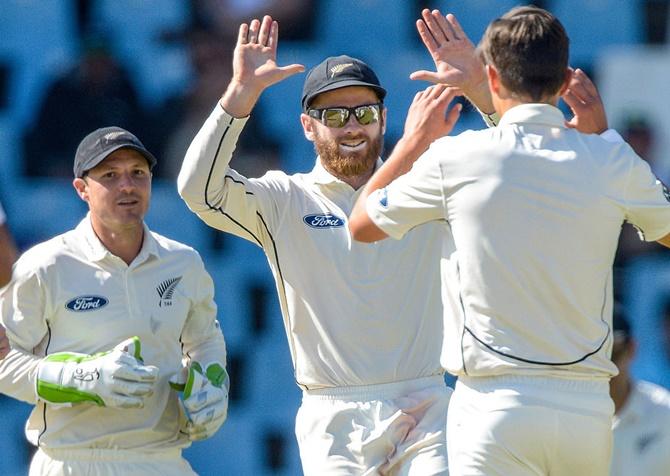 IMAGE: New Zealand players celebrate. Photograph: Sydney Seshibedi/Gallo Images/Getty Images
Career figures vs India -- Bowling
| | | | | | | | | | | | |
| --- | --- | --- | --- | --- | --- | --- | --- | --- | --- | --- | --- |
| | Matches | Balls | Maidens | Runs | Wickets | Best | Average | Strike Rate | Runs Per Over | 5I | 10M |
| Kane Williamson | 7 | 276 | 0 | 201 | 2 | 1/45 | 100.50 | 138.00 | 4.37 | 0 | 0 |
| Trent Boult | 4 | 896 | 26 | 517 | 15 | 3/38 | 34.47 | 59.73 | 3.46 | 0 | 0 |
| Doug Bracewell | 2 | 319 | 8 | 231 | 3 | 2/91 | 77.00 | 106.33 | 4.34 | 0 | 0 |
| Martin Guptill | 7 | 72 | 0 | 60 | 0 | 0/27 | - | - | 5.00 | 0 | 0 |
| Tom Latham | 1 | - | - | - | - | - | - | - | - | - | - |
| James Neesham | 1 | 138 | 2 | 87 | 1 | 1/62 | 87.00 | 138.00 | 3.78 | 0 | 0 |
| Ish Sodhi | 1 | 126 | 2 | 91 | 0 | 0/13 | - | - | 4.33 | 0 | 0 |
| Ross Taylor | 9 | 70 | 3 | 33 | 2 | 2/4 | 16.50 | 35.00 | 2.83 | 0 | 0 |
| Neil Wagner | 2 | 418 | 14 | 270 | 11 | 4/62 | 24.55 | 38.00 | 3.88 | 0 | 0 |
| B J Watling | 3 | - | - | - | - | - | - | - | - | - | - |
Career figures in India -- Batting and Fielding
| | | | | | | | | | | |
| --- | --- | --- | --- | --- | --- | --- | --- | --- | --- | --- |
| | Matches | Innings | Not Out | Runs | Highest Score | Average | 100 | 50 | 0 | Caught/Stumped |
| Kane Williamson | 5 | 9 | 0 | 326 | 131 | 36.22 | 1 | 2 | 1 | 0 |
| Trent Boult | 2 | 4 | 2 | 10 | 4* | 5.00 | 0 | 0 | 1 | 1 |
| Doug Bracewell | 2 | 4 | 0 | 83 | 43 | 20.75 | 0 | 0 | 0 | 1 |
| Martin Guptill | 4 | 8 | 0 | 187 | 85 | 23.38 | 0 | 2 | 1 | 4 |
| Ross Taylor | 5 | 9 | 0 | 293 | 113 | 32.56 | 1 | 1 | 0 | 4 |
| B J Watling | 1 | 2 | 1 | 8 | 6 | 8.00 | 0 | 0 | 0 | 2/0 |
Career figures in India -- Bowling
| | | | | | | | | | | | |
| --- | --- | --- | --- | --- | --- | --- | --- | --- | --- | --- | --- |
| | Matches | Balls | Maidens | Runs | Wickets | Best | Average | Strike Rate | Runs Per Over | 5I | 10M |
| Kane Williamson | 5 | 246 | 0 | 174 | 2 | 1/45 | 87.00 | 123.00 | 4.24 | 0 | 0 |
| Trent Boult | 2 | 401 | 10 | 247 | 5 | 3/93 | 49.40 | 80.20 | 3.70 | 0 | 0 |
| Doug Bracewell | 2 | 319 | 8 | 231 | 3 | 2/91 | 77.00 | 106.33 | 4.34 | 0 | 0 |
| Martin Guptill | 4 | 72 | 0 | 60 | 0 | 0/27 | - | - | 5.00 | 0 | 0 |
| Ross Taylor | 5 | 58 | 2 | 29 | 2 | 2/4 | 14.50 | 29.00 | 3.00 | 0 | 0 |
| B J Watling | 1 | - | - | - | - | - | - | - | - | - | - |