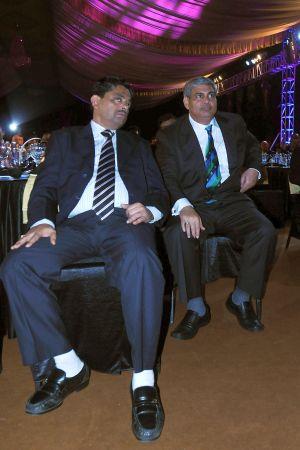 The unrecognised Cricket Association of Bihar chief Aditya Verma, who has shaken the BCCI by dragging it to the Supreme Court over the IPL spot-fixing scandal, has demanded that the Board's former President Shashank Manohar head the probe panel against the scam.
In a statement issued today, Verma said the BCCI, which has called an emergent meeting of its all-powerful working committee, should hand over the investigation into the IPL corruption case to a panel headed by Manohar.
"Only Mr. Manohar can clean the image of BCCI and IPL," Verma said in his statement.
The matter is scheduled to be heard in the top court on April 22 next and Verma said he would oppose any other name suggested by the BCCI.
"Till the probe is concluded, CAB demands a good governance review committee for BCCI. Several former office-bearers of BCCI, like Mr Jagmohan Dalmiya, Mr. AC Muthaih, Mr I S Bindra, Chirayu Amin, Ajay Shirke, Sanjay Jagdale and Niranjan Shah are very much capable of improving the administrative function of BCCI," he said.
"Due to any reason if BCCI fails to make Mr Manohar the head of the probe panel, the CAB will strongly object to any other suggestion in the Supreme Court on next date," he added.
Image: Shashank Manohar
Photograph: Pal Pillai/Getty Images