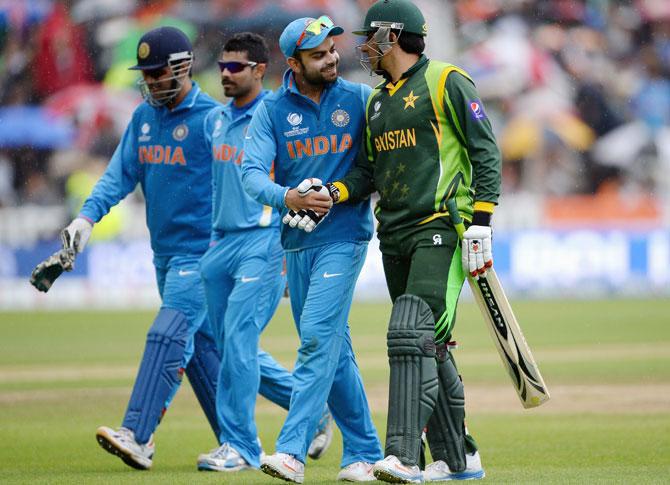 India's Virat Kohli congratulates Pakistan's Misbah-ul Haq during a match. Photograph: Getty Images
The next edition of the Asia Cup One-day tournament is likely to be held next year in the United Arab Emirates in the first week of March.
Although no final decision on the host country was taken during the final meeting of the Asian Cricket Council Executive Board in Malaysia recently but UAE is the strongest candidate to host the biannual event.
"None of the Asian Test playing nations expressed interest in hosting the Asia Cup including India and Sri Lanka. So, the members decided the best possible option was UAE and a decision on the venue will be taken in the next one month," a well-placed source in the Pakistan Cricket Board said.
He said India had shown no reservations about playing in the UAE since they have already hosted a part of the IPL there last year.
India is also slated to play Pakistan in a bilateral series in the UAE in December but the series is yet to be finalised.
"The most important thing is that the ACC now no longer exists and its offices in Kuala Lumpur have been closed down," the source said.
He said it was decided at the final ACC board meeting that in future all development programs of the Asian region will now be directly handled by the International Cricket Council.
He said most of the 18 member staff of the ACC secretariat in Kuala Lumpur had been fired after the meeting.
He said the development officers working for the ACC will now be under the umbrella of the ICC and report directly to them until December 2016.