Australia are rightly underdogs for the upcoming Ashes series in England but will do everything they can to bring the coveted urn back home, skipper Michael Clarke said on Wednesday.
There was more talk of aspiration than expectation as the Australia squad officially bid farewell to the country in a ceremony at Sydney airport before their departure for England at the weekend.
England hold the Ashes after a convincing 3-1 series win in 2010-11 and Australia's recent 4-0 drubbing in India has not persuaded many that they have much chance of wresting back the trophy.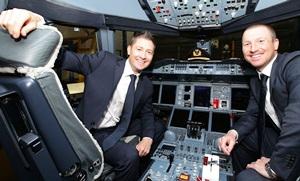 "I think it's a fair indication of where both teams are at," Clarke said of the underdogs tag.
"England have a lot of experience. A lot of the guys have been involved in Ashes series before and they're playing some really good cricket.
"Our recent series in India wasn't nearly as good as we would have liked so I accept that we are the underdogs but we'll be doing everything in our power to have success.
"Our goal is to win the series, we know it's going to be tough, but we're going to have a red-hot crack at hopefully winning the Ashes for the Australian people," he added to reporters in a chilly hangar.
While Australia's pace attack will be licking their lips at the prospect of bowling on English wickets, the batsmen had a torrid time in India and, despite his own excellent form over the last two years, Clarke said they all must improve.
"The batters know we didn't perform as well as we needed, we didn't make enough runs and we are certainly accountable for our performances," he said.
"We know that if we can bat well as a unit, that will give our young, talented fast bowlers every opportunity to take 20 wickets."
Opening batsman David Warner arrives back from India, where he has been playing in the Indian Premier League, later on Wednesday to face disciplinary charges for a Twitter rant aimed at two journalists.
Clarke said there would be no constraints on the use of social media by players as a result of the incident and he backed Warner to have learned his lesson.
"The one thing I've been very disciplined about is allowing people to be themselves," Clarke said. "At the end of the day we're all old enough and wise enough to know what you are required to do as an Australian cricketer.
"There's certainly been no talk of stopping players using social media, I think it's a fantastic way to give back to fans."
"I think Davey has great potential to be a leader of the Australian cricket team. He's a wonderful guy and wonderful player.
"He's learned from this... and if he continues to grow as he has over the last few years, there's no reason why he hasn't got the potential to captain Australia one day."
There was good news on the injury front with pace bowler Ryan Harris saying he felt better that he expected after the latest injury to have afflicted him, an Achilles problem.
Clarke's own fitness has also been in the spotlight after he missed the last test in India due to the recurrence of a long-term back problem.
"My body's going pretty well at the moment," he said. "I've had this six or seven weeks to work on my rehab, work on my strength for my hamstring and my back and, touch wood, I think I'm fully fit at this stage.
"You always have niggles... (but) I'm confident I'm as fit as I can be to perform at my best."
Australia defend the Champions Trophy in England next month before the Ashes series, which begins at TrentBridge on July 10.
Photograph: Matt King/Getty Images