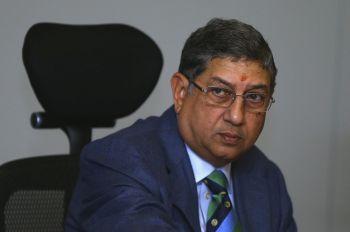 Board of Control for Cricket in India's president-in-exile Narayanswami Srinivasan is set to discuss his future course of action with Union finance minister Arun Jaitley once the embattled cricket administrator is back from the two-day ICC Board Meeting in Dubai, scheduled to conclude on Thursday.
- How the Supreme Court bowled Srinivasan and the BCCI!
A Supreme Court verdict has effectively barred Srinivasan from contesting the BCCI polls, slated within six weeks, but Board insiders feel that there is every chance of the Tamil Nadu strongman fighting the elections if he is able to sell his Indian Premier League franchise Chennai Super Kings within the stipulated time frame.
"Srinivasan will be back from Dubai after the Board meet ends on January 29. So ideally, there is a chance of meeting Jaitley in Delhi on either January 30 or 31 or may be a tele-conference depending on the finance minister's schedule," a senior BCCI official said on Thursday.
"Since Srinivasan has always paid heed to Jaitley's advice, it won't be any different this time round. A clearer picture on BCCI logjam will only emerge after the Srinivasan-Jaitley discussion. At the end of the day, Jaitley controls eight votes and that's a good enough number in a total of 31 to have a decisive say in this regard," the source said.
However, there is a school of thought in BCCI that Srinivasan will contest in this election as he is well on his way to dissociating his parent firm India Cements from the Mahendra Singh Dhoni-led franchise.
Image: N Srinivasan
Photograph: Francois Nel/Getty Images