The Indian cricket team is on its 15th Test tour of England. It may be interesting to go down memory lane and find out how our players have fared in the heavyweight division of cricket in Old Blighty. Sorry to say, they haven't done well, except on a few occasions.
To be precise, of the 45 Tests India has played in England between 1932 and 2002, the hosts won as many as 23. India won only four.
India's tour of England, 1932:
It all began with India's maiden Test appearance at Lord's in 1932 under C K  Nayudu.. Besides Nayudu, we had only two other world-class players -- Mohammed Nissar and Amar Singh. But for this triumvirate, India would have lost by a staggering margin than it eventually did -- by 158 runs. 
Nissar (5 for 93) bowled his heart out and restricted England to 259 in the first innings. He bowled the prolific and dangerous openers, Percy Holmes and Herbert Sutcliffe, who had put on 555 runs in their previous first-class match, with just 11 runs on the board. When the score was 19, the great Frank Woolley was run out.
But captain Douglas Jardine (79), wicketkeeper Leslie Ames (65) and Wally Hammond (35), who was bowled by Amar Singh, rescued England. Amar Singh took 2 for 75.
Nayudu, who dismissed Jardine and Eddie Paynter, and then chipped in with a breezy 40, was the top scorer in India's first innings of 189.
Enjoying a vital 70-run lead, Jardine declared England's second innings at 275 for 8 when he was close enough to completing what would have been a brilliant century of his. He (85 not out) was ably supported by Paynter (54). Jahangir Khan (better known as Majid Khan's father) claimed 4 for 60 and Amar Singh 2 for 84.
Chasing a 345-run target, the visitors were sent packing for 187 with Amar Singh scoring India's first ever half-century (51) batting at No 10.
*~*~*~*~*~*~*~*~*~*~*~*~*~*
1936
India had a golden opportunity to win the first Test at Lord's on the 1936 tour but, as usual, the batsmen let the team down. After India was bowled out for 147 in the first innings, Amar Singh and Nissar paraded their awesome talents in front of the cognoscenti, including Neville Cardus, who had assembled at the hallowed Lord's.
The two ripped apart England's much-hyped batting line-up and gave India a crucial lead of 13 runs. Amar Singh bagged 6 for 35 and Nissar 3 for 36 as England made only 134. Only Maurice Leyland offered some resistance and made 60.
But India's batsmen, including Vijay Merchant, Mushtaq Ali and Nayudu came a cropper against speedster Gubby Allen (5 for 43) and spinner Hedley Verity (4 for 17) and were dismissed for a meager 93. Needless to say, England romped home with ridiculous ease -- by 9 wickets, to be exact.
However, Merchant (114) and Mushtaq (112) more than made up for their Lord's failure and helped India save the second Test at Old Trafford. They put on 203 for the first wicket in India's second innings. Mushtaq became India's first ever Test centurion abroad.
But India lost the third and final Test at The Oval by 9 wickets and with it the series, too, by 2-0.
*~*~*~*~*~*~*~*~*~*~*~*~*~*
1946
Though England won the first Test at Lord's by 10 wickets, India managed to draw the second and third at Old Trafford and The Oval respectively in 1946 under Iftiqar Ali Khan Pataudi.
*~*~*~*~*~*~*~*~*~*~*~*~*~*
1952
On the 1952 tour, Vijay Hazare's team lost the first three Tests and saved the fourth and final at The Oval, simply because there was no play on the third and fifth day because of rain. Otherwise Indian players had made all preparation to gift yet another Test to the hosts after getting all out for 98 in reply to England's 326 for 6 declared! So much so, we had lost 5 wickets for 6 runs at one stage.
This was the very series in which Freddie Trueman and Alec Bedser had the measures of most Indian batsmen.
Though Vijay Manjrekar scored a fine 133 in the first Test at Headingley, we lost by 7 wickets.
Vinoo Mankad's heroic all-round show (two innings of 72 and 184 as an opener and, as if that were not enough, marathon spells of 73-24-196-5 and 24-12-35-0) also could not help India save the second at Lord's, which England won by 8 wickets.
In the third Test at Old Trafford, we were reeling at 17 for 5 after England declared its only innings at 347 for 9. The entire eleven was eventually shot out for 58 with Trueman taking 8 for 31. Following on, India fared a bit better and scored 82 with Bedser claiming 5 for 27. England won by an innings and 207 runs.
Polly Umrigar, in particular, had a horrendous series. Trueman and Bedser had literally relegated this giant to a pigmy. Just look at Umrigar's scores in the four Tests – 8, 9, 5, 14, 4, 3, 0.
*~*~*~*~*~*~*~*~*~*~*~*~*~*
1959
But England did succeed in winning all the five Tests in 1959 as the Dattaji Gekwad-led Indian side did not appear to make even an effort to avoid humiliation. The hosts won the first Test at Trent Bridge by an innings and 59 runs, second at Lord's by 8 wickets, third at Headingley by an innings and 173 runs, fourth at Old Trafford by 171 runs and fifth at The Oval by an innings and 27 runs.
*~*~*~*~*~*~*~*~*~*~*~*~*~*
1967
Never one to learn lessons from the past, India did an encore on the 1967 tour and lost all the three Tests. Even Mansur Ali Khan "Tiger" Pataudi's courageous batting (64 and 148) astute leadership could not change India's fortunes as we lost the first Test at Headingley by 6 wickets.
This was the very Test in which Geoffery Boycott essayed his infamous 246 not out in England's first innings total of 550 for 4 declared. Infamous because the master technician batted unpardonably slowly, as if it were a timeless Test, and bored the spectators to death. The selectors punished him by dropping him from the second Test at Lord's, which England won by an innings and 124 runs.
With nothing to lose, including pride, which had already been lost, India fielded the famed spin quartet -- Erapalli Prasanna, Bhagwat Chandrasekhar, Bishen Singh Bedi and S Venkataraghavan -- together for the first and only time in the third and last Test at Edgbaston.
Though they bowled very well, took 18 wickets amongst themselves and restricted England to 298 and 203 in the two innings, their batting colleagues did not lend them any support. India mustered merely 98 and 277 in the two essays and England won by 132 runs.
*~*~*~*~*~*~*~*~*~*~*~*~*~*
1971
Probably the first time India went to England with full confidence and a set of players capable of playing as a team and winning matches consistently was in 1971 under Ajit Wadekar. Wadekar's team had already beaten the West Indies in the Caribbean the same year and the expectations were obviously very high. On the other hand, Ray Illingworth and company had just won the Ashes in Australia and they, too, were on cloud nine and feeling as if they were world champs.
The first Test at Lord's ended in an exciting draw. When rain forced the umpires to abandon the game, India required 38 runs to win with 2 wickets in hand. But then England, too, could have won as only Bedi and Chandrasekhar were left to accompany Eknath Solkar, who was then batting on 6. After Bedi, Chandrasekhar and Venkataraghavan restricted England to 304 in the first innings, Wadekar (85),  Gundappa Viswanath (68) and Solkar (67) helped India gain a slender but moral-boosting 9-run lead.
In all probability, India might have lost the second Test at Old Trafford but for rain. England set India a target of 457 in the fourth innings and the visitors were 65 for 3 at the draw of stumps on the fourth day with Viswanath and Dilip Sardesai at the crease. But no play was possible on the final day.
It was, of course, in the third Test at The Oval where India made history, winning by 4 wickets. Not only did India register its first ever Test triumph in England but also its maiden series win there. The chief architect was Chandrasekhar, whose 6 for 38 bowled England out for 101 in the second innings and paved the way for India's famous victory.
Besides Chandrasekhar's match-winning spell, useful contributions with the bat by Sardesai, Wadekar, Viswanath, Farokh Engineer and Solkar could not be ignored. Above all, it was Solkar's breathtaking fielding at the forward short-leg that gave a new confidence to the Indian bowlers and brought the English batsmen under tremendous psychological pressure.
The jubilant Indian cricketers went on to defeat England 2-1 at home in the next Test series, making it three series wins in a row for Wadekar. However, as the subsequent events proved, the success turned out to be as transient as it was dazzling.
*~*~*~*~*~*~*~*~*~*~*~*~*~*
1974
Wadekar's squad lost all the Tests of the 1974 series in England -- first by 113 runs at Old Trafford despite Sunil Gavaskar (101 and 58) and Viswanath (40 and 50) batting superbly under trying circumstances and against heavy odds, second by an innings and 285 runs at Lord's and the third by an innings and 78 runs at Edgbaston. 
At Lord's, India was dismissed for 42 (yes forty-two) in the second innings. The humiliation was such that the Fleet Street began to describe India's '74 tour as "the summer of 42". Back home, effigies of Indian cricketers were burnt and Wadekar's house was heavily stoned after India lost the series 3-0. A stunned, disillusioned Wadekar announced his retirement from first-class cricket.
*~*~*~*~*~*~*~*~*~*~*~*~*~*
1979
Memories of the 1974 tour began to haunt the Indian cricket lovers when Venkataraghavan's team lost the first Test at Edgbaston by an innings and 83 runs on the 1979 jaunt. Only Viswanath (78 and 51), Gavaskar (61 and 68) and Chetan Chauhan (4 and 56) showed some fighting ability against a rampaging England attack spearheaded by Bob Willis, Ian Botham and Mike Hendrick.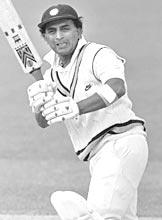 India would have lost the second Test at Lord's, too, but timely centuries by Viswanath and Dilip Vengsarkar (the first of his three hundreds on the trot at the Mecca of cricket) and their 210-run third wicket stand helped achieve an honourable draw.
With rain disallowing second and third days' play, the third Test at Headingley also ended in a draw. Botham, who had already shown glimpses of his liking for the Indian attack by scoring 33 and 36 at Edgbaston and Lord's, hit a hurricane 137 in England's only innings.
India came tantalisingly close to winning the fourth Test at The Oval thanks to Gavaskar playing the innings of his life-time, 221, while trying to make 438 runs to win in the fourth innings. In the end, some unimaginative batting changes by Venkataraghavan show India making 429 for 8.
*~*~*~*~*~*~*~*~*~*~*~*~*~*
1982
In 1982, India lost the first Test at Lord's by 7 wickets despite Vengsarkar (157) and Kapil Dev (89) batting brilliantly in the second innings. The second Test at Old Trafford, where Botham and Sandeep Patil smashed scintillating centuries, ended in a draw. The third, at The Oval, also produced no result. Botham hit 208 in the first innings.
*~*~*~*~*~*~*~*~*~*~*~*~*~*
1986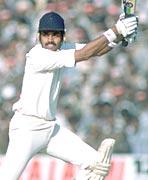 India's best moment came on the 1986 tour, when we won the first Test at Lord's by 5 wickets and the second at Headingley by 279 runs.
Besides the in-form Vengsarkar's centuries in both the matches, collective efforts by medium-pacers Kapil Dev, Chetan Sharma, Roger Binny and Madan Lal and left-arm spinners Maninder Singh and Ravi Shahtri played a significant part in the happy turnaround. The third Test at Edgbaston ended in a draw.
*~*~*~*~*~*~*~*~*~*~*~*~*~*
1990
As usual, India lost the first Test at Lord's by 247 runs on the 1990 tour under Mohammed Azharuddin. This was the very Test in which Graham Gooch was dropped by Kiran More on 33. The England opener went on to score 333. He made 123 in the second innings.
Gooch scored yet another hundred (116) in the drawn second Test at Old Trafford. For India, Azharuddin made 179 in the first innings and the teen sensation Sachin Tendulkar 119 not out in the second. The third and final Test at The Oval also produced no result despite India enforcing the follow-on on England after posting 606 for 9 thanks to Shastri (187) and Kapil Dev (110).
*~*~*~*~*~*~*~*~*~*~*~*~*~*
1996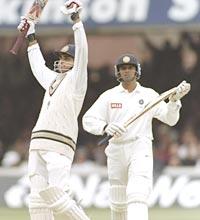 The 1996 tour saw the rise of Sourav Ganguly, Rahul Dravid and Venkatesh Prasad. Typically, India surrendered the first Test at Edgbaston by 8 wickets. The only saving grace for India was Tendulkar's masterly 122 out of India's 219 in the second innings (the next highest scorer was Sanjay Manjrekar with 18); and an impressive debut by Prasad, who claimed 4 for 71 and 2 for 50.
Making their maiden appearance for the country, Ganguly and Dravid scored 131 and 95 respectively in the first innings of the second Test at Lord's. Prasad again bowled nicely and took 5 for 76 and 2 for 54 as the Test ended in a draw.
In the third and last Test at Trent Bridge, which also produced a similar result, Ganguly hit his second successive ton (136) while Dravid (84) again missed to score his first. Tendulkar made a grand 177. Ganguly (48) and Tendulkar (77) were very impressive in the second innings as well. In fact, Ganguly was declared not only the Man of the Match but also the Player of the Series along with Nasser Hussain.
*~*~*~*~*~*~*~*~*~*~*~*~*~*
2002
It was again not surprising when England won the first Test at Lord's by 170 runs on our last tour in 2002. The only redeeming feature for India was a century (109 not out) by the unlikely Ajit Agarkar. Agarkar had every reason to feel proud because he achieved a feat -- scoring a Test hundred at Lord's -- which even Gavaskar and Tendulkar have not managed.
The second Test at Trent Bridge, where Virender Sehwag and Dravid scored centuries and Tendulkar and Ganguly got out in the 90s, ended in a draw.
But India bounced back and won the third at Headingley by an innings and 46 runs and levelled the series. Tendulkar (193), Dravid (148) and skipper Ganguly (128) enabled India to score 628 for 8 in the first innings.  The England innings folded for 273 against some very fine bowling by offie Harbhajan Singh (3 for 40), leggie Anil Kumble (3 for 93) and seamers Zaheer Khan (2 for 59) and Agarkar (2 for 59).
Following on, England made 309 with captain Hussain making 110. Kumble, who took 4 for 66, ensured that India did not have to bat again.
The fourth and final Test at The Oval produced no result and England and India shared the rubber 1-1. While Michael Vaughan made 195 in England's first innings, Dravid scored 217 in India's. Both were jointly declared Players of the Series.
Overall, India's record in England is nothing to be proud about. Will Dravid and company fare well and improve India's record? Let us wait, watch and keep our fingers crossed!
Photographs: Getty Images