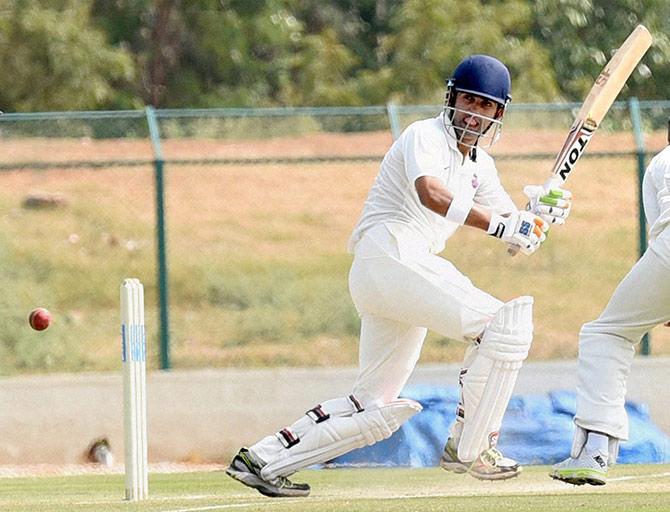 IMAGE: Delhi's Gautam Gambhir plays a shot during the Ranji Trophy match against Karnataka in Hubli. Photograph: PTI.
Former Delhi stalwart K Bhaskar Pillai is being considered as a front-runner for the state Ranji team chief coach's post and will face a tough fight from ex-India off-spinner Aashish Kapoor after a series of interviews were conducted by the DDCA.
Medium pacer Amit Bhandari could retain his position as the bowling coach.
Five candidates who were interviewed for the post are Kapoor, Bhaskar, Bhandari, Hitesh Sharma and last season's coach Vijay Dahiya.
Each candidate was interviewed for roughly 20 minutes but Bhaskar, who is a Delhi legend for his run-scoring prowess during the mid 80's to early 90's, is being considered the dark horse.
He has coached Rajasthan senior team back in 2007 and scored 5443 runs in 95 first-class matches.
Among the five, Kapoor has the best credentials with 128 first-class matches in which he got 398 wickets. To top it, he has played 4 Tests and 17 ODIs for India in the mid-90's, including the 1996 World Cup semi-final.
However, what could go against Kapoor is that he has never played for Delhi in Ranji Trophy like the other four.
Unlike Kapoor, Bhaskar knows Delhi cricket like the back of his hand.
Last year's coach Dahiya is slightly lagging behind in the race as Delhi failed to qualify for the Ranji Trophy knock-outs.
Hitesh Sharma, with six first-class matches, was never really in contention with his only USP being an NCA Level-III degree.
Bhandari, who has 314 wickets from 95 first-class games, could come into the picture if DDCA decides on having two coaches. Bhandari could well be retained as bowling coach then.
Nikhil Chopra, Atul Wassan, Vinay Lamba and Sarandeep Singh are in line to become the three selectors among four candidates.