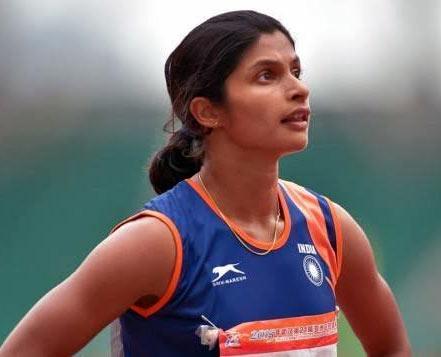 Quartermiler Mohammad Anas and long jumper Ankit Singh booked their Olympic tickets with national record shattering efforts while 200m specialist Srabani Nanda also qualified for the Rio Games in various competitions aboard on a memorable day for Indian track and field athletes on Sunday.

24-year-old Odisha athlete Srabani, who won gold in the women's 200m race in the South Asian Games and Federation Cup earlier this year, clocked 23.07secs at the 26th G Kosanov Memorial Meet in Almaty, Kazakhstan today to realise her dreams of making it to the Rio Olympics.

The qualifying mark for the Olympics in women's 200m is 23.20secs.

Ankit, 23, also smashed the existing national record with his best effort of 8.19m in men's long jump in the same event in Almaty to ensure his passage to Rio Games. The earlier national record of 8.09m was in the name of Kumaravel Prem Kumar set in New Delhi in August 2013.

The qualification standard for the Olympics in men's long jump is 8.15 metres.

Haryana athlete Ankit had also won gold in the South Asian Games earlier this year and National Games last year.

Anas qualified for the Rio Olympics on Saturday by shattering the men's 400m national record on the second day of Polish Athletics Championship at Bydgoszcz.

The 21-year-old clocked 45.40secs, the exact qualification timing, to book the Olympics ticket.

The Kerala athlete shattered his own national record of 45.44secs, which he set on Friday on the first day of the same competition.

Rajiv Arokia, whose national record of 45.47secs Anas broke on Saturday, finished second with a timing of 45.60secs.

Anas had won a silver in the Federation Cup National Athletics Championships in April in New Delhi with a timing of 45.74secs.

With the addition of these three, the number of track and field athletes who have qualified for Rio Olympics has swelled to 23. Athletics is set to contribute the second biggest number of members in India's Rio Olympics contingent after hockey which will have 36 players (18 each for men's and women's team).
Image: Srabani Nanda
Photograph: Athletics Federation of India/Facebook