'Loss-win is a part of game'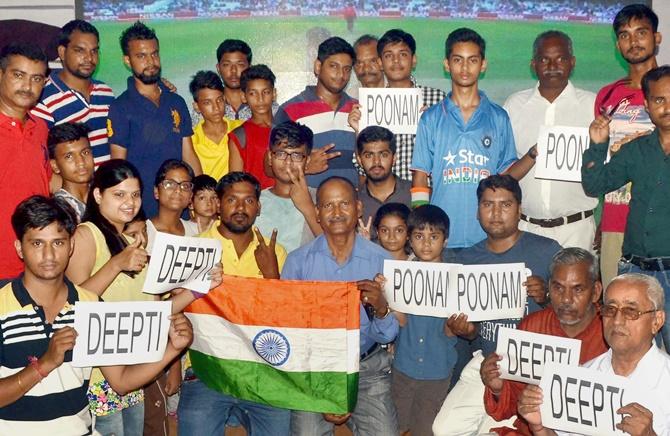 IMAGE: Family members of India women cricket players Deepti Sharma and Poonam Yadav show their support in Agra on Sunday. Photograph: PTI
Though the India Women's Cricket team could not mark victory in the ICC Women's World Cup final, their families back at their home were seen celebrating their daughters' brilliant performances.
Batswoman Harmanpreet Kaur's father appreciated the team for making it to the finals and said, "We are very happy. They have made us proud. It's a big thing that our team played in the World Cup and reached the finals."
Harmanpreet's family opined that the Indian team gave their best, adding that they expect the latter to perform better in future.
"Both the teams had pressure and both performed brilliantly. India gave its best. We expect they will perform better in future.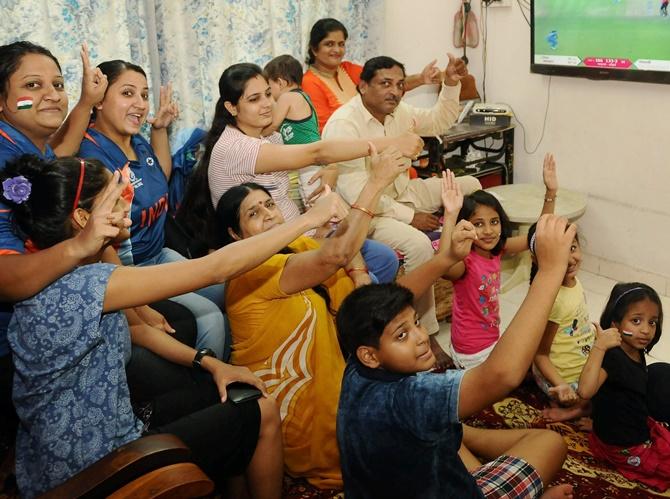 IMAGE: Family members of Mona Meshram watching the live telecast of the ICC Women's World Cup 2017 final . Photograph: PTI
However, they have performed really well this time. They will be welcomed by us," one of the Harmanpreet's family members said.
Lauding Moga-girl Harmanpreet for her brilliant performance in the tournament, Punjab Chief Minister Captain Amarinder Singh yesterday offered her a post in the Punjab Police, if she still desired to join the force.
The chief minister earlier promised to review the state's sports policy to provide government jobs to young sportspersons like Harmanpreet, and also announced Rs. 5 lakh cash award for the cricketing marvel.
Similarly, Poonam Raut's father also maintained that losing and winning is a part of game.
"Loss-win is a part of game. Happy that she (Poonam) scored 86, but dejected as the team lost," he said.
The England counterpart staged a comeback to beat India by nine runs in a thrilling ICC Women's World Cup final on Sunday.
Anya Shrubsole was the pick of the bowlers as she took six wickets to clearly take away the game from India.