Australia's 111-ball 60 against England in the fourth Ashes Test at Trent Bridge is the shortest all-out first innings ever in Test cricket history.
Rajneesh Gupta presents other such shocking collapses on the first day of a Test in recent times.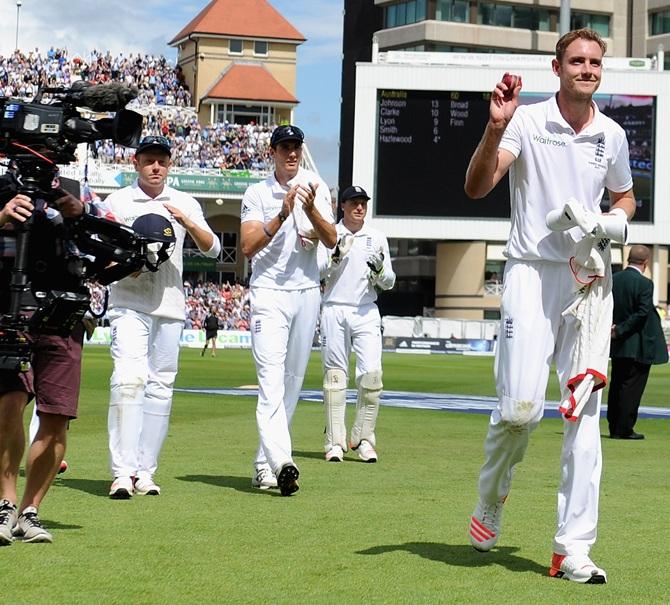 England's Stuart Broad acknowledges the crowd as he leaves the field after taking eight wickets. Photograph: Gareth Copley/Getty Images
Even though England defeated Australia quite convincingly in the third Ashes Test in Birmingham, die-hard fans of the home team would not have dreamt about the drama that unfolded in the fourth Test at Nottingham on Thursday.
Australia crumbled for a paltry 60 in just 18.3 overs as Stuart Broad took a career-best 8 for 15.
It took the pacer only 19 balls for his fifth wicket, which put him alongside Ernie Toshack in claiming the quickest five-for in Test cricket (from the time first bowled).
Australia's 111-ball essay is the shortest all-out first innings ever in Test cricket history. Broad also registered best figures by a bowler before lunch on the first day of a Test.
It will be interesting to know about other such remarkable collapses on the first day of a Test in recent times. Take a look:
Sri Lanka vs Pakistan (Kandy 1994)
In little over two hours Sri Lanka were brushed aside by two of the best craftsmen to ply their trade – Wasim Akram and Waqar Younis.
Sri Lanka lost the toss and two W's could not believe their luck when they saw the hosts had presented them with a green top in their hope of leveling the series.
Wasim and Waqar bowled without a change and the Sri Lankans had no clue as to what hit them. Sri Lanka were finally dismissed for 71- even that total would not have been possible had the Pakistan fielders taken all their catches.
Wasim ended up with four wickets and Waqar six. There was no coming back for the hosts from this position and they suffered a massive innings defeat with more than two days remaining.
Australia vs England (Birmingham 1997)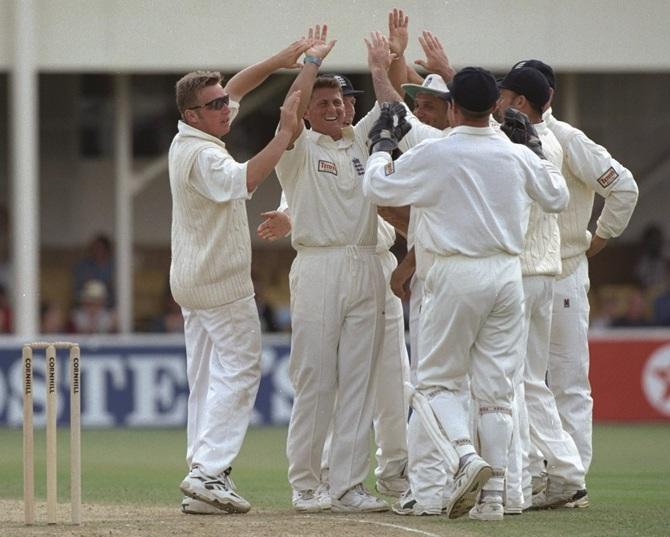 England players celebrate a wicket. Photograph: Clive Mason/Allsport/Getty Images
First morning of first Ashes Test and Australia being reduced to 54 for eight in 20 overs is not something very common. For a side that performed so brilliantly under Mark Taylor it was almost unthinkable, but this is what happened on that day.
Australia had no answer to the England pace trio of Darren Gough, Devon Malcolm and Andrew Caddick. Only a flurry from Shane Warne took Australia beyond three figures.
Pakistan vs India (Kolkata 1999)
This Test was originally scheduled as the third match of the India-Pakistan series, but became the inaugural match of Asian Test Championship.
Pakistan elected to bat first on a seaming wicket and soon collapsed to 26 for six in nine overs from Javagal Srinath and Venkatesh Prasad. However, Moin Khan along with the lower order batsmen took Pakistan to a respectable total of 185.
Even though Javagal Srinath took a record 13 for 132, Saeed Anwar carried his bat and the match was in a balance. It attracted an estimated crowd of 46500, but there were only a handful of spectators on the ground to see Pakistan winning the Test by 46 runs as riots broke out following Sachin Tendulkar's controversial run-out. Spectators were forcibly evicted by the anti-riot police and the game ended.
India vs New Zealand (Mohali 1999)
Put in to bat first, India were in for a rude shock as Dion Nash, Chris Cairns and Shayne O'Connor ran through the famed Indian batting line-up. The match was delayed by about 45 minutes due to damp pitch, but the conditions could hardly be blamed for India's capitulation.
Both Indian openers (Devang Gandhi and Sadagopan Ramesh) failed to open their accounts. By the time 10 overs were bowled, India were four wickets down with just 10 runs on the board. This soon became seven for 38. India were eventually bowled out for 83 in 27 overs, equalling their second lowest total at home.
Nash captured six for 27, his best figures in Test cricket.
New Zealand got a first innings lead of 132, but the Indians batted sensibly in the second innings.
The stage was set by the openers who put on 137 runs for the first wicket, before Dravid, Tendulkar and Ganguly took India's total to 505.
Chasing a victory target of 374 the Kiwis survived 135 overs to earn a draw.
Pakistan vs Australia (Sharjah 2002)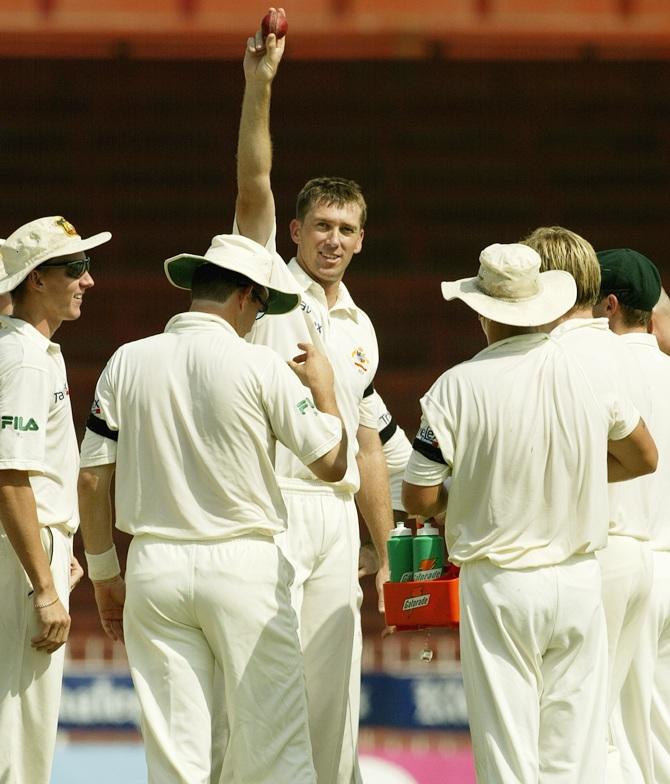 Australia's Glenn McGrath holds aloft the ball after taking his 400th Test Wicket. Photograph: Hamish Blair/Getty Images
In conditions which were more alien to the Australians than the hosts, Pakistan gave a shocking batting display.
Batting first after winning the toss, Pakistan were bowled out for 59 – their lowest total ever. Only one batsman – Abdul Razzaq – reached double figures and only one more – number 11 Danish Kaneria – could go past 5. Australia got the lead on the first day itself, but no one would have imagined that the Test would be over the next day! As if to prove that their first innings performance was no fluke, Pakistan batsmen crashed to 53 all out- losing the Test by an innings and 198 days, making it only the 17th two-day defeat in Test chronicles.
Pakistan vs India (Karachi 2006)
Irfan Pathan got name into the record books as the bowler with the earliest hat-trick in a Test match when he dismissed Salman Butt, Younis Khan and Mohammad Yousuf with the last three balls of his first over.
Zaheer Khan then took two wickets and when RP Singh accounted for Imran Farhat, Pakistan were 39 for six in the 11th over.
It is really amazing that they went on to win the Test from this position and that too by a huge margin of 341 runs!
The credit goes to wicketkeeper Kamran Akmal, who made a brilliant counter-attacking hundred and took Pakistan to a rather respected total of 245.
India were dismissed for 238.
It all now depended on how the Pakistan batsmen would bat in the second innings and they did bat India out of the Test.
The first seven batsmen all scored 50 as Pakistan declared their second innings for a mammoth 599 for seven.
Even though Yuvraj Singh scored a brilliant hundred, the Indian innings folded for 265, giving Pakistan a big win that looked impossible on day one.
India vs South Africa (Ahmedabad 2008)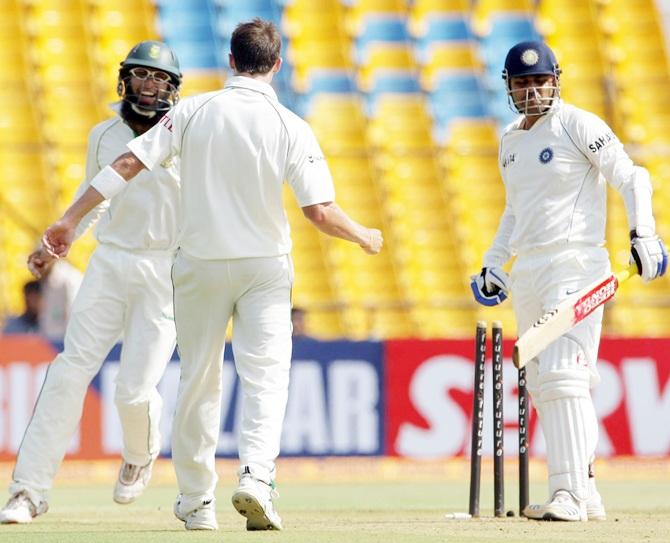 India's Virender Sehwag, right, looks on after being dismissed by South Africa's Dale Steyn. Photograph: Duif du Toit/Gallo Images/Getty Images
Batting first after winning the toss, the Indian batsmen could not cope with the extra bounce and lateral movement Dale Steyn and Mkhaya Ntini managed to derive from the pitch.
Already weakened by the absence of Sachin Tendulkar, who had aggravated a groin injury, India were bowled out for 76, just one more than their lowest ever total at home.
The Indian innings lasted just 20 overs, making it the shortest innings ever in a subcontinent Test.
To rub salt in to India's wounds, AB de Villiers scored a double century on the same surface
Jacques Kallis chipped in with a hundred and South Africa ended with a mammoth first innings lead of 416 runs.
The Indians gave a better batting display in the second innings, but lost by an innings and 90 runs in three days.
New Zealand vs South Africa (Cape Town 2013)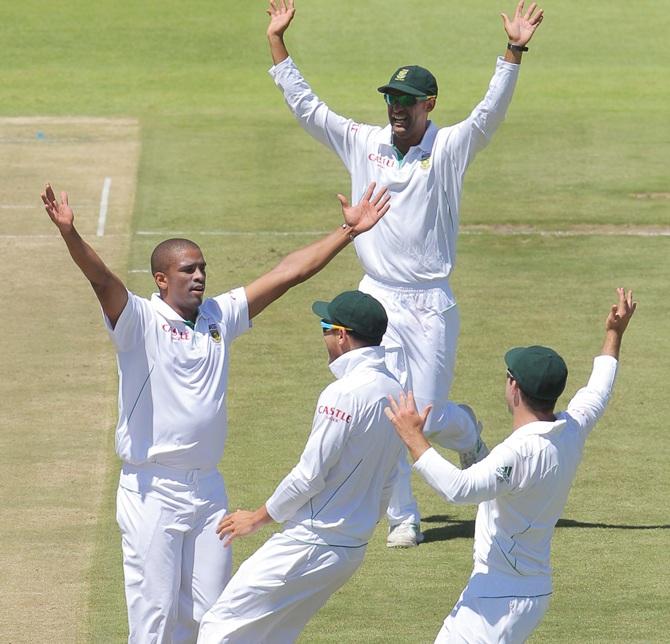 South Africa's Vernon Philander, left, celebrates. Photograph: Carl Fourie/Gallo Images/Getty Images
Vernon Philander sealed the fate of the match within his first five overs as New Zealand were reduced to 27 for five. Philander picked up all five wickets in 25 balls, which made it the fastest five-for in Test cricket (from the start of the match).
Morne Morkel and Dale Steyn then chipped in and New Zealand were bowled out for a paltry 45 in just 116 balls – their shortest innings ever and lowest total by any side since India's 42 against England at Lord's in 1974.
This was all after New Zealand skipper Brendon McCullum had opted to bat!
South Africa got a lead of more than 200 runs on the first day itself and wrapped up the Test on third day after lunch by an innings margin.