Srinivas Bhogle and Purnendu Maji list the 50 Most Valuable Players in the 2017 Champions Trophy.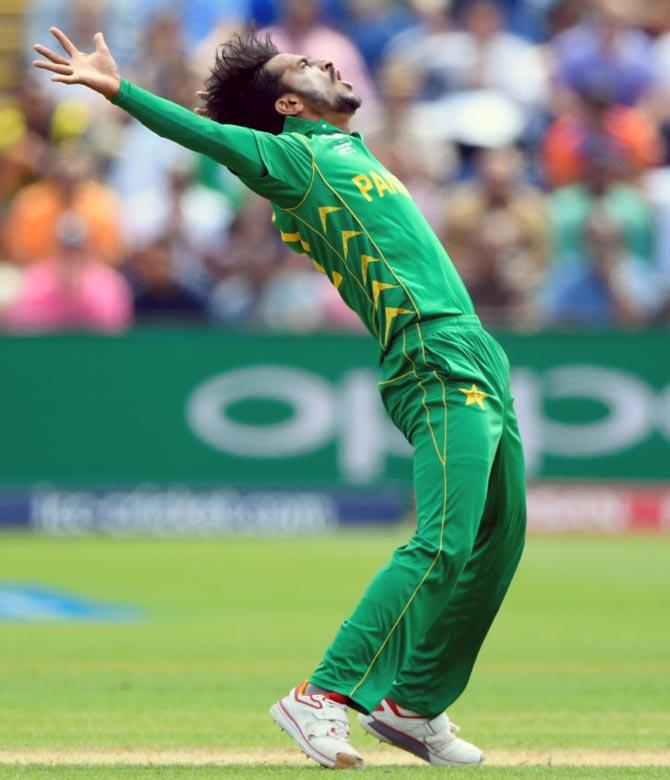 IMAGE: Pakistan fast bowler Hasan Ali celebrates a wicket during the ICC Champions Trophy. Photograph: Stu Forster/Getty Images
He didn't score a single run. He didn't need to.
Hasan Ali's bowling alone was enough for Pakistan to clinch the 2017 Champions Trophy.
Hasan Ali took 13 wickets at an economy rate of just 4.2 runs per over to emerge as the tournament's Most Valuable Player (with a MVPI 454).
Predictably, the finalists ran away with the top positions in the most valuable player list.
Shikhar Dhawan (404), who went into the final as the MVP, is placed second.
Fakhar Zaman (328) bursts into the top five with his outstanding century, followed by Hardik Pandya (322) who exploded with incandescence while fighting a lost cause.
The Most Valuable Player Index picks batsmen who score a lot of runs and score them quickly; bowlers who take wickets, and at low economy rates, and fielders who field the best (take a lot of catches, and participate in run outs).
The MVPI can be seen as a single 'run equivalent' aggregating a player's batting, bowling and fielding performance.
The table below shows the final MVPI position.
| Rank | Player | Team | Runs | Top Score | 4s | 6s | Runs/100 balls | Wickets | Economy/per ball | M | MVPI |
| --- | --- | --- | --- | --- | --- | --- | --- | --- | --- | --- | --- |
| 1 | Hasan Ali | Pakistan | 0 | 0 | 0 | 0 | 0 | 13 | 4.2 | 5 | 454 |
| 2 | Shikhar Dhawan | India | 338 | 125 | 44 | 4 | 101.8 | 0 | | 5 | 404 |
| 3 | Virat Kohli | India | 258 | 96 | 26 | 4 | 98.9 | 0 | 5.4 | 5 | 337 |
| 4 | Fakhar Zaman | Pakistan | 252 | 114 | 33 | 5 | 113 | 0 | 7.2 | 4 | 328 |
| 5 | Hardik Pandya | India | 105 | 76 | 4 | 10 | 194.4 | 4 | 6 | 5 | 322 |
| 6 | Rohit Sharma | India | 304 | 123 | 29 | 7 | 86.9 | 0 | | 5 | 316 |
| 7 | Joe Root | England | 258 | 133 | 19 | 3 | 97.7 | 0 | 6 | 4 | 314 |
| 8 | Tamim Iqbal | Bangladesh | 293 | 128 | 25 | 7 | 86.2 | 0 | | 4 | 308 |
| 9 | Bhuvneshwar Kumar | India | 1 | 1 | 0 | 0 | 12.5 | 7 | 4.8 | 5 | 296 |
| 10 | Josh Hazlewood | Australia | 1 | 1 | 0 | 0 | 20 | 9 | 4.8 | 3 | 278 |
| 11 | Liam Plunkett | England | 24 | 15 | 2 | 1 | 100 | 8 | 6 | 4 | 276 |
| 12 | Junaid Khan | Pakistan | 0 | 0 | 0 | 0 | - | 8 | 4.8 | 4 | 274 |
| 13 | Adil Rashid | England | 19 | 12 | 1 | 0 | 79.2 | 7 | 4.8 | 3 | 270 |
| 14 | Sarfraz Ahmed | Pakistan | 76 | 61 | 7 | 0 | 80 | 0 | | 5 | 268 |
| 15 | Kane Williamson | New Zealand | 244 | 100 | 21 | 3 | 92.4 | 0 | 9.6 | 3 | 264 |
| 16 | Babar Azam | Pakistan | 133 | 46 | 12 | 1 | 74.7 | 0 | | 5 | 263 |
| 17 | Ben Stokes | England | 184 | 102 | 17 | 4 | 81.4 | 3 | 7.2 | 4 | 261 |
| 18 | Mohammad Hafeez | Pakistan | 148 | 57 | 10 | 6 | 93.1 | 1 | 4.8 | 5 | 259 |
| 19 | Eoin Morgan | England | 208 | 87 | 22 | 7 | 100.5 | 0 | | 4 | 249 |
| 20 | Mohammad Amir | Pakistan | 37 | 28 | 1 | 0 | 62.7 | 5 | 4.2 | 4 | 229 |
| 21 | Mark Wood | England | 3 | 3 | 0 | 0 | 50 | 5 | 4.2 | 4 | 220 |
| 22 | Azhar Ali | Pakistan | 228 | 76 | 20 | 3 | 74 | 0 | | 5 | 209 |
| 23 | Shakib Al Hasan | Bangladesh | 168 | 114 | 16 | 1 | 86.6 | 0 | 6 | 4 | 209 |
| 24 | Alex Hales | England | 164 | 95 | 16 | 4 | 99.4 | 0 | | 4 | 206 |
| 25 | Jasprit Bumrah | India | 1 | 1 | 0 | 0 | 11.1 | 4 | 4.8 | 5 | 202 |
| 26 | Adam Milne | New Zealand | 28 | 11 | 3 | 0 | 107.7 | 6 | 6.6 | 3 | 201 |
| 27 | Imran Tahir | South Africa | 1 | 1 | 0 | 0 | 14.3 | 5 | 4.2 | 3 | 201 |
| 28 | Ravindra Jadeja | India | 15 | 15 | 0 | 0 | 57.7 | 4 | 6 | 5 | 198 |
| 29 | Tim Southee | New Zealand | 12 | 10 | 2 | 0 | 109.1 | 5 | 4.8 | 3 | 187 |
| 30 | Nuwan Pradeep | Sri Lanka | 6 | 5 | 1 | 0 | 40 | 6 | 6 | 3 | 179 |
| 31 | Mitchell Starc | Australia | 0 | 0 | 0 | 0 | 0 | 5 | 4.8 | 3 | 177 |
| 32 | Morne Morkel | South Africa | 0 | 0 | 0 | 0 | 0 | 5 | 4.2 | 3 | 172 |
| 33 | Kusal Mendis | Sri Lanka | 127 | 89 | 17 | 1 | 96.2 | 0 | | 3 | 167 |
| 34 | Kedar Jadhav | India | 34 | 25 | 5 | 1 | 130.8 | 3 | 5.4 | 5 | 165 |
| 35 | Shadab Khan | Pakistan | 14 | 14 | 1 | 1 | 87.5 | 4 | 5.4 | 4 | 162 |
| 36 | Imad Wasim | Pakistan | 29 | 25 | 2 | 1 | 116 | 2 | 4.8 | 5 | 161 |
| 37 | Niroshan Dickwella | Sri Lanka | 121 | 73 | 9 | 1 | 88.3 | 0 | | 3 | 160 |
| 38 | Mashrafe Mortaza | Bangladesh | 30 | 30 | 5 | 0 | 111.1 | 2 | 4.8 | 4 | 158 |
| 39 | Hashim Amla | South Africa | 154 | 103 | 10 | 3 | 81.5 | 0 | | 3 | 156 |
| 40 | Mushfiqur Rahim | Bangladesh | 163 | 79 | 14 | 0 | 77.3 | 0 | | 4 | 155 |
| 41 | Mahmudullah | Bangladesh | 137 | 102 | 10 | 3 | 91.9 | 0 | 10.2 | 4 | 148 |
| 42 | M S Dhoni | India | 67 | 63 | 7 | 2 | 98.5 | 0 | | 5 | 147 |
| 43 | Travis Head | Australia | 71 | 71 | 5 | 2 | 110.9 | 1 | 4.8 | 3 | 144 |
| 44 | Faf du Plessis | South Africa | 137 | 75 | 8 | 0 | 83.5 | 0 | | 3 | 142 |
| 45 | Jos Buttler | England | 94 | 61 | 5 | 3 | 108 | 0 | | 4 | 141 |
| 46 | Ross Taylor | New Zealand | 148 | 63 | 15 | 0 | 74.4 | 0 | | 3 | 140 |
| 47 | Chris Morris | South Africa | 52 | 28 | 4 | 0 | 72.2 | 2 | 4.8 | 3 | 136 |
| 48 | Suranga Lakmal | Sri Lanka | 26 | 26 | 3 | 0 | 70.3 | 3 | 6 | 3 | 134 |
| 49 | Jake Ball | England | 2 | 2 | 0 | 0 | 33.3 | 4 | 6 | 4 | 133 |
| 50 | Asela Gunaratne | Sri Lanka | 65 | 34 | 3 | 2 | 83.3 | 1 | 4.8 | 3 | 128 |