'Legalise betting, no minister can be BCCI administrator'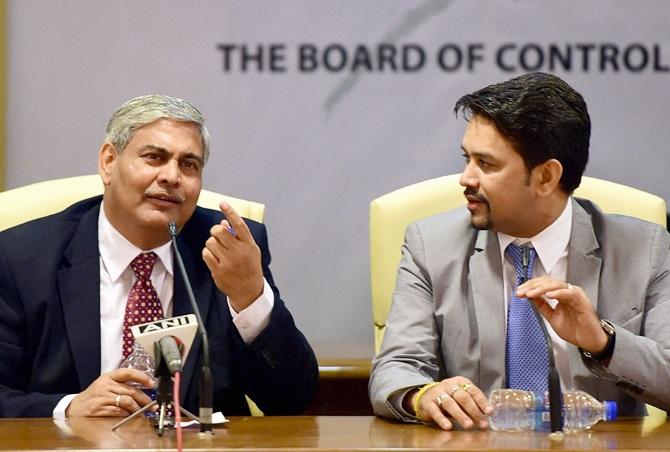 IMAGE: BCCI president Shashank Manohar, left, with secretary Anurag Thakur. Photograph: PTI
The Justice RM Lodha Committee submitted its report suggesting reforms in the Board of Control for Cricket in India to the Supreme Court on Monday.
The committee, appointed by the apex tribunal to make recommendations to the BCCI in a bid to prevent frauds and conflict of interest in cricket administration, recommended sweeping reforms for the controversy-ridden body.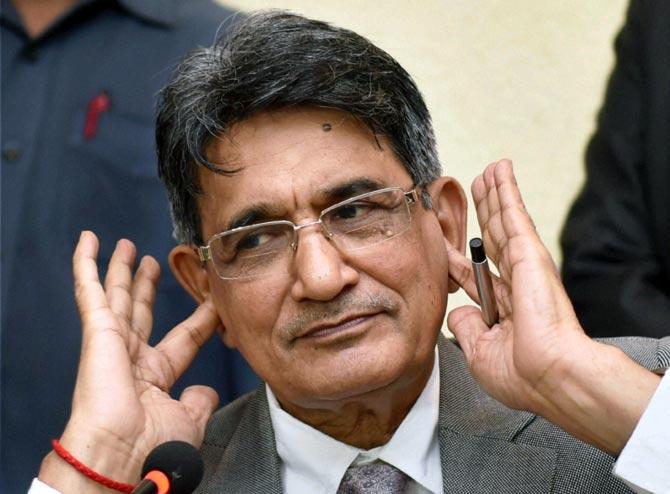 IMAGE: Justice Rajendra Mal Lodha. Photograph: PTI
Check out what the Lodha Panel has proposed:
Clean chit to former IPL COO Sunder Raman.
Legalise betting in cricket but ban cricket officials, administrators and players from indulging in it.
If an office-bearer of a state association is elected to BCCI, he has to vacate state association post.
No BCCI office-bearer can hold office for more than three terms. There will be a cooling-off after each term.
Cooling-off period should be of three years if tenure of BCCI president is completed.
No BCCI office-bearer can be a minister or government servant.
Only one person per post. No proxy voting of individuals allowed.
One association of each state will be full-member and have the right to vote.
Ethics Officer, who will be a former High Court judge, will decide on conflict of interest.
An elected officer will overlook the Board's election work.
- Report of Lodha Committee on Reforms in Cricket - Final Report, Volume 1
- Report of Lodha Committee on Reforms in Cricket - Final Report, Volume 2