The cricketing life of the legendary Martin Crowe, who passed away into the ages on Thursday, March 3.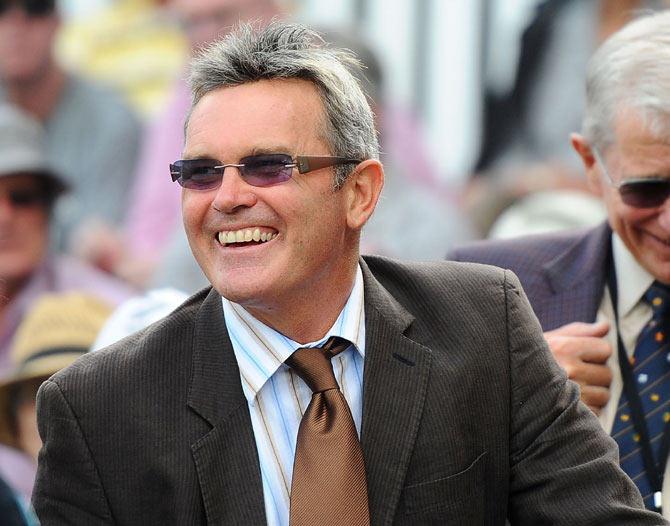 IMAGE: The amazing Martin Crowe! Photograph: Hannah Peters/Getty Images
Born September 22, 1962 in Auckland
Made first-class debut for Auckland in January 1980 and earned a scholarship to Lord's as a member of the ground staff a year later.
Test debut against Australia in Wellington, February 1982. Scored nine runs and was dropped after the series having scored just 20.
Recalled for the ODI 'Bushfire Match' against Australia at the SGG in February 1983. Scored 66 as New Zealand won by 14 runs.
Went on the tour of England in 1983, which included the World Cup.
Scored first Test century (100) against England at Wellington in 1984, propelling him to a superb county season with Somerset where he scored 1,870 first class runs and was named one of Wisden's Cricketers of the Year in 1985.
Made 188 against Australia at the Gabba in November 1985.
Succeeded John Wright as New Zealand captain in 1990.
Combined with Andrew Jones in a then world record stand of 467 to save the first Test against Sri Lanka in 1991, scoring 299. Smacked his bat against a door as he walked off, having been in sight of the first Test triple century by a New Zealand batsman.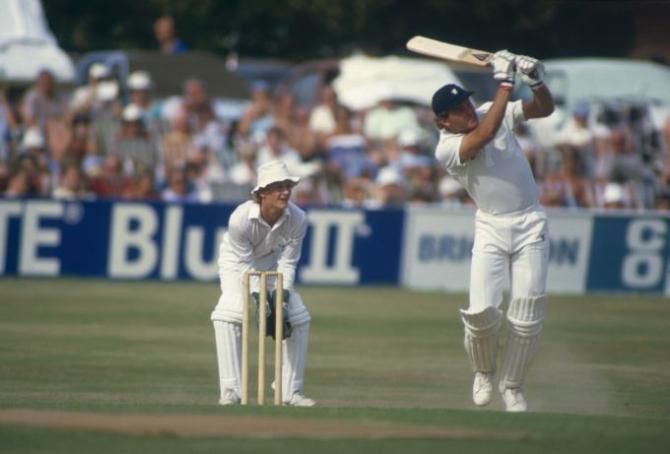 IMAGE: Martin Crowe during a game between his county Somerset and his country New Zealand. Photograph: Adrian Murrell/Getty Images
Persistent knee injury ends his playing days in 1995 after 77 Tests and 143 ODIs.
He finishes with 5,444 Test runs at 45.36 with a high score of 299 and 17 centuries, still the most by a New Zealand batman. He scored 4,704 ODI runs at 38.55.
Invented a shorter form of the game in the late 1990s, marketed as 'Max Cricket', which reduced the match to two innings of 10 overs each and is seen as a precursor to Twenty20 cricket.
Carved out a successful career in television production.
Mentored Ross Taylor and Martin Guptill -- 'the sons I never had' -- working on the technical issues of their game.
Attempted a return to first class cricket at age 49 in a bid to achieve the 392 runs needed to reach 20,000 runs. The bid ended after three balls in a club game when he injured a hamstring.
Was diagnosed with follicular lymphoma in October 2012.
The cancer went into remission, but was followed by a more aggressive form.
Played his last game of cricket for his Cornwall club, scoring 25 not out during last year's World Cup, the day before he was inducted into the ICC Hall of Fame.
Watched New Zealand play its first World Cup final, losing to Australia.
Died on March 3, 2016, aged 53.