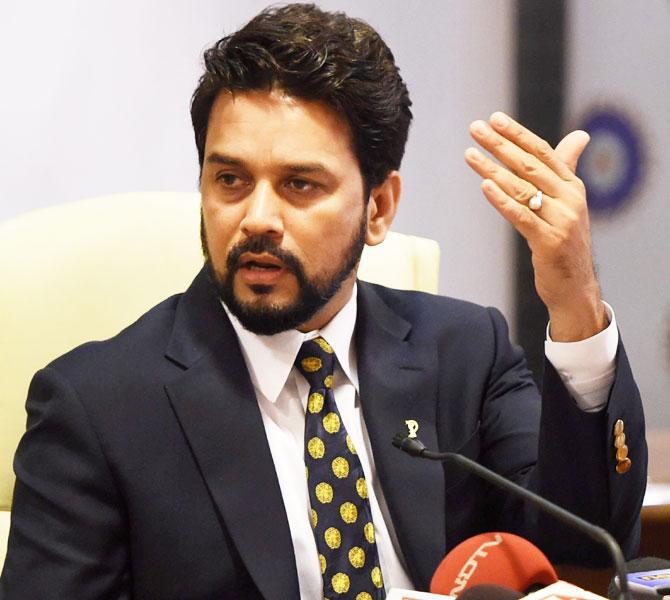 IMAGE: Former BCCI president Anurag Thakur. Photograph: PTI
Citing astonishing capitulation of Nagaland in a women's Under-19 match, former Board of Control for Cricket in India president Anurag Thakur on Friday pointed out that not all the Lodha Committee reforms are appropriate.

In a BCCI Under-19 women's One-Day Super League match, Nagaland were bowled out for an incredible score of just two against Kerala with as many nine batters getting out for duck.
The Supreme Court-appointed Lodha Committee had recommended one state one vote for BCCI which resulted in 41-time Ranji champions Mumbai losing its voting rights while all North Eastern states got voting rights.

Thakur suggested that instead of voting rights these states need infrastructure and game development.

"Giving full voting rights to each state w/out structured development of cricketing standards will harm the game. Cricket in northeast needs nurturing not humiliation like this. #LodhaReforms @BCCI," Thakur, who also lost BCCI presidency due to the reforms, tweeted.

Indian cricket's one-time power centre Mumbai lost its permanent voting status as per the new BCCI constitution finalised by the Committee of Administrators (CoA).

All the North Eastern states including Manipur, Meghalaya, Mizoram, Nagaland, Arunachal Pradesh, Sikkim were been granted full membership and voting rights.

Mumbai is now an associate member of the BCCI. The Mumbai CA representatives can attend General Body meetings but can't vote.

Baroda and Saurashtra - the two teams from its mother state Gujarat are also now associate members and will take turns by rotation to vote.