Saeed Ajmal in action. Photograph: Philip Brown/Reuters
Pakistan off-spinner Saeed Ajmal failed his biomechanics test in Brisbane because his average elbow extension was more than double the 15 degrees allowed by the ICC.
According to the test results, Ajmal's average delivery was around an astonishing 40 degrees extension.
"There was a relatively small standard deviation of 2.5 degrees when he underwent the tests at the national cricket centre in Brisbane," a source in the Pakistan Cricket Board (PCB) said, quoting the 23-page report.
Ajmal was ordered to take the tests after match officials reported his bowling action after the first Test against Sri Lanka at Galle last month.
Match officials reported around 30 to 35 deliveries as suspect in their report to the ICC.
None deliveries came close to meeting 15 degrees elbow extension standard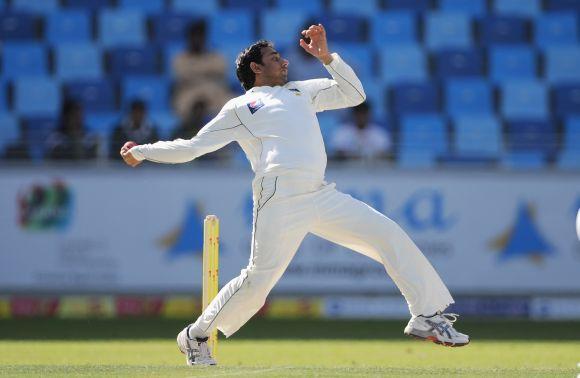 Saeed Ajmal in action. Photograph: Gareth Copley/Getty Images
Ajmal, who is now suspended from bowling in international cricket and also withdraw from the national T20 championship starting in Karachi from September 17, was also previously reported in 2009 but cleared on medical grounds.
Under the new protocols for bowlers with suspect actions, medical grounds for elbow extension of more than 15 degrees is no longer acceptable.
Ajmal is slated to start working with former Pakistan spinner Saqlain Mushtaq on his bowling action from September 22 at the National Cricket Academy at Lahore.
The source said that Ajmal had been asked to bowl eight overs during his biomechanical test.
Ajmal's action was monitored by 27 cameras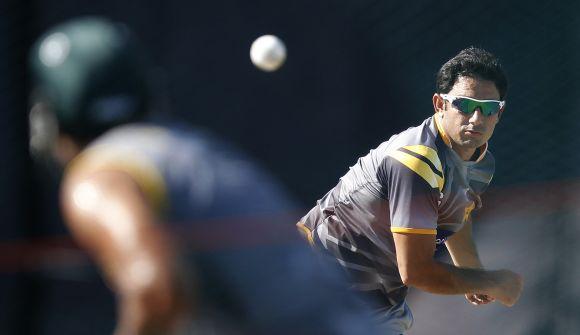 Saeed Ajmal in action. Photograph: Dinuka Liyanawatte/Reuters
The source said during the tests Ajmal was asked to bowl off-spin, the doosra delivery and his quicker one from over and round the wicket.
"His action was monitored by 27 cameras including two high speed cinematic cameras and also supervised by the PCB medical officer Dr Sohail Saleem who accompanied him to Brisbane."
According to the source, the assessment in the report was that Ajmal appears to have hypermobility of the right wrist due to a road accident he was involved in few years back.
The PCB has said it will not be appealing the decision as it was too risky.
"It is no use making an appeal because basically no new tests will be conducted on Saeed's action and his report will only be reassessed. So it is risky because if the appeal fails he can be banned from bowling for one year," PCB spokesman Agha Akbar said.
The source said Ajmal's elbow extension at times was around 41 to 42 degrees.
"The astonishing part is none of the deliveries bowled by Ajmal came close to meeting the 15 degrees elbow extension standard," he quoted from the report now with the PCB.