- 'The Kolkata Test changed our mindset, and the Headingley Test probably when we thought we could win abroad. Perth Test victory was remarkable and then we never looked back.'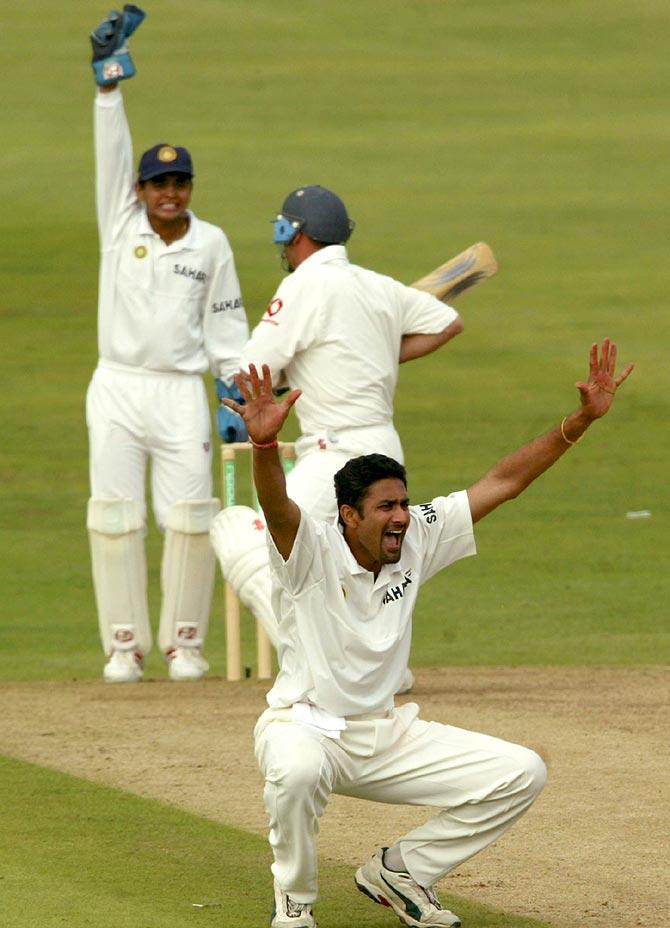 IMAGE: Anil Kumble appeals for the wicket of Naseer Hussain during the third Test in Headingley, in 2002. Photograph: Reuters
From bowling mainstay to national coach now, it has been a roller-coaster ride for Anil Kumble in Indian cricket and the celebrated leg-spinner picked the 2002 victory over England in the Headgingley Test as the "defining moment" of his career.
Kumble said he rates that victory as the defining moment in his career as he went on to lead the team which became the world number one Test team under Mahendra Singh Dhoni.

"It's difficult to pick the best moment but yes the Headingley Test was a defining moment for me and the Indian cricket. It continued from that," the former India captain recalled about India's innings and 46-run victory during a talk show hosted by the Cricket Association of Bengal on the sidelines of India's 250th Test on home soil, in Kolkata.

"I got the captaincy towards the end of my career, probably by default when (Sourav) Ganguly had finished his term, Viru (Virender Sehwag) was not in the team, Rahul (Dravid) did not want it and probably MS (Mahendra Singh Dhoni) was too young. I was the only person to put my hands up. I knew it would be a short term."

He had missed the epic 2001 Kolkata Test against Australia where India scripted a 171-run victory following-on but he feels that the triumph changed mindsets.

"Our generation became a lot more resilient after going through different challenges. The Kolkata Test changed our mindset, and the Headingley Test probably when we thought we could win abroad. Perth Test victory was remarkable and then we never looked back."

Showering praise on Virender Sehwag, Kumble also said the Delhi batsman had changed the face of Indian batting with his aggression at the top.

"For more than 10 years, the middle order was set, Viru came in and destroyed the bowling attack. It was a champion batting line up with Viru the icing on the cake."

Sitting besides Sehwag, Kumble in a lighter vein also blamed the former opener for robbing him off a second Test century.

Recalling the 2008 Test versus Australia in Adelaide, Kumble said he was on 86 at Tea when the typically aggressive Sehwag egged him to score freely and he got out adding just one run after the break.

"I would blame Viru for not letting me complete my second hundred...he told me at the break 'why you taking so much of time'. I went back and the first ball I was out," he laughed.